The United Nations declared famine Monday in parts of South Sudan, where 100,000 people are facing starvation. It could get much worse too with another million on the brink.
South Sudan, which has suffered immensely from civil conflict, could see over 5 million people living in hunger if no action is taken.
This is the biggest foreign policy test the new Trump administration is facing, how it responds to famine in South Sudan and the many other nations also at risk.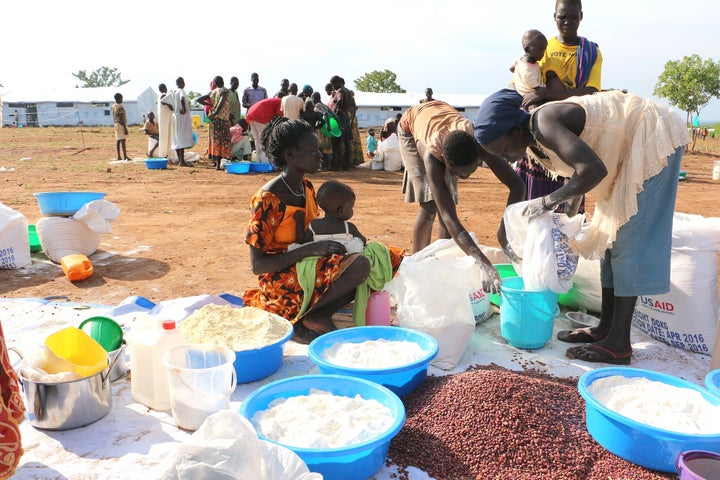 Funding is desperately needed by humanitarian agencies trying to provide life-saving food in South Sudan.
Challis McDonough of the UN World Food Programme (WFP) says that they are "extremely concerned that we do not have enough resources to continue this response for the whole year. Without a substantial injection of funds, we could run out of food by end of June. "
WFP has already been forced to cut rations for South Sudanese refugees who have fled to Uganda, Kenya and Ethiopia. Funding from international donors has not been able to keep pace.
Part of that is because the hunger emergency goes well beyond South Sudan. The U.S. famine warning system said in January, "70 million people, across 45 countries, will require emergency food assistance this year. Four countries – Nigeria, Somalia, South Sudan, and Yemen – face a credible risk of Famine."
The civil war in Syria is a massive hunger crisis in itself that spreads into neighboring countries hosting the refugees.
The United States and other donors must increase their efforts, much like we did after World War I and II. We saved the world from famine after both of those conflicts.
Today we must come to the rescue again, with the help of our allies.
Our Food for Peace program will be essential for donating to WFP and other relief agencies. President Dwight Eisenhower started Food for Peace, which was a continuation of U.S aid that brought stability to Europe after World War II.
President Kennedy strengthened the Food for Peace program and even fought famine in his first days in office.
Longer-term aid from our Feed the Future and McGovern-Dole school lunch programs can help South Sudan and other nations recover and build food security.
We must act quickly with emergency aid. Hunger and malnutrition can stunt children for life. Or it may kill them. An entire generation of children is at risk today in South Sudan and the other famine nations.
Donate to relief agencies working in South Sudan
Call or write the President and Congress about supporting food aid to South Sudan and other nations in hunger. The President and the Congress must be encouraged to fund hunger relief programs.
According to Jill Marie Gerschutz-Bell of Catholic Relief Services "CRS continues to work with appropriators to urge them not to cut the budget on the backs of the poor and vulnerable overseas. In addition to the record 65 million forcibly displaced persons who need assistance, four countries are facing famine. Year over year, Congress has done the right thing and responded to the critical humanitarian needs overseas. To address the root causes of these crises, they must maintain investments in development and conflict resolution as well."
Related
Popular in the Community