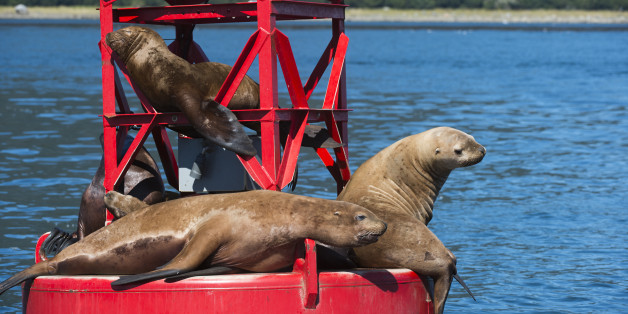 Ocean wildlife--like California sea lions and brown pelicans-- are in trouble, and we witnessed it firsthand.
During a free dive off Santa Barbara Island earlier this year, it was exhilarating swimming in the kelp with adult sea lions as they playfully wove through the underwater forest. But that mood changed abruptly when we were met at the boat's swim step by a curious sea lion pup. Initially we were excited to see such an adorable animal up close, but that joy quickly turned to shocking concern. This pup was skinny, too skinny--its ribs visibly protruding. Then it became apparent. The pup was starving.

We knew of studies showing that populations of the ocean's small fish have declined, but the extent of the food shortage was undeniable upon seeing the suffering sea lion pup. Pacific sardines and northern anchovies are an incredibly important part of a sea lion's diet, particularly for nursing mothers. Without this food, mothers can't produce enough milk to feed their babies.
These small fish are also popular prey for other large marine life and recreationally and commercially important fish species. Alarmingly, sardines have declined by 91 percent since 2007 and the anchovy population is at a historic low. There's simply not enough forage fish to go around.
California's marine mammal rescue teams sent more than 3,000 emaciated, dehydrated sea lion pups, just like the one we saw, to rehabilitation centers in the first six months of 2015. A lack of forage fish also caused reproductive failures in brown pelicans as mothers can't find enough food for their chicks. Some breeding pairs are producing very small numbers of chicks and other mating pairs failed to produce any chicks at all. We can't imagine to what extent forage fish crashes will affect other wildlife like dolphins and whales.
Federal fishery managers hold the key to resolving the forage fish crisis. We need urgent action from them before this crisis spirals out of control.
In response to a request for emergency action by Oceana, fishery managers temporarily closed the U.S. West Coast sardine fishery in April. However, without fixing fundamental problems in sardine management, the international overfishing that occurred for the last five years is bound to happen again.
Let us explain. The U.S. fishes the same population of Pacific sardines as Mexico and Canada, yet the U.S. asserts that we are entitled to 87 percent of the sardine resource regardless of how much Mexico and Canada actually catch. In reality, recent Mexican and Canadian catches together have exceeded 50 percent of the total catch. Federal fishery scientists developed a new precautionary model to fix the problem and we need fishery managers to implement it. Fishery managers have the expertise to prevent coast-wide overfishing and must act now to prevent further collapse of the food web.
As for anchovy, the current catch level is based on a population assessment that is 20 years old. It is a dangerous gamble to determine how many anchovy can be removed from the ocean right now based on how many fish there were two decades ago. Some scientists are concerned that the anchovy population has collapsed to an all-time low. There could be less anchovy than the catch level fishery managers are permitting. We urgently need precautionary limits to safeguard the remaining anchovy until new science demonstrates the population has recovered to a level that both supports a fishery and feeds ocean predators.
In November, federal fishery managers are meeting in Garden Grove to decide whether to fix sardine and anchovy management. It's not too late. We must replenish forage fish populations so wildlife like sea lion pups can flourish and sustainable fisheries can exist into the future.
REAL LIFE. REAL NEWS. REAL VOICES.
Help us tell more of the stories that matter from voices that too often remain unheard.