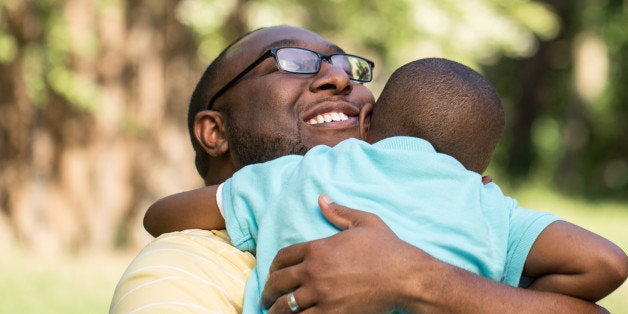 Father's Day has been established for over a century, but our nation's celebration of it pales in comparison to Mother's Day. One indicator is that people spend a little more than half of what they spend for Mother's Day. In its most recent season, Black-ish, an ABC TV show, comically depicted a father's desire to recreate Father's Day (rebranded Daddy's Day) to acknowledge his familial contributions and to not have them be devalued.
While consumers have the right to choose how they spend their money during holidays, more should be expected from the healthcare system, but by and large, we are failing to acknowledge the importance of fathers who are actively involved to a family's health.
We now know that fathers even matter during preconception. Concerns about the Zika virus epidemic has been focused on the mothers and their fetus, but infected fathers' semen was later found to transmit the virus through sex. A recent review article from Georgetown University revealed that fathers' nutrition, hormones, age and psychological health can impact their infant's health through epigenetic mechanisms.
Fathers are usually ignored or minimalized during perinatal health care visits. This is a missed opportunity for fathers to gain knowledge about the process, plan for postpartum parenting, and know how to support their partner throughout the process. The UK recognized this opportunity by providing fathers the right to take unpaid time from work to attend up to two prenatal visits.
Speaking of leave, while the U.S. is still debating the importance of parental leave at all in the current primary election, every other country with advanced economies mandates paid maternity leave at the federal level at minimum, and many provide leave for both parents. This is important because it is established that parental leave for fathers increases their hands-on engagement with the infant and contribution to the family, and promotes infant health. Yet, in the U.S. we are still behind the times.
Information on fathers is often missing from child birth records. For instance, the age of 13% of all married fathers and 30% of non-married fathers is not included. Missing data and limited information on birth certificates makes it difficult to conduct research on fathers. Since 1989, the National Center for Health Statistics has calculated infant characteristics by the birth mother's race/ethnicity, which is mirrored by infant outcome research. Exclusion of fathers constrains the efforts to understand family health and build effective interventions.
Treating fathers as the appendix of the family's health--minimally necessary but disposable--negates the true value of fathers from the beginning of a child's life.
While we've come a long ways from the days when fathers weren't allowed in the delivery room, many more changes are needed. Fathers can be acknowledged during perinatal medical visits and provided pertinent education that will affect the health of all family members. Hospital prenatal classes for expectant fathers can be offered alongside mother classes, so both parents are prepared for this major life transition. And exclusions based on gender for parental services must be revised because home, and fathers' health and behaviors do impact their offspring.
Thankfully, we are starting to see small improvements. Classes for expectant fathers and "daddy boot camps" are starting to pop-up at hospitals throughout the country to acknowledge and prepare fathers for their new journey. Last Father's Day, Dove Men+Care started to send out care packages to hospitals for new fathers who recently welcomed a newborn. We need more efforts like these.
We are at the cusp of change for father engagement in the home and how we understand father's contribution to the parental team and child health. And yes, not all fathers have stepped up to the plate, and some households will never have fathers present (such households headed by lesbian couples), but the tides have changed and research confirms that fathers, present or absent, impact the family. The health care system needs a major update if we really want to benefit our children.
Related