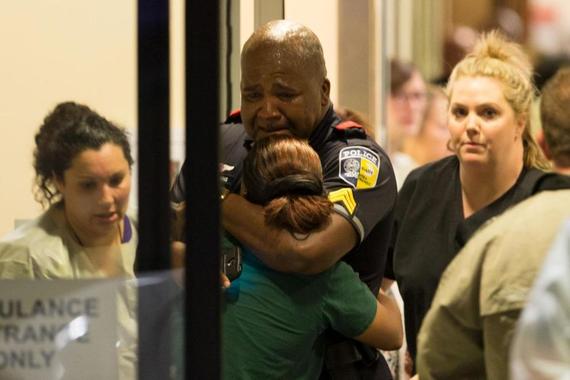 Photo credit: A Dallas Area Rapid Transit police officer receives comfort at the Baylor University Hospital emergency room entrance Thursday, July 7, 2016, in Dallas.
(Ting Shen/The Dallas Morning News via AP) THE ASSOCIATED PRESS
Columbine. Newtown. Aurora. Charleston. San Bernardino. Orlando. Dallas. These communities will be forever etched into our collective consciousness and our country's history for horrific mass shootings that left a total of over 100 women, men and children dead. Mourning the lives lost is not enough. Each of us must commit to speak up, take action and be part of the solution.
This is not about taking away anyone's Constitutional rights. It is about restoring safety where we live, work, learn, and play. No one should live in fear that they, their loved ones, or our public servants, will be felled by the next bullet.
Of grave concern to nurses are all human rights violations, including hate crimes, reflected in some of these recent killings. The Code of Ethics for Nurses with Interpretive Statements calls on nurses to respect all cultures, value systems, sexual orientation or gender expression. Furthermore, the Code calls on us to act to change those aspects of social structures that detract from health and well-being.
Gun violence occurs virtually every day in this country and most shootings receive little or no media coverage. Registered nurses and other health care professionals witness the carnage and devastation to victims and their families when these senseless acts of violence occur. We know that the pain and loss -- to individuals, families and society -- are great. In 2015 alone, the Gun Violence Archive noted that 13,438 people died and 27,017 were injured in violent gun incidents -- with 700 of the injuries and deaths occurring in children up to 11 years old. (These statistics omit suicide, which is estimated at about 20,000 casualties annually.) The common thread in many of these tragedies was easy access to guns and inadequate access to mental health services.
The most recent high-profile shooting in Dallas left five police officers dead. The Orlando massacre -- the deadliest not only in 2016 but also in modern U.S. history -- left 49 people dead and 53 injured. During both shootings, the killers used assault-style guns. According to The Washington Post, in the past 10 years, assault-style rifles have been used in 14 mass shootings.
Since 1994, ANA has declared that gun violence is a public health issue, and in so doing, has called for limiting the availability of handguns, a ban on assault weapons, and both a waiting period and background check for anyone purchasing a gun.
Recently, ANA joined other public health groups in asking Congress to lift a long-standing ban on the Centers for Disease Control and Prevention from studying gun violence and to provide appropriate funding to examine its causes and effective prevention strategies.
At a July 12 memorial service in Dallas, President Obama noted that if Americans cannot talk honestly and openly with those who may look different from themselves or hold different perspectives, then we will never be able to break the cycle of violence. The answer, he said, lies in part in "forging consensus, and fighting cynicism, and finding the will to make change."
The time to unite and take action is now. Together we can halt the growing list of victims. We can stop the madness by forging solutions that address the myriad issues that promote cycles of violence. We must raise our voices to join with members of our communities and at every level of civil society in dialogue and action, to address the underlying issues that result in hate and motivate unspeakable acts of violence.
Neither hate, nor fear, nor violence should be part of daily life. Health care professionals must speak up to protect everyone's civil rights, their lives, and the well-being of our communities.
Popular in the Community