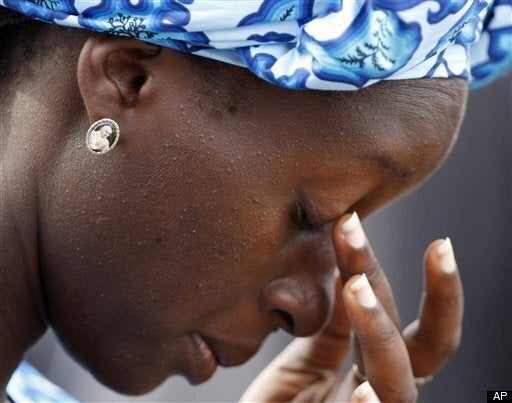 I recently spoke at the United Nations Secretary-General's Forum, Advancing Global Health in the Face of Crisis, where many world leaders highlighted the world's maternal health crisis. I shared the stories of people I've met who've watched their wives, sisters, daughters and friends die needlessly because they lacked the basic right to maternal healthcare. The next day in Washington D.C., I joined Day of the African Child events where, again, the abysmal state of maternal health was frequently discussed with much urgency. I met with Congresswoman McCollum, whose leadership on global maternal health issues is inspiring. This week, President Obama called the world's attention to maternal health once again during his trip to Ghana.
It is heartening to hear leaders recognize maternal health as the crisis that it is. I do believe we can end maternal mortality if we truly invest in mothers' health. However, this isn't the first generation of women to hear empty words about this topic. At that same Washington D.C. reception, a woman commented about how discouraged she was to hear me recite maternal health statistics which essentially hadn't changed since she had worked on the issue 20 years ago. 20 years ago!!
The Millennium Development Goals and aid pledges are pointless if they remain merely words or if they remain too narrowly focused on specific diseases that allow millions of women to die in childbirth and millions more children to become orphans as a result. With less than six years remaining to achieve the MDGs, MDG #5 -- the global pledge to reduce maternal mortality by three quarters -- is by far the most neglected goal. In many of the worst affected countries, maternal mortality has dropped only negligibly, if at all.
In times of economic crisis, it is tempting to turn inward, to ignore or postpone the problems of the outside world and focus on ourselves. But, if we hope to thrive once again, we must realize that there are no outside problems in today's interwoven, globalized world. Each mother who dies leaves behind a devastated family and weakened community that will eventually, somehow, affect each of us. Each mother who dies deepens the financial and social strain on our world and puts economic recovery further away. Mothers are our best stimulus package because they invest in their families and in our collective future.
There is something desperately wrong about dying while trying to give life. I mentioned some of these statistics in my last column, but they bear repeating; half a million women and girls die each year in childbirth and childbirth is the leading cause of death for women in the developing world. No other health disparity so disproportionately affects poor, marginalized women. Across the developing world, mothers die giving life from the same basic complications: bleeding, infection, hypertension and obstructed labor. With basic medical care, the vast majority of these deaths can be prevented. Without it, mothers will continue to die.
When it comes to progress on saving mother's lives, you have to follow the money. Countries such as Honduras and Nepal prove that rapid, dramatic progress is possible if resources are invested in maternal health. However, without investment in mother's lives, maternal mortality will remain stubbornly high. Despite the need for increased investment, G7 commitments for health systems actually fell by $1.7 million between 2004 and 2007. We have the tools to save mothers lives, but we have not proven that we care enough to act.
Saving mothers' lives requires the strategic assembly, coordination and deployment of resources -- skilled doctors and midwives, ambulances, roads, clean sheets and basic medical tools, just to name a few. We've seen such strategic action through organizations like the Global Fund for AIDS, Tuberculosis and Malaria and the Global Alliance for Vaccines and Immunizations (GAVI). These groups have championed the importance of their causes, united global efforts under a single banner, funneled money towards recommended solutions and reported back on the results, thus giving donors the confidence to bestow further funds. Scientists now say that it will be possible to bring malaria under control in this generation. Under five mortality has dropped worldwide and investment in HIV/AIDS and Tuberculosis has sky-rocketed.
Maternal health needs the same exact thing -- a coordinated global effort to hold nations accountable for their promises, to synthesize disparate efforts, to leverage existing resources, and to report back on results, providing confidence that resources are well used. During my recent UN visit, Norwegian Foreign Minister Jonas Gahr Støre announced that Norway intends to exceed its official development assistance target of one percent and channel the extra funds towards maternal health. Some sort of Global Fund for Maternal Health is a critical step towards encouraging other nations to follow Norway's example.
I realize that, especially in a time of constrained resources, our world doesn't have much appetite for the cost and energy associated with starting yet another new organization. And, frankly, we don't have the time to waste with bureaucratic details. So let me propose a challenge. Which of the world's impressive, effective, transparent organizations will add maternal health to their already full plate? It might sound overwhelming but imagine how much more effectively we will fight AIDS, malaria, corruption or anything else if we keep our mothers alive for the battle? I promise to do everything in my power to ensure that maternal health statistics do change during the next twenty years. Who will join me?
Popular in the Community