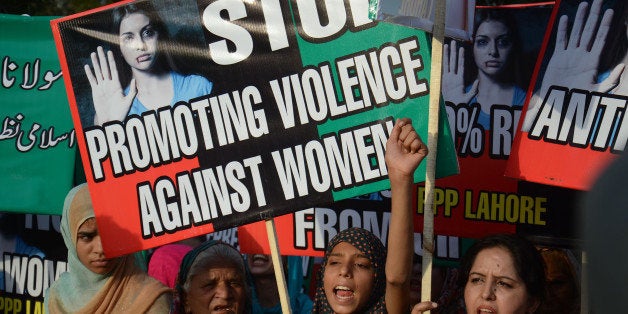 We are seeing an alarming rise in the number of reports of attacks against women by their families. What is so saddening is that it is perpetuated by their own fathers, mothers and brothers, the very people who should be protecting them.
Gender based violence is a systematic form of abuse and a violation of human rights; it cannot be tolerated in any society and must be challenged at every level in Pakistan.
Marriage should be a time of joy, when both individuals give their consent for a future together. But the stories of girls and women in Pakistan being raped, tortured, burned and attacked with acid for daring to say "no" to a forced marriage are bleak and terrible. Zeenat Rafiq and Maria Sadaqat are two of the latest causalities, killed for wanting nothing more than to make their own decisions about their lives. No one should be murdered for wanting to control their own future.
This violence is a clear sign that more action is needed and that setting harsher penalties is only one part of the solution. The current legal framework has not allowed a consistent approach to tackling violence, with bills passed but legal protections remaining ineffective due to lack of implementation.
We need to see legal frameworks that are fit for purpose along with a concerted effort to challenge the harmful norms that are killing women and girls because they voiced their needs and wanted to act on their own decisions about their lives.
There is also a huge necessity to educate communities, challenge parents, create safe spaces for women and girls to be supported and act on their own decisions free from harm or discrimination -- alongside penalties that signal that violence will not be tolerated.
Imagine just for a moment that the lives of Zeenat and Maria had not been ended by brutal violence. Had they been supported they would have lived in peace, harmony and prosperity. Both would have brought joy and love to their families. Had they been protected they would have lived a life of joy, not just for themselves but for a generation to come, for and with their family, their community, their society and their country. Will those who killed them be able to do that? Can they say they live in peace and harmony?
Zeenat and Maria cannot be the common story for women and girls in Pakistan. We hope that justice is done and that these girls' stories are not forgotten in the fight for women's empowerment.
We need to see a zero tolerance approach to gender based violence, where women and girls are empowered to make free and informed choices, and are able to participate fully in their own development and that of their families, communities and nation.
Calling all HuffPost superfans!
Sign up for membership to become a founding member and help shape HuffPost's next chapter