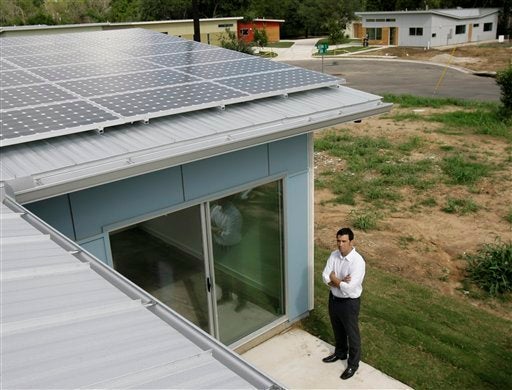 Last year, while everyone was focused on a slow economic recovery, the U.S. solar energy boomed in all sectors -- residential, commercial property and utility-scale. And there are significant amounts of new solar energy coming with the advancement of several utility-scale projects.
Finally, U.S. policymakers and consumers are looking at all forms of solar energy -- including utility-scale solar -- to meet our nation's growing energy needs. Late last year, the federal government issued the first nine permits ever for solar power plants on public lands. To put that in perspective, 74,000 permits were issued for oil and gas drilling on public lands over the past 20 years.
These projects underwent an extensive environmental review process that considered potential impacts on sensitive habitat, water resources and land. Every project approved for development on public land has gone through this rigorous, multi-year process. Additionally, solar project developers are proactively advancing projects in a way that does not severely impact sensitive resources.
BrightSource Energy and their Ivanpah project being constructed on BLM land in Southern California is one case study. This project went through years of environmental review. Once completed, it will provide enough electricity to serve more than 140,000 homes in California during peak hours of the day. It will reduce carbon dioxide emissions by more than 400,000 tons per year and create 1,000 jobs at the peak of construction. It is the kind of solar power project we need to seriously address our dependence on fossil fuels and to reduce harmful emissions and pollutions, while creating the kinds of jobs that help our economy recovery.
BrightSource has proactively worked with environmental assessors to gauge the impact on the land and its species. Based on feedback from the environmental community, the company reduced the size of the project by 12 percent, avoiding an area identified as having rich habitat.
That is just one example of the solar industry's commitment to solving our most pressing environmental problems, not creating them.
A few people argue that a rooftop-only approach is the way to deploy solar energy in America. It's true that residential and commercial deployment of solar will be a critical piece of America's energy portfolio going forward. But to meet growing energy demand and decrease harmful emissions, we must embrace all solar energy applications, from rooftop photovoltaic and solar thermal installations on our homes and businesses to utility-scale projects on public and private lands.
The public already understands this. In 2010, Kelton Research reported that 94 percent of Americans feel it's important for the United States to develop and use more solar energy. And three out of four Americans support development of solar power plants on public lands, according to an independent 2010 poll by Gotham Research Group. Americans want a diversified energy portfolio and recognize that the Southwest is blessed with some of the best solar resources in the world.
I travel overseas frequently and visit with CEOs in countries all over the world. The number one question they ask is, "How can my company enter the U.S. solar market?" They ask me this because the U.S. market is rapidly becoming the focus of the global solar industry. In the next few years, we will overtake Germany as the largest solar market in the world, installing enough new capacity to power 2 million new homes each and every year by 2015.
One of the reasons we are building such a robust market is diversity: we have strong residential, commercial and utility-scale markets. The residential and commercial markets in the United States cannot maintain their robust growth without a strong utility-scale market. We won't meet our energy goals with only a building-by-building approach to solar energy deployment.
With this rapid growth, solar manufacturing in the United States is continuing to ramp up production. Just last week, Suntech announced that it would add a third shift at its Goodyear, Arizona factory to keep pace with demand. Much of their product goes to utility-scale developers, but scaling up production drives down equipment costs for residential and commercial installers too.
The result is that the installed cost of solar continues to decline, allowing more Americans to put solar on their homes and businesses. Simply put, strength in all three market segments -- residential, commercial and utility-scale -- reinforces the strength in the others.
As growth advances in all of these segments, our industry will continue to do what it has been doing: creating jobs and driving economic growth while responsibly developing projects in a way that does not harm sensitive wildlife, habitat and water resources. Solar energy -- in all its forms -- is a clean, safe and reliable solution technology ready to go to work for America today.
Calling all HuffPost superfans!
Sign up for membership to become a founding member and help shape HuffPost's next chapter