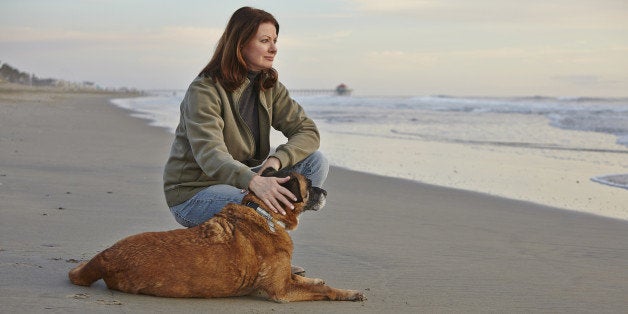 Years ago when I was training to volunteer for a local domestic violence hotline, the very first thing we discussed were reasons why battered women and men "Don't just leave?" Our trainer told us there are myriad reasons, and that often people in abusive relationships stay to protect their kids, their parents or their pets -- the abuser will threaten to kill their loved ones if they leave.
So last week, when I attended Purina's Better with Pets Summit in New York, I was intrigued to hear Rita Garza of the NYC nonprofit Urban Resource Institute describe a new "co-sheltering" model that helps survivors of domestic violence by sheltering them as well as their pets. She said studies show as many as 48 percent of people in abusive situations stay out of concern for their pets' safety, and more than 70 percent of pet owners entering shelters report their batterer had threatened, injured or killed their pets.
These stats are alarming, but the stories Garza shared from her clients really shook me. One woman's batterer put her cat in the microwave and kept his finger on the button, threatening to cook the cat if she didn't do what he said. Another choked her dog until it passed out. Yet another woman would come home minutes later than expected, and find her cat bound in duct tape -- her abuser would threaten to do it any time she tried to stay late at work or not do what he wanted.
"Pets are the silent victims for abusers who want to exert extreme power and control," as Garza later told me. "This happens all the time."
But despite this issue, most domestic violence shelters only take humans -- no pets are allowed. In 2013, the Urban Resource Institute (URI) bucked the norm by launching a pilot program called URIPALS (People and Animals Living Safely) to accept pets at their Urban Women's Safe Haven Shelter. It became the first domestic violence shelter in New York City to accept pets, and one of only a few in the country. URI expanded the program to accept dogs as well as cats and "pocket animals" after working with partners to create a shelter dog park in March of 2014.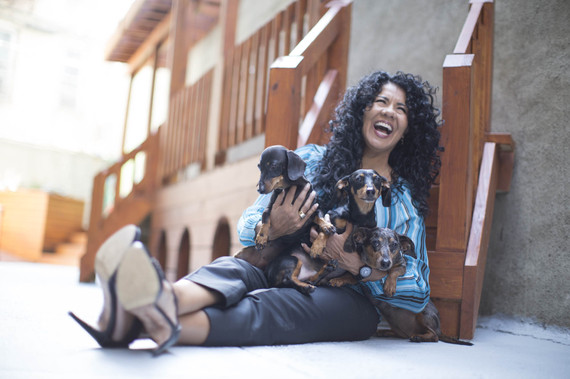 Rita Garza and her dogs celebrate the opening of the Purina Play Haven, a dog park at a URIPALS domestic violence shelter. Photo by Mark Holthusen.
"Why would we make them make a choice between safety and their pet?" Garza asked. "Everyone has to be safe... The people in the shelter right now, all they can say with tears in their eyes is, 'Thank you, thank you, thank you -- I could not have left my pet behind and I had no idea what I was going to do.'"
You could hear a pin drop in the room when a domestic violence survivor named Pamela joined Garza onstage at the summit. She told us her ex became violent after he started using drugs, but she stayed to protect her three cats and out of fear of what would happen if she left the situation.
"I tolerated a lot of abuse in the home so Rikki, Lucy, Gizmo and I would have a home," Pamela told us.
When Pamela did leave, she went to a shelter that didn't take pets, so her son cared for her "furry family" for a month until his landlady said the cats had to go. She was terrified of losing her beloved cats until she found shelter in a URIPALS apartment. Now that she isn't worried about her pets, she can focus on healing, she said.
Including Pamela and her cats, the URIPALS program has sheltered 29 families, 26 cats, 13 dogs and 3 turtles, and there are plans to make all four of their shelters pet-friendly. Garza hopes that by showing it can be done, other shelters will follow suit and start accepting pets.
"Family is family, and the family unit needs to stay intact," Garza told us. "We must help people in crisis and pets in crisis."
I asked Garza afterward for tips on ways we can enact this important social change. She said in addition to domestic violence providers and animal welfare advocates partnering to create solutions, citizens can make sure their state legislators understand the importance of having pets be able to be added to an order of protection (also called a restraining order). Currently there are still 24 states that don't offer such protection to companion animals.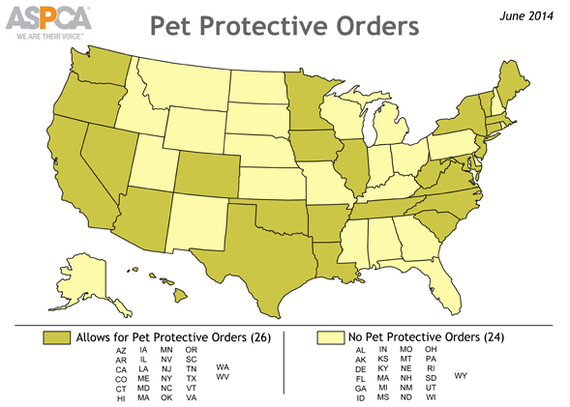 "We really feel very passionately and strongly that this is the right thing to do -- understanding pets as members of the family, and understanding that pets have to go with the family that's leaving the abuse," Garza told me. "Given the statistic that one in four women are going to experience domestic violence in their lifetime, when you layer that with the number of families in the country that have pets, then you do the math and know there is a tremendous demand."
Because pets are often traumatized by experiencing or witnessing abuse, the URIPALS program has a coordinator who focuses on the rehabilitation of the pets. Garza has seen dogs and cats transform from anxious to relaxed and playful.
"I wish I could wave a magic wand and make sure that everybody got the help that they needed, but this is a beginning."

If you are in an abusive situation, call the National Domestic Violence Hotline at 1−800−799−7233. For more information about the Urban Resource Institute or for planning and awareness tips, visit http://urinyc.org/.