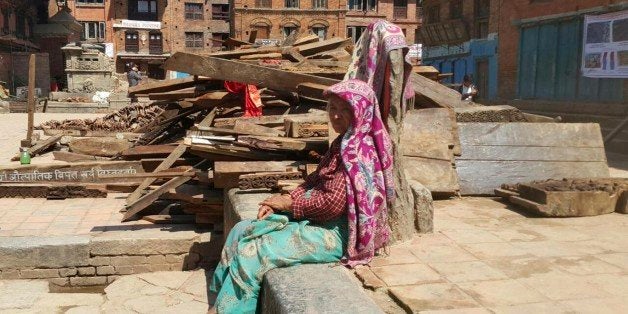 Less than three weeks after a powerful earthquake in Nepal leveled villages and killed over 8,000 people, another devastating earthquake with a 7.3 magnitude rocked the country on Tuesday. Dozens of deaths and over 1,000 injuries have been reported as a result of this second quake.
"I was at Betrawati in a camp talking with mothers with newborn babies when the earth shook. Two landslides took place in front of my eyes, and the sky was full with dust," says Renu Rajbhandari, founder of Global Fund for Women grantee partner the Women's Rehabilitation Center in Nepal. "I can't express the feeling of this particular time. There are no trace of villages [that once existed]. It's terrifying."
Nepal is now facing an unfathomable level of devastation, and women are very much at the frontlines of the recovery efforts. Many men in Nepal work oversees, leaving women to care for children and the elderly. Yet these women are also especially vulnerable, as our experience shows that their needs are often overlooked at times of crisis and during relief efforts.
Throughout Nepal, the most critical and urgent need is shelter--a need which is only heightened by new damage from Tuesday's earthquake. Many people are living in makeshift camps or sleeping outdoors, which increases the risk of exposure to the elements and disease. Additionally, camp living combined with the instability of the current situation creates fertile ground for violence, including sexual violence. Without safe shelter, women and girls are especially at risk.
Besides shelter, access to basic hygiene and healthcare is extremely limited, and hospitals are overwhelmed. This presents unique challenges for women and girls - a fact too often overlooked in relief efforts. Global Fund for Women grantee partner organizations visiting camps are often met with requests for health services for pregnant women or feminine hygiene products. One 17-year-old girl in a makeshift camp shared her painful personal experience: "I was forced to sleep in the open sky during my period. We have only one tent and I am not allowed to touch my father. We have limited blankets and it rained heavily one night."
Across Nepal, a renewed fear and uncertainty is setting in just as many people were finally feeling a sense of calm following April's deadly quake. "Everything was coming a little to normalcy...but now [after this second quake] it will be very, very difficult to rebuild," says Sadhana Shrestha, Executive Director of our grantee partner organization Tewa. "I don't know what tomorrow holds."
While the damage from the second quake will further hamper already-challenging relief efforts, our grantee partners are committed to continuing their work. "Staff are tired, physically and psychologically, and we don't know how long it will continue," says Rajbhandari. "We will try our level best to help people right now. We are running 25 safe spaces for women in different areas, in spite of us being unsafe."
These organizations also know that women need more than just immediate, short-term relief. Women need long-term support, and they also have a major contribution to make. Involving women in decisions about rebuilding and resource allocation after a major disaster will ensure that gains for women aren't lost after a crisis. Having women at decision-making tables post-disaster mean that the needs of half the population aren't ignored. This will result in better social and economic outcomes for entire communities.
With women both leading the relief efforts and facing unique challenges and vulnerability, women leaders in Nepal need our support now more than ever. That's why Global Fund for Women is providing crisis support to our grantee partners--local, women-led groups who are deeply rooted in the communities they serve. These groups are at the frontline of disaster impact and response, making sure that the unique needs of women and girls are met. We must ensure that women's voices are heard, especially now - and we must support these local, women-led groups filling critical holes in both immediate relief efforts and in long-term recovery.
Global Fund for Women's grantee partners urgently need support in order to address the needs of their communities and work to immediately fill gaps in relief efforts to ensure long-term recovery - especially for women and their families.