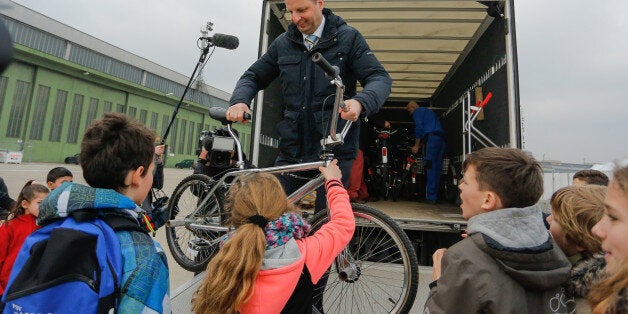 A specter is haunting Germany: Everyone fears that the country is at risk of being overwhelmed. Actually, it is a surprise that the Society for German Language has not declared "overwhelmed" the word of the year in 2015.
Around one million people arrived in Germany last year. And it doesn't look like 2016 will be any different. These migrants and refugees bring their different cultures and customs along with them. They've experienced what we can never imagine, and they will change Germany. Many think such change could easily overwhelm us.
The word "overwhelming" doesn't merely echo in pubs around the country. It reverberates in the Bundestag, in opinion columns, and in churches. That's not to say things were quiet before the refugee crisis. The stress levels were high and employment conditions were unstable. But now, everything seems to be spinning faster and faster. Will we be knocked flat on our faces?
Here are six common fears among German society, and six ways we could manage the crisis.
"The refugees will collapse our administration." It is true that our government responded much too slowly to the rising number of incoming refugees in Germany. For years, the federal government sat back comfortably in the Dublin-deal, which kept the "refugees" far from away from Germany.
Now, the infrastructure is under intense strain, mainly because it hadn't been challenged in the past. Authorities are overburdened by this challenge, which is in part due to the fact that they are trying to use old practices to deal with this new situation. The Berlin LaGeSo refugee center authority is a prime example: Since management consultant McKinsey implanted new structures, the apparatus has started to come alive again.
The authorities will need to adapt to the situation and adopt innovative practices.
"The local authorities are overworked." Indeed, the municipalities have the greatest burden to bear. They need to handle integration and daily life in the cities. But we have seen that those who have incorporated inventive, solutions-oriented practices have been successful. Meanwhile, communities that have unloaded their refugees on green lawns and locked them up in shelters in the woods have not.
There are many communities that have worked to set up accommodations that were more integrated. They were able to retrieve state and federal funding promptly. After all, the money is there, it just needs to be used creatively.
"Germany will be worse off with the refugees." Vice Chancellor Sigmar Gabriel heavily contests this assumption. He has called for investment in projects for Germans in need in order to combat envy. Marcel Fratzscher, President of the German Institute for Economic Research, for example, ensures that no pensions or benefits will be compromised for the sake of spending on refugees.
"The refugees will take our jobs away." So what do we do now? Currently, there are 600,000 job vacancies in Germany. Of course, they cannot be filled entirely with refugees. In the short term, they will be be empty and costly. But in the medium and long-term, migration researchers believe that refugees will start to meet the needs of those vacant positions, at which point the current expenditure will yield a positive fiscal effect.
It will be important to continue to focus on developing the skills of these individuals. There can be jobs for everyone -- as demographic shifts clearly indicate. In the future, we will have fewer young workers, and more pensions to pay for. That's where the young refugees can help.
"We can't afford education for our children and for refugees." Education is key if we are going to make this a success story. In fact, many Syrian refugees and migrants have qualifications and degrees. But we still need new approaches. The economy calls for new workers -- but the larger companies must provide training for refugees.
"They will always be different." These sentiments can be seen clearly in the schools. How many young refugees have been traumatized by discrimination so far? And teachers don't always know how to handle it. Again, we need to find new approaches to facilitate early integration.
Challenges have always strengthened a country, and led to innovations and new ideas. Germany has a great opportunity.
A version of this post first appeared on HuffPost Germany. It has been translated into English and edited for clarity.
REAL LIFE. REAL NEWS. REAL VOICES.
Help us tell more of the stories that matter from voices that too often remain unheard.