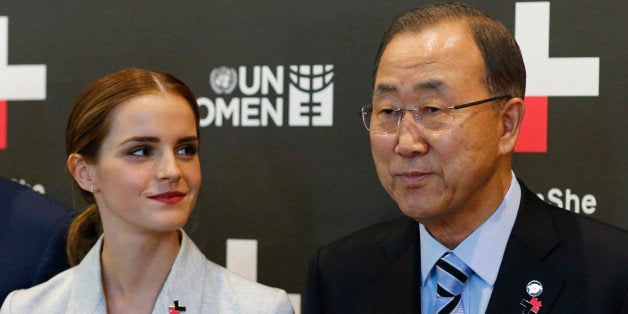 I was appointed six months ago and the more I have spoken about feminism the more I have realized that fighting for women's rights has too often become synonymous with man-hating. If there is one thing I know for certain, it is that this has to stop.

For the record, feminism by definition is: "The belief that men and women should have equal rights and opportunities. It is the theory of the political, economic and social equality of the sexes.

... Men--I would like to take this opportunity to extend your formal invitation. Gender equality is your issue too.

... We don't often talk about men being imprisoned by gender stereotypes but I can see that that they are and that when they are free, things will change for women as a natural consequence.

... I want men to take up this mantle. So their daughters, sisters and mothers can be free from prejudice but also so that their sons have permission to be vulnerable and human too--reclaim those parts of themselves they abandoned and in doing so be a more true and complete version of themselves.
However, not everyone on the Internet had the same forward-thinking thoughts, the similar ideas, the desire to create positive change. Members of 4chan started a campaign against Emma Watson, threatening to leak nude photos of her complete with a "Emma You Are Next" website. A countdown is in the center of the page and next to it is a photo of her wiping away a tear. The message at the bottom reads, "Never forget, the biggest to come thus far."
While this may be a hoax, the fact that this was created at all showcases the inadequate way people are coping with the spreading popularity of feminism and idea of equality. Above all, their actions help highlight why we need #YesAllWomen now more than ever before.
Not ALL men harass women. But ALL women have, at some point, been harassed by men. Food for thought. #YesAllWomen

-- Adelaide Kane (@AdelaideKane) May 27, 2014
These are real thoughts from real women. Hard truths that are difficult to swallow because the gravity of the situation is that all women must live with the thought that the threat of male violence looms on the horizon. Every woman knows someone who has been hurt physically or emotionally. Every woman understands the annoyance yet fear of being catcalled. Walking home holding onto a pair of keys has been commonplace, and concerns for safety at all hours of the day and night is paramount.
In a recent U.S. survey, "nearly one in five women surveyed said they had been raped or had experienced an attempted rape at some point, and one in four reported having been beaten by an intimate partner." In regards to domestic violence, The National Coalition Against Domestic Violence reports, "One in three women and one in four men have experienced [some form of] physical violence by an intimate partner within their lifetime."
The tidal wave of support for feminism, for women's rights, for abolishing inequality is finally taking center stage. It's finally being noticed.
This has been a long time coming.
Elliot Rodger was the straw that broke the camel's back.
#YesAllWomen was the result of a horrible tragedy. These tweets and outward expressions of emotions are real and from the heart and are the manifestation of inequality and the physical showcase, via the Internet, of inner tragedies.
I remember sitting in front of my computer and scrolling through the dozens -- no, hundreds -- of tweets from women I have never met. I remember relating to them all in some way. I remember that my knuckles had turned white and little crescents formed on my palms from clenching my hands into fists. I remember at one point thinking there was a smudge on my glasses but instead realized that my eyes were watering. I remember reading these different tweets written in less than 140 characters and acknowledging that, had the handles been changed, these could just as well have been sent from my friends, my co-workers, my sorority sisters, my family.
We are living in the year 2014 and we are still fighting for equality between men and women. We are still fighting for equal rights and equal pay. Women should not have to feel afraid to walk alone at night. Women should not be afraid to speak their voices loud and clear. Women should not be afraid to want a higher education, to want to learn.
In the five months since the night of April 14, 2014, the 270 schoolgirls abducted by Islamist militant group Boko Haram in northeastern Nigeria are still missing and still not home. This act sparked a fire around the world and the campaign #BringBackOurGirls was launched.
But what can we do? Realistically, what can you or I, the working people in America, the middle class or any class, do to help each other sans the millions of dollars or the status of celebrities? How can we make the world a better place?
It took me a while to actually come to the realization of what we can actually do to make the world a better place without the need of a large sum of money or a wide social net. The answer was so simple and was staring us all straight in the face.
In her speech, Emma Watson extends the invitation of awareness for equality and feminism to men. Both Obama and Joe Biden call on men to stand up to sexual violence. "It is on the parents of young men to teach them respect for women, and on grown men to set an example and be clear on what it means to be a man," President Obama said. We need both men and women to to work together, to learn together, to grow together. And it all starts with educating and informing each other.
We need to tell each other our experiences of sexual assault, of being catcalled, of body shaming and victim shaming and all other kinds of shaming that should not be tolerated. We have to tell each other that "no means no" and any unwanted contact, even under the guise of a prank, is not appropriate and not allowed. We have to tell the men and women in our lives that equality can be achieved, that peace is within our grasp, that we should actually be proud to be feminists.
On August 9, 2012, a gunman from the Taliban shot Malala Yousafzai in the head while she was on a bus returning home from school. Malala lived in Pakistan's Swat Valley and the Taliban had previously banned girls from going to school in that area. Malala recovered and her name became synonymous with being an advocate for education.
Malala talked with Jon Stewart on The Daily Show in 2013 about the unfolding of events since that fateful day. Stewart asked her what she would do if a Taliban gunman approached her again. Malala answered:
"I'll tell him how important education is, and that I even want education for your children as well. And I would tell him, 'That's what I want to tell you, now do what you want.'"
I believe we are on the right track. I believe that one day men and women will live together as equals.
We need #YesAllWomen to continue raising awareness on what women have faced and continue to face. We need to share our voices and stop the violence. The power of #YesAllWomen is here to stay, and though it has waned, it will hopefully come back into the spotlight.
Because if we actually want equality, both men and women will have to work together to achieve it, despite the odds being against us.
UPDATE: The website EmmaYouAreNext.com, which previously threatened to leak nude photos of Emma Watson, has been revealed to be a hoax created by a social media marketing firm.
Support HuffPost
The Stakes Have Never Been Higher
Related
Popular in the Community