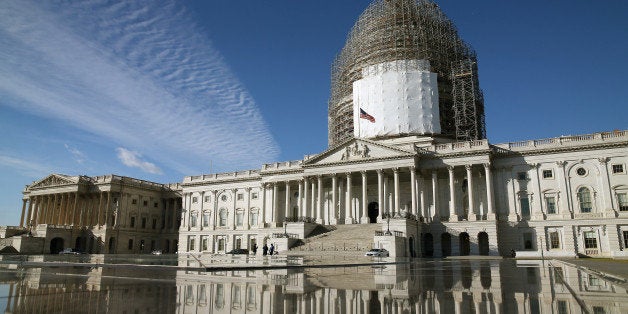 The 114th Congress has an opportunity to fundamentally shift American life. To do so, though, they must overcome cynical calculations that have become too common when it comes to young people and politics.
First-time congressional candidate Matt Miller, a California Democrat, wrote a candid piece for Politico about his experience. He lost his campaign, but learned some disheartening lessons along the way, including not addressing youth issues because seniors were "pretty much all that mattered." An elderly citizen told him, "You'd better listen to me, young man," she said. "We're the ones who vote!"
This is not news. But after the midterm election, some wondered if things had become worse. Are there young people who voted in the presidential election in 2012 who are now disaffected by the gridlocked political system? Possibly. But while the 2014 youth vote was low, it was about where it usually is in midterm elections: between 21-26 percent, up a bit from 2010. We should not be satisfied with these levels of participation; they shouldn't surprise us either.
The problem is, if members of Congress do not address issues that young people are facing right now, the consequences will fall on all of us.
What we have is more than a skills gap. We have a career gap, a chasm between what many lower-income young Americans expect they will be able to do and what they are being offered in today's economy. Youth employment is always slow to recover after a recession, but this time it dropped to levels we haven't seen since World War II. While unemployment has fallen, there are 5.6 million 16-24 year olds who are not in school or working. Not working during this life stage will decrease wages and employment prospects throughout their careers.
Young Invincibles has documented the price of youth unemployment -- 8.9 billion annually, $53 a year per taxpayer. Young people need to be the ones anchoring our tax base when millions of baby boomers retire. But they need the skills and experience to do that.
These policies to expand opportunity actually have bipartisan agreement:
• Criminal Justice: Sen. Rand Paul (R-KY) and Sen. Cory Booker (D-NJ) crafted the Redeem Act to give more people a chance to move past juvenile records. These young adults want to contribute to society and, frankly, we need them to, so let's reduce needless barriers.
• Career and Technical Education (CTE): Teens and young adults should leave schools with the skills today's jobs require. There is bipartisan agreement that we must reauthorize the Perkins CTE Act to move schools towards more experiential, hands-on learning and collaboration between businesses and schools as well as between high schools and local higher education institutions.
• Apprenticeships: U.S. Sen. Tim Scott (R- SC) has worked with Sen. Booker on the LEAP Act to incentivize American businesses to offer more apprenticeships to young people. Our country needs multiple pathways to careers, and apprenticeships are an effective route to well paying jobs.
It will be tough but not impossible for the two parties to work together to accomplish these goals. It happened last summer when Congress passed the Workforce Innovation and Opportunity Act (WIOA) to modernize job training and better align it to careers available regionally. WIOA's legislative blueprint of collaboration and compromise for the public good could be repeated to get bills like the Perkins reauthorization passed.
Progress on these issues benefits both parties. Because Democrats have the White House, they are perceived as being responsible for the status quo - fair or not. Arguments about Republican congressional obstruction are challenging because most Americans don't even know which party controls the House of Representatives. They just want government working hard to improve the lives of everyday citizens. President Obama has pledged to work with the new Congress to push forward bipartisan initiatives.
On the Republican side, leaders like Sen. Paul believe their party can make progress with the youth vote. Policy actions around youth economic issues would make a statement about the seriousness of this intention. Having a majority in the Senate is an opportunity to showcase Republican ideas on youth economic mobility and appeal to younger voters leading up to 2016.
There is even cross-sector agreement on these issues. Businesses and educational institutions recognize they have to do more -- and work together -- to make sure the rising generation has the skills to succeed in the global economy. Employers are making the economic argument to each other about tapping into the talent of young people. Congress needs to take this momentum and turn ideas into legislative action. We elect leaders to generate change that is in the best interest of the country. Right now, what America needs is a generation of young people with the opportunity to work. Let's give them the chance to earn their American dream.
Calling all HuffPost superfans!
Sign up for membership to become a founding member and help shape HuffPost's next chapter