Most food servers get tips from customers when they do the job.
On Monday, the 18-year-old waitress was working the lunch shift at Jess' Lunch, in Harrisonburg, Virginia.
At one of her tables was a couple that ordered two gyros and a salad.
Elledge told WHSV reporter Isabel Rosales that she gave them decent service, but when it came time to pay the $26.11 bill, she found a surprise on her receipt.
Instead of a tip, there was a note: "We only tip citizens," with the signature of one "Ada M. Doriot."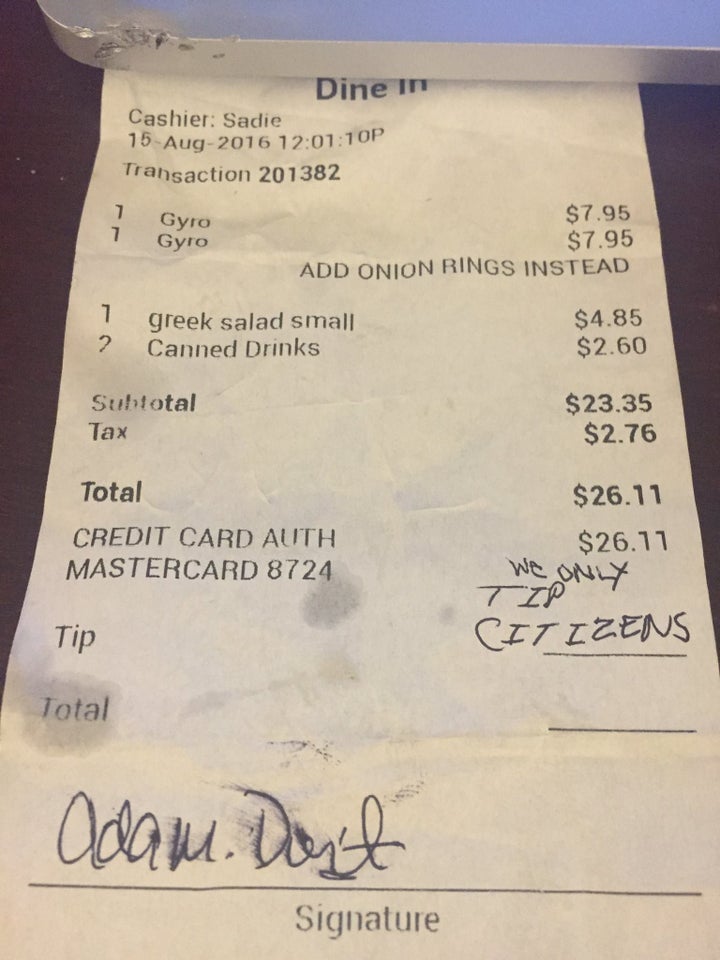 "I thought it was real disrespectful," she told Rosales during a Facebook Live interview.
Elledge, whose father was born in Honduras and mother was born in Mexico, is a U.S. citizen who grew up in Harrisonburg.
She told Rosales she didn't make a big deal about the insult, mainly because she's used to it.
"I've had people make comments like 'Go make me a burrito,' but that's at school and I don't pay attention,'" she said.
Elledge's grandfather, John Elledge, was more shocked by the receipt.
"She was calm and collected," John Elledge told The Huffington Post. "I was more upset."
Elledge is an attorney, but his granddaughter did not mention the incident to him at all.
"One of my other granddaughters works at my firm as a secretary," he said. "She told me and I flew off the handle."
He also posted the receipt on his Facebook page, where it quickly went viral.
The restaurant has since pulled surveillance video from the time of the incident to find out what happened and why.
As a result, John Elledge said, the incident has become a cause celebre in Harrisonburg.
"The way I understand it, the woman who signed the receipt is at the restaurant this very second with the police," he said Thursday afternoon. "She's angry and the police are there. Apparently, she just signed the receipt. She didn't write the comment."
Sadie Elledge isn't looking for fame from the encounter, but hopes others can learn from it.
"It doesn't matter whether I'm Hispanic or American or whatever you want to call it," she said. "I'm still a person and you should still treat me with respect."
WHSV TV reached out to the woman accused of signing the receipt, but she has not responded.
UPDATE: Aug. 19 ― This story has been updated to include information about the woman accused of signing the receipt.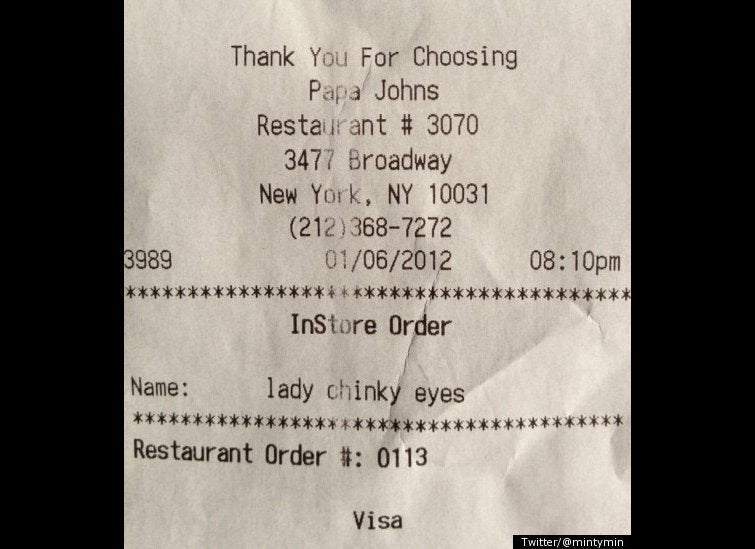 Outrageous Receipts (EXPLICIT LANGUAGE)