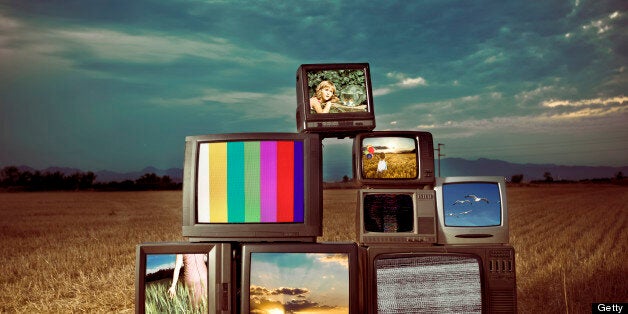 In our documentary film, Citizen Koch, we look at the unlimited campaign spending unleashed by the Supreme Court's 2010 Citizen's United ruling. The title is intended as a metaphor for American politics today and the outsized influence wealthy individuals and corporate interests have in our democracy. But it seems that the billionaire industrialist and conservative activist David Koch is a fan neither of metaphors nor of critical scrutiny. And it seems that the financial power he wields is more ambitious than simply turning elections.
The Independent Television Service (ITVS), the public agency that funds and curates independent documentaries, greenlit our film for funding last spring. And this past January,Citizen Koch premiered at the Sundance Film Festival. Then, fearing that it would displease David Koch -- a trustee of and major donor to PBS flagship stations WNET and WGBH -- ITVS withdrew its financial support as well as its television partnership.
What did that mean for our film? With that decision, we lost the $150,000 that public television committed to the project, effectively silencing our voice and ensuring that this movie could not be seen on the public airwaves.
But we are refusing to be silenced. Taking a lesson from Buddy Roemer -- a former Louisiana governor, Congressman and Republican candidate for president who is featured in the film -- we are turning to small donors via Kickstarter to try and raise $150,000, the amount we lost, to get the film out ourselves.
The decision of public television executives echoes the very problems we documented in Citizen Koch -- the money of the few drowning out the voices of the rest of us. Koch's chief political operative Tim Phillips of Americans for Prosperity, one of the largest political spenders in the last election cycle, made it clear what voters are up against post-Citizens United when he announced at a Tea Party rally, as our cameras rolled: "We're saying to every governor and every state legislator, if you do the right thing, we've got your back. Frankly, we'll raise the money... we'll put up TV ads and radio ads. We've got your back."
Just as powerful campaign spenders expect something in return from the politicians they support, so, too, do public television's high-dollar donors. As Jane Mayer reported in last month's New Yorker, "A Word from our Sponsor; Public television's attempts to placate David Koch," WNET President Neal Shapiro preemptively reached out to Koch last fall -- before airing another film that contrasted Koch's opulent Park Avenue lifestyle with that of the eponymous street's working-class Bronx inhabitants. In a move that Shapiro himself characterized as unusual, he offered Koch an opportunity for a formal response and, at the end of the program, PBS added a written disclaimer submitted by Koch Industries head of corporate communication, giving David Koch the last word in the program.
When Congress passed the Public Broadcast Act of 1967, it declared that:
It is in the public interest to encourage the development of programming that involves creative risks and that addresses the needs of unserved and underserved audiences, particularly children and minorities.
Now, apparently, it is someplace where the views and needs of the 99 percent are shut out by the money of the 1 percent. "We live in a world where we have to be aware that people with power have power," warned one public television executive who told us we need to take the name Koch out of our film's title.
Public television's decision to spike Citizen Koch to placate one powerful donor stifled a public airing of critical perspectives -- including those of the Republicans in the film who witnessed with growing outrage how moneyed interests distorted their state, and their party.
Now, imagine if the Koch brothers actually owned the media they want to control. That appears to be what David and Charles are envisioning by exploring the possibility of buying the Tribune Company's newspapers, which include the Los Angeles Times, Chicago Tribune and others. If they can silence a movie on PBS, what can they do with a direct path into people's homes on a daily basis? Their role in influencing editorial content should send a chill down everyone's spine.
That is why we are standing up and fighting back. This movie needs to be seen.

______
Carl Deal and Tia Lessin are Academy Award® nominated filmmakers who also produced and directed TROUBLE THE WATER, winner of the Gotham Independent Film Award, the Sundance Film Festival's Grand Jury Prize, and the Full Frame Documentary Festival Grand Jury Prize. Deal and Lessin were, respectively, archival and supervising producers of Michael Moore's FAHRENHEIT 9/11, winner of the Palm d'Or, Academy Award-winning BOWLING FOR COLUMBINE and co-producers of his most recent film CAPITALISM: A LOVE STORY.
Check out the Kickstarter campaign here.

Find more information on the film here.
Related
Popular in the Community