A Conversation with Devilskin's Jennie Skulander, Nail, Paul Martin & Nic Martin
Mike Ragogna: Hey Devilskin, you're already the #1 rock act in New Zealand. Do you really need to conquer the US as well? Don't you want to start with Australia?
Jennie Skulander: Why not do both at once!
Paul Martin: We are really keen to explore the US, we have a great fan base here already and obviously its one of the hot spots for the world music industry. Australia is important to us as well but I think the US is way more exciting and more challenging!
MR: I notice a couple of Martins on the group roster. Is this like Duran Duran with all those unrelated Taylors? But if you're family, do you still even like each other now that you're the #1 rock band of New Zealand?
JS: We enjoy everyone's company and still can tolerate snoring when touring...just.
PM: Haha. Love the Duran Duran analogy... But no, we have bonafide blood relations in the band. Nic our drummer is my son and playing and touring the world together is, for me, one of the best experiences a father and son could have. Jennie is also my sister-in-law and Nail is my evil twin.
Nic Martin: Playing music with my father is an experience to be cherished, and there's no way I could pass it up or take it for granted in any way.
MR: What should US audiences fear most about Devilskin? Why "Devilskin," oh by the way? Don't you know we're a Land of Puritans and won't you consider changing your name to "Angelskin"? And who's got the devil-iest skin in this band anyway?
JS: Yeah, I believe Paul is the most devilish. Well, he looks it. No need to fear us. We will have a cup of tea with you if you like. We chose the name Devilskin as everyone has a Devilskin--evil/good.
PM: All the US audiences need to fear from us is a good swift kick in the butt from a butt kicking rock act! Puritans, satanists, we love them all! No, we would never compromise our name to save offending someones beliefs. I guess my skin is the most Devilish with my full sleeve and back tattoos!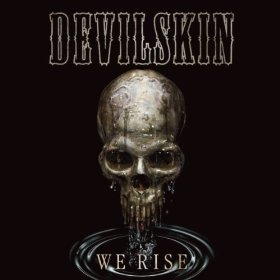 MR: I couldn't help but notice your album is titled We Rise. Do you mean like waking up in the morning or from the dead?
JS: We Rise means we have been left in the dark for so long and now we have risen and succeeded. And we will continue to rise!
PM: We mean, "Look out, our band is on the rise!" We are on a mission!
MR: How did the band congeal? Who influenced you other than Led Zeppelin?
JS: I knew the guys from playing with them years ago in my previous band. my influences are Deftones, Cohered and Cambria, Snot, Faith No More.
Nail: Pantera, AC/DC, Guns N' Roses are a few of the bands that influenced me musically growing up.
PM: We all knew each other from the same town in New Zealand and all had a healthy respect for each others music and talents. Led Zep, Black Sabbath, Pantera, T-Rex, Ramones and lots more.
NM: I was lucky enough to be offered a fill-in role in 2011, and ended up being offered the full-time gig. My influences include Avenged Sevenfold, Periphery, Coheed and Cambria, to name a few.
MR: If you weren't making music and being the #1 rock band in New Zealand, what would you all be doing in New Zealand? And which indigenous animals does New Zealand have that differ from Australia's since we think you're the same country and this would be a good moment to educate us about the differences?
JS: I would love to be doing something in health and fitness. And we have a kiwi bird in which Aussie doesn't. Our rugby team is also better.
N: I would be driving heavy machinery, and crushing s***.
NM: I would be a useless vegetable without music; I'd be giving all my change to Nintendo games! Put simply: Aussie = Scary animals that will kill you. NZ = Peace & Love all 'round.
MR: Which US rock bands scare you the most and which one's ass are you looking most forward to kicking?
N: No US bands scare me. We prefer to focus on our own adventure!
PM: I'm not scared of any other bands. Looking forward to kicking anyone's ass that gets in the way! [wink]
MR: Does the fact that you're playing and recording rock ever keep you up at night and if not, shouldn't it? Can't someone convince you to pick up acoustic guitars and sing pretty love songs?
PM: We love rock, we also love to write pretty acoustic songs. Our agenda is nothing more than quality, evocative music that people can believe in.
MR: What advice do you have for new artists? No, really.
N: Practice and take pride in your art
PM: Stick to your guns and don't be afraid to use em!
NM: Don't sit on your ass and watch someone else live your dream. Get up and make it happen yourself.
MR: What is it about Devilskin's rock that will establish it beyond classic Led Zeppelin's, your favorite band in the world as you established earlier?
PM: Quality music, heartfelt and genuine. Lots of emotion and dynamics. Heart and soul.
NM: I've been railroaded by Led Zep apparently! Paul summed it up.
MR: Now that the love affair is on between Devilskin and the US, will you forgive us when we wake up grumpy, which will be often and it's a pretty horrible thing to have to put up with so you might want to plan that New Zealand exit strategy like right now?
JS: We love you. And we love your Taco Bell.
N: We love the US and look forward to an on-going relationship.
PM: We love the US unconditionally, we don't care that you snore! We can't wait to return and see more of this beautiful country!
NM: I'll rub your back at night so you don't wake up grumpy, as long as I get Taco Bell. Better yet, I'll bring it back to New Zealand with me.
******************************
TOM LEVIN'S "THUNDER ON" EXCLUSIVE
According to Tom Levin...
"'Thunder On' is inspired by the buffalo at my sister and her husband's farm Little Pitchfork Ranch in Alaska. Ever since I first got in contact with the buffalo I've been very fascinated with the animal and that naturally lead me to Native Americans and their wisdom. I picture the song being a conversation between an older Indian and a younger person coming of age.

"I wrote the lyrics to 'Thunder On' together with Aimee Bobruk from Austin, Texas. We met for the first time through The House of Songs in conjunction with the Live At Heart music festival in Sweden in 2013.

"In the video, the shaved side of my face symbolizes civilization and the unshaved side symbolizes nature. It also resembles the look of buffalo hair.

"The video features footage from trips I've made to the following places: Falsterbo and Sodra Dellen in Sweden. The Alps in Switzerland. Mallorca in Spain. Little Pitchfork Ranch, The Matanuska Valley, Hatchers Pass and Homer all in Alaska. Toronto, Kansas City, New York and New Orleans. It also features footage from when a friend of mine crossed the U.S. on a motorcycle passing the Texas Mountain Trail and driving by wild fires in Colorado."
The video was directed and edited by Johan Topel, http://www.johantopel.com
Footage: Johan Topel, Tom Levin, Johan Wellander and Todd Pettit
******************************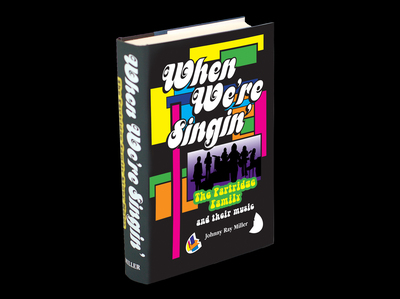 A Conversation with Johnny Ray Miller
Mike Ragogna: Johnny, what motivated you to write When We're Singin'--The Story of The Partridge Family and Their Music?
Johnny Ray Miller: My love of the music. The Partridge Family is remembered primarily as a TV show, and the music is so often overlooked. Nothing has been published on the subject, and I felt it was time someone took it on.
MR: What is it about the music that makes it special?
JRM: Well, it's interesting because the very image by which this music was marketed and successfully sold to millions is very different than the musical roots that make up its origin.
JRM: It was marketed as bubblegum music. But its identity is really Adult Contemporary or Easy Listening. The musicians who played on these albums were the same musicians remembered as The Wrecking Crew, who played on some of the biggest albums from that era. Guys like Hal Blaine, Max Bennett--who had deep, jazz roots--Dennis Budimir, Joe Osborn--intrinsic in the discovery of The Carpenters, and played on their albums. I mean, these guys played on everything! They were considered the best of the best--the first-call musicians that everyone wanted working on their albums. They played on albums by Sonny & Cher, The Beach Boys, The Mamas and The Papas, and many more.
MR: The songwriters were also some of the best pop writers of the era.
JRM: They were! Legendary songwriters worked on these songs, and most of these songs, probably 90% or more, were written and tailored specifically for the Partridge Family. There were very few cover songs. Guys like Tony Asher, who produced The Beach Boys' Pet Sounds wrote for The Partridge Family. Barry Mann and Cynthia Weil, who are noted as some of the greatest songwriters of all-time also contributed songs. Paul Anka wrote "One Night Stand" for the Partridge Family. L. Russell Brown who had just come off his big hit with "Knock Three Times" penned six songs for The Partridge Family and his first one, "I Woke Up In Love This Morning" was thefourth Top 20 single and sold in the millions. His next big hit was "Tie A Yellow Ribbon 'Round the 'Ole Oak Tree." Mike Appel and Jim Cretecos began their early career with The Partridge Family, having written the band's second single, "Doesn't Somebody Want to Be Wanted" which hit #6 on Billboard and #1 on Cash Box. These are the guys who left The Partridge Family gig to produce the up and coming Bruce Springsteen. The late, great Gerry Goffin also wrote at least four songs for The Partridge Family!
MR: Gerry Goffin is one of the greats.
JRM: Yes! He wrote the third Partridge Family single, "I'll Meet You Halfway," which went to #9 on the Billboard charts in early summer 1971.

MR: How many different songwriters are credited to The Partridge Family music?
JRM: Over fifty. Talents like Diane Hildebrand, who was one of the only female songwriters signed to Screen Gems at the time, wrote songs for the Partridge Family, including the first season theme song, and title of my book "When We're Singin'." Jack Keller was another successful songwriter who worked on a few Partridge Family cuts. He had a great reputation for writing film scores, and music for television. Bobby Hart also wrote a lot of songs for The Partridge Family. Hart, most famous for his work as producer/songwriter on The Monkees actually wrote more Partridge Family songs than any other songwriter with the exception of producer Wes Farrell who partnered with all these guys from time to time.
Johnny Cymbal and Peggy Clinger wrote for both Partridge Family and David Cassidy's solo albums. They were young, singer/songwriters who were launching the early phase of their career during this time. Terry Cashman and Tommy West wrote eight songs plus a theme-song outtake for the show. These two guys were really impressive music guys who had worked with Wes Farrell prior to The Partridge Family and found the project interesting, so they jumped on board. They were also producing Jim Croce during the early '70s as well. I mean, the list really does go on and on.
MR: Tony Romeo was probably the most associated songwriter with The Partridge Family, his having written "I Think I Love You."
JRM: Right. Tony Romeo was a genius. He had already been writing music in the '60s, and he was heavily influenced by old Italian melodies. He loved the work of Joni James and some of the early '50s artists. Many of his Partridge Family songs have these kinds of influences. He also knew how to connect with the inner workings of David Cassidy. He intrinsically knew how to write for him--not just for the sound of his voice, but for the inner expression that comes to life in this music. David Cassidy has a rich, versatile voice that was, and still is, incredibly underated.
JRM: Because of the marketing image. The marketing image was so strong, that even when David Cassidy tried to break it himself, once by posing nude for Rolling Stone, it still didn't put a dent in it. Yes, little girls were in love with him, and many young boys wanted to be him, but the longevity of his career and talent comes from the quality of his voice and this music. It holds up.
MR: Why do you think The Partridge Family songs hold up?
JRM: Put a Partridge Family CD in your player with five or so other CDs sometime when you are having a party, or a casual get-together with friends. Don't tell them what you put in that player. I guarantee you they will say "I like that--who is that?" That's the true test. It stands on its own after all these years. David Cassidy has a voice that is instantly recognizable to that demographic. He has rich vocal tones, and layered interpretations to his recordings that come off complex at times, because David himself was complex.
MR: Would you say that today the marketing image has been broken, or is it still intact? I mean, what happens after you tell them who it is? They laugh, right?
JRM: That's right. They say "no way!" But all of us who were 8, 9 and 10 at that time are now 53, 54, and 55, so it processes differently. We are all nostalgic now. When we look back at our childhoods we are especially attached to that part which holds the test of time. The Partridge Family music does that. I have researched every single album--there were eight studio albums and two hits packages--and every single song, and I have put together commentaries for each album and song. Thanks to the input of guys like John Bahler, who wrote all the vocal arrangements on every single album, and the late, great Mike Melvoin, who did all the arrangements on the music, we now have the first book on the music of The Partridge Family.
MR: Is your book all music or does it cover some of the television side as well?
JRM: The television story is also in this book. The show had more celebrity guest appearances than any other show of that era, including Ray Bolger--the Scarecrow from The Wizard of Oz, Academy Award winners Dean Jaggar and Jodie Foster. Shirley Jones and the other cast members were like a family, and they have great memories of the episodes and the show as well. Keeping the content fresh, I spoke with all the producers who worked on this show, many of whom have never been interviewed about their Partridge Family days, and they have great memories and fun stories to tell. Producer Paul Junger Witt has great memories of the show and the music. Even the bus!
MR: Ah, the classic Partridge Family bus. What ever happened to it?
JRM: That's in the book, too. And there's a fun twist to that story! I don't want to give it all away, right?
MR: John, when is this book coming out?
JRM: December is the plan. This fall is the 45th Anniversary of The Partridge Family debut. We are running a campaign on Kickstarter.com as we speak to try and fund the publication of the book. Kickstarter is a new model for getting your creative projects off the ground. I have been told that it is changing the publishing industry drastically.
MR: Kickstarter for publishing?
JRM: Because things are getting funded! New and different things are getting published. When We're Singin' was actually just chosen as a "Staff Pick" among their 600-700 daily book projects.
MR: Where can people find more information on this?
JRM: Go to the website https://WhenWereSingin.com. It's all there--how to get the book, when to get the book, the progress on Kickstarter.com... It's all there.
******************************
ZAK SMITH'S "HAVE YOU LOOKED OUTSIDE" EXCLUSIVE
"There are many things I'm apathetic about. Apathy can be a statement of independence, it can be a statement of protest against a system or group that wants something from you or wants you to think or act in a certain way. Trying to force yourself to feel emotions that you don't feel is a dead end street. There's a quote I like by Charles Bukowski where he says, 'To feign real emotion, yours or the world's, is of course unforgivable.' It's a bit harsh, but a good line; it speaks to the broader point that there is certainly something dispossessing about pretending to care about something when you don't.

"There are things not to be apathetic about. To see police officers choke a black man to death with no repercussions, to see black people's lives repeatedly held as cheap by law enforcement throughout the country, is in fact to be addressed directly. What they are saying is, 'We will do this forever. You are not brave enough or smart enough to do anything but watch.' The more power and control invested in the hands of the few, the less sum total of justice there is in the world. To be apathetic about people forcing a steady stream of manipulation and smiling at you, and not be enraged is to give up. And not just politically, it's to concede and accept a dreadful vision of reality."
Popular in the Community