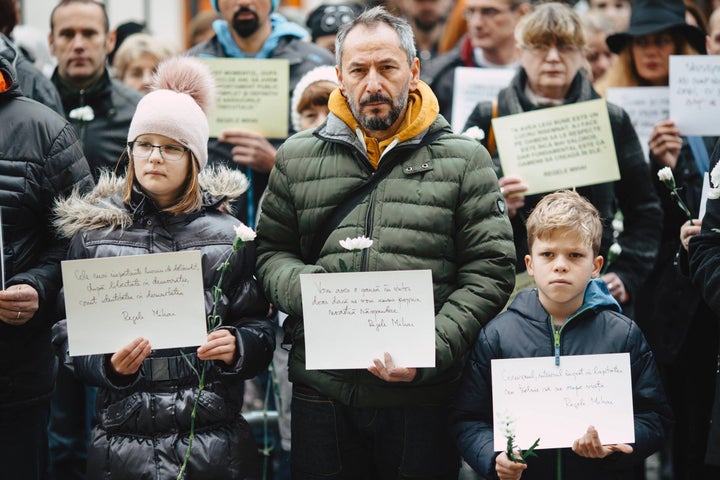 You've probably heard of the Romanian protests by now. On January 31st, in the middle of the night, the Romanian Government passed emergency ordinance OUG 13, which essentially decriminalized corruption. This sparked Romania's largest—and most successful—sustained protest movement since the fall of communism in 1989, and it created a new model in the global fight for justice and democracy. Earlier this year I sat down with renowned Romanian poet, scholar, and activist Radu Vancu to discuss the protests held in Victory Square, Bucharest, in front of the Romanian Government headquarters.
Well, the Romanian Government is at it again, and so the protests are back in full force. This time there's a new movement in town—in the Transylvanian city of Sibiu, to be exact: Vă vedem, or, "We See You." This silent movement holds daily creative protests in front of the Social-Democrat Party (PSD) headquarters.
Because the protests are back, and because Romanian democracy—like many democracies around the world right now—is at stake, I'm sitting down once again with Radu Vancu, who lives in Sibiu and takes part in the protests, to discuss the most recent developments.
Will you please give us a recap of what started the Romanian protests in January and what has happened since?
In December 2016, the Social-Democrat Party (PSD) won the parliamentary elections in Romania with a crushing 40%. They promised a massive increase of salaries and pensions—and their populist program seemed feasible to many Romanians who had given them their vote.
In January 2017, one month after their electoral victory, PSD announced an emergency decree which practically decriminalized the abuse of power. It was an attempt to save the PSD president, Liviu Dragnea, already sentenced for election fraud, from another sentence regarding an abuse of power he committed.
Romanians immediately hit the streets in massive numbers as a response to this attempt at decriminalizing theft. In February, at the peak of the protests, 600,000 people were in the streets. The decree was eventually withdrawn; the Minister of Justice resigned; the head of the party, Liviu Dragnea, remained in office and tried to keep a low profile.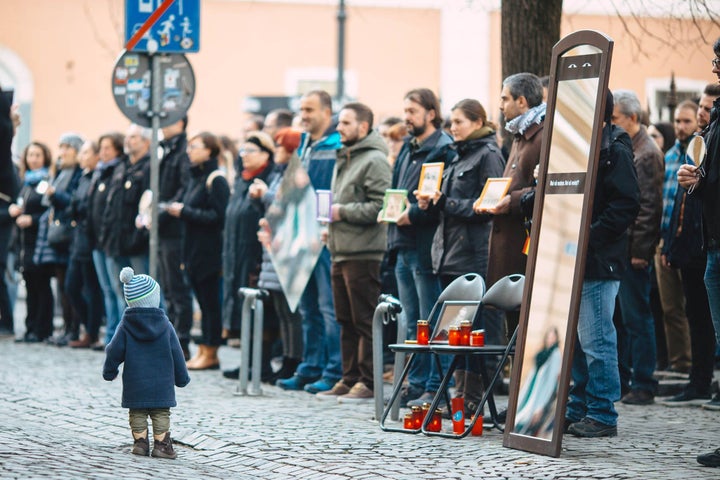 Earlier this month, the Romanian Government revisited these laws, starting a new wave of protests. What do you think would happen if these laws take effect?
In December, about 10 days ago, PSD started a new attempt at changing the justice laws. It is obvious that this attempt is meant to save the same Liviu Dragnea, but now the changes are much worse: they affect the whole judiciary system and are designed to protect the criminals rather than the victims. If these laws take effect, for example, a prosecutor must announce the alleged criminal before starting to gather evidence against him (which makes it impossible to find evidence against drug dealers or politicians who are bribed, among many other cases of fraud). No filmed evidence would be accepted as proof in court (imagine how useless all the protection measures in city centers, malls or banks would become); the victim would always have to give testimony in the presence of the aggressor (imagine this in the case of a rape victim—or of a molested child); and so on. All these laws seem to have been written by convicted criminals, rapists or child molesters who accidentally ended up in Parliament.
If these laws pass, Romania will become a state officially supporting crime. An ungovernable state, where it is impossible to raise one's children or to plan one's life. It looks as if PSD has decided that, if they cannot save their president from legal responsibility, then they will destroy the life of all Romanians.
In addition to the weekly and daily protests in Victory Square, Bucharest and throughout Romania, a new movement has begun in the Transylvanian city of Sibiu. And it's spreading. What is this Vă vedem ("We See You") silent movement all about?
After finding out with stupefaction and rage about these laws, Romanians hit the streets again. The first massive protest took place in Sibiu, where an ad-hoc movement of the civil society calling themselves Vă vedem din Sibiu ("We see you from Sibiu") organized a sit-in in front of the PSD headquarters, which lasted for 60 hours without interruption—and then was stopped for three days as a sign of respect for the national funerals of King Michael I of Romania, who has sadly just passed away. A daily flash mob takes place at 12 p.m. in front of the PSD headquarters in Sibiu, gathering hundreds of people. The movement's Facebook page has gone viral—in 3 days, its reach surpassed 1,000,000 viewers, and is now approaching 2,000,000.

The Vă vedem protesters have instated a Corruption-Free Zone in front of the PSD building. This zone also works as a space for public meetings and debates on ardent social and political topics. Guests have included visual artist Dan Perjovschi, photographer Cosmin Bumbuț, and columnist Elena Stancu. They also plan to develop an open library there, containing some essential books on freedom and public duty.
Their example was soon followed by other protesters in many Romanian cities, who have also titled their sit-ins and flash mobs Vă vedem. A map of Romania with all Vă vedem movements and all the Corruption-Free Zones has been designed. Songs and videos have been released, showing the ethical and legal imposture of PSD and asking them to withdraw these laws.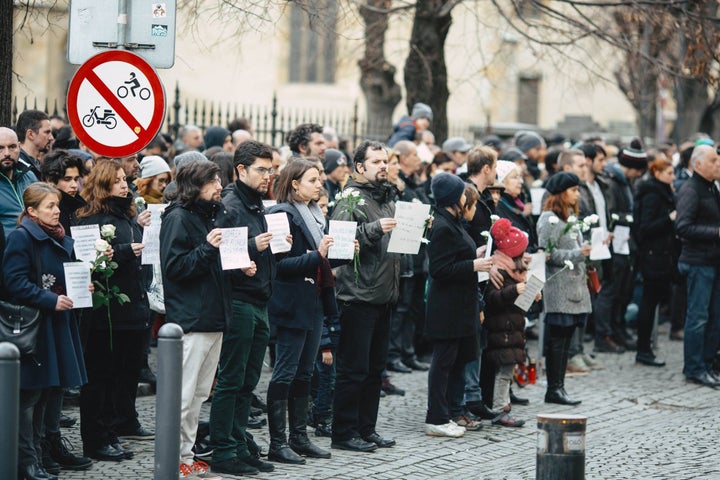 Romanian President Klaus Iohannis supported the anti-corruption protesters earlier this year. Has he said anything about this new wave of the movement?
The president of Romania, Mr. Klaus Iohannis, is expected to support the civil society protests, as he has also done in February. He has chosen in recent days to keep quiet, probably also as a sign of respect for King Michael's funerals. But in the weeks to come, his support is crucial in order to avoid the passing of these aberrant laws.
The U.S. Department of State recently issued a formal statement in response to these justice reform laws. Which institutions have responded, and, in your opinion, what's the consensus?
Yes, the Department of State has already issued an official warning against this justice reform which will affect and actually abolish the rule of law in Romania. The European Commission, the European Parliament, numerous embassies and legal institutions have also urged the Romanian Parliament to renounce this dangerous and irresponsible justice reform.
And the protests? How long do you think they'll continue?
The Vă vedem protesters in Sibiu state that they will be in the streets as long as it takes until these laws are withdrawn.
Related
Popular in the Community