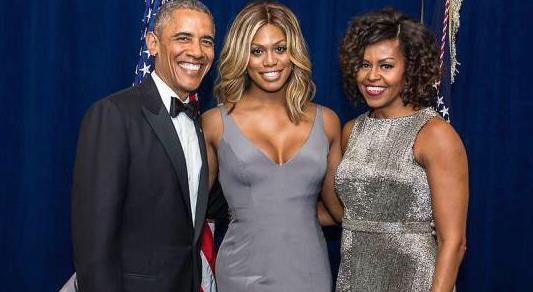 You may have heard about the "heckler" who was "shut down" by the President, but there is more to this story that needs to be told. I was but one of the many people lucky enough to be in the room to witness the exchange.
Today is a historic day for the LGBT community. Thanks to the Supreme Court's decision this morning, marriage equality is now a reality in 50 states. We now have more access to healthcare, more protection from discrimination, and more power in our political process than ever before.
And we have President Obama and Vice President Biden to thank. Time and again they have risked their own positions to take the right stand and support us. As the Advocate has highlighted:
Obama was "the first chief executive to say 'transgender' in a speech, to name transgender political appointees and to prohibit job bias against transgender government workers.
Now it's our turn to stand with President Obama.
On Wednesday, President Obama gathered a group of civic, non-profit, business, and social leaders together at his home to celebrate the accomplishments of this year and his administration. The president was flanked by our Vice President, Joe Biden, and was introduced by Megan Smith, an inspirational leader in our community who was the CEO of PlanetOut, GM of Google.org, and is our country's first LGBT CTO.
President Obama's accomplishments speak for themselves:
THE PRESIDENT: Together, we ended "Don't Ask, Don't Tell." (Applause.) We passed a historic hate crimes bill named in part after Matthew Shepard. (Applause.) We lifted the HIV entry ban, and this summer, we're going to be updating our national HIV/AIDS strategy which will focus on eliminating disparities that gay and bisexual men and transgender women face. (Applause.) We strengthened the Violence Against Women Act to protect LGBT victims. (Applause.) Hospitals that accept Medicare and Medicaid are now required to treat LGBT patients the same as everybody else. (Applause.) The pillar of the so-called Defense of Marriage Act was struck down by the Supreme Court as unconstitutional. (Applause.) Just yesterday, we announced that insurance companies that cover federal workers will no longer be able to prohibit gender transition services. (Applause.)
Last year, at the same event, President Obama honored Laverne Cox for her trailblazing impact on the trans community.
And his support doesn't stop in the U.S. Obama convened the first-ever White House Forum on Global LGBT Human Rights and, just last week, hosted a conversation to combat bias-motivated violence on the LGBT community worldwide.
His work and that of our vice president will have a lasting impact, not only on the estimated 10 million LGBT people in the U.S., but countless more around the world. Despite the progress made, President Obama was the first to highlight the work that has yet to be accomplished:
THE PRESIDENT: But we know that transgender persons still face terrible violence and abuse and poverty here at home and around the world.

AUDIENCE MEMBER: The transsexuals love you. (Applause.)

THE PRESIDENT: Well, that's the kind of heckling I can always accept. (Applause.)

But, seriously, too many folks are still targeted, and transgender women of color are particularly vulnerable. (Applause.) So that kind of ugliness simply doesn't belong in America. That's not who we are.
It was heartbreaking to see Jennicet Gutiérrez, the "heckler," act the way that she did. She is not a mere "heckler," as the media has dubbed her, but she was misguided in her actions. It was a day of joy, learning from our inspiring leaders and celebrating the accomplishments of each other. While I admire and value her cause and commitment, I cannot support the rude tactic she employed to draw attention to it.
I was as shocked as anyone when, just minutes into the President's speech, she started rudely shouting the same two sentences at the top of her lungs. Sharing the message wasn't enough; she wanted to cause a stir and kept going, despite the room and the President's silence.
The awkward interchange from our magnanimous President, who tried to hear her out and offered to let her stay, was held in stark contrast to the rude yelling that simply wouldn't stop. When she left, people applauded. Not because we don't support equality for all. We do. We just don't support the lack of respect to a team that has given us so much.
I will never forget how privileged and lucky I am to have had the opportunity to hear our President speak right before marriage equality is decided by the Supreme Court. Our President's parting words hit home:
THE PRESIDENT: When I became President, same-sex marriage was legal in only two states. Today, it's legal in 37 states -- (applause) -- and the District of Columbia. A decade ago, politicians ran against LGBT rights. Today, they're running towards them.
Thanks to President Obama and the work of hundreds of community activists, we have accomplished so much. Jennicet's outburst will fade with time, but what won't is the promise in the room.
Of the many inspiring stories I heard that night, one left me most hopeful for the future. I met Taz, an inspiring woman who left the world of finance after graduating from Harvard Business School to found the Reciprocity Foundation.
They've given support and growth opportunities to hundreds of LGBT homeless youth in New York every year for the last 10 years. Taz introduced me to one of the most impressive young men I've ever met. His name is Derrick and is a participant in the program.
As Derrick shook President Obama's hand, I smiled. Derrick's future is bright.
Popular in the Community