Not to toot my own horn, but I've been told I have great skin. And, for the most part, I do have clear skin. But because I am a human woman, I do break out with the occasional unsightly, oversized spot. It's a tale as old as time.
I feel like I've tried everything to prevent random break outs ― from preventative and inexpensive drugstore brands like Clean & Clear and Burt's Bees, to more expensive brands like Murad. Despite my best efforts, no products proved worthy enough of my returning devotion (most left my spots larger, redder and more dried-out than before).
Many products promise some kind of overnight sorcery to get back to clear skin, but more often than not that doesn't come to fruition. That is, until I discovered that the secret to clear skin might not come in a bottle or tube, but a pack of stickers.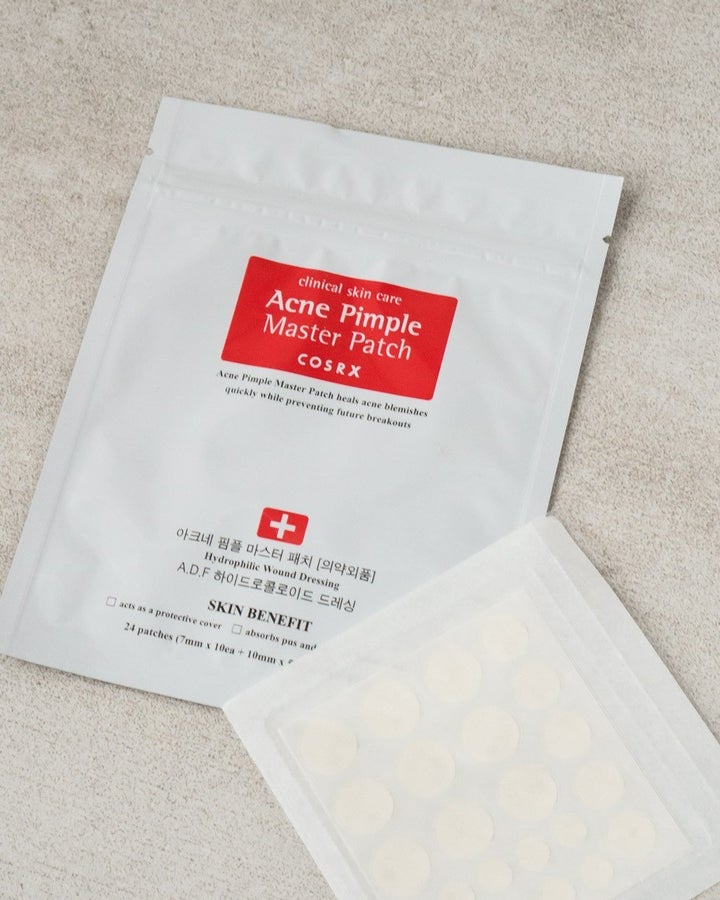 I discovered these miracle patches one morning when a coworker explained that her husband used their hydrocolloid sticker witchery to treat a spot overnight. Being a beauty obsessive, I had to try them for myself.
It's no surprise they come from the K-beauty geniuses. These Acne Pimple Master Patches by CosRx ― a well-known K-beauty brand ― are thin, clear hydrocolloid patches that easily adhere to the skin. They work to absorb bacteria and oil from the infected site, and because they don't have harsh ingredients, they don't dry you out too much. They're even gentle enough to leave on overnight, which is exactly how I use them.
My process for using them is simple: Wash your face, pat it dry, choose a patch that best fits the size of the spot and apply. It's almost easier than doing nothing at all.
I usually leave the patch on overnight, and in the morning I find that that the patch has turned white throughout its drying process, meaning it absorbed the bacteria. My spots are less swollen, less red and smaller in size ― a truly pimple-banishing trifecta.
"I've never experienced anything like these in my life. They've already done more for my skin than a professional dermatologist has ever been able to do for me. I jumped onto Amazon to review these because I felt like I had to join the choir immediately (I've already posted about them on Facebook *twice*)." — Amazon Reviewer

I use these usually at night but have also gotten away with using them during the day under makeup. They really do heal any pimple you have and even the surrounding clogged pores will get pulled out. You can literally see the proof on the patch and the pimple will usually be smaller or flat too." — Amazon Reviewer
HuffPost may receive a share from purchases made via links on this page.