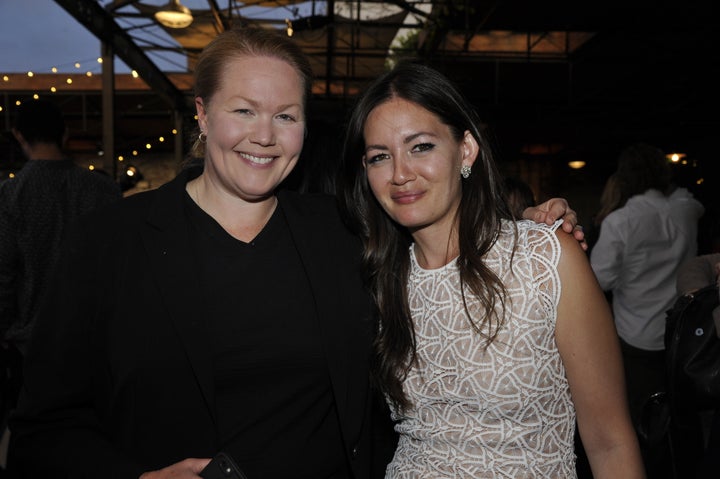 GC: What inspired you to become a foodie?
JH: My sister and I spent every summer with my Chinese grandmother, on my mom's side, and she cooked a lot. Aside from cooking a lot of Chinese food, she's also a very adventurous eater. We were always very fortunate to be near the San Gabriel Valley and have Asian food from everywhere. So, she would take us to eat everything. It just kind of stemmed from that and being exposed to a lot of different foods when I was little. Also, it came from being in the kitchen with her and having her teach us how to cook different things. So, from the very beginning I had a really deep appreciation for food and all different kinds of cultural cuisines. I'm lucky that my parents were the same way. All the time they would say, "Let's go get Iranian food or let's go get Ethiopian food this weekend." So, my sister and I were always agreeing, "Right, let's do it." Luckily, they exposed us to all these different cultures and cuisines that we already have in LA. I gained this great appreciation for it. It's what makes me most happy, and so excited I get to do this every day.
GC: So, it's something you're deeply passionate about, then? It's not just a job?
JH: No. Because I love it, it's never a job. I'm just so fortunate to do it. But, my passion was definitely passed down from my grandmother and my parents.
GC: How has working at the LA Times influenced your opportunities to explore your passion for food?
JH: I think the food team at LA times has made the biggest impact. Jonathan Gold is a good example. As a critic, he will go to the white tablecloth restaurants, but he will also find the hole in the wall Sichuan place that I didn't even know I was craving. It's like he has this obsession with all different types of food and all different types of people. The fact that I get to work with him and Amy Scattergood, our food editor, who both share that same passion makes all the difference. There's just this deep appreciation for the food and chefs in LA and what they are trying to do. The LA Times is definitely the perfect fit for that, and, as a section, that's what we really strive for – to be accessible and to be accepting. I feel like it's a really good place.
GC: From the perspective of the LA Times, how did the LA Food Bowl come about?
JH: I have to give Dave Maharaj, our publisher, props because this was originally his baby. He knew about food month in a few other countries like Australia and had been suggesting that we start something like this. It's the right place for this. It's the right food community for this, and we were like, "Yes, this sounds amazing!" It's really supposed to be a love letter to LA food, and a whole month-long appreciation of the chefs and the people here. So, that's the whole idea behind the 31 days of food, and it's also to appreciate how much diversity is here. There are so many different cultures and ethnicities and types of food, and this is supposed to be an appreciation of all of it. Rather than have a festival that was just a weekend where you go, buy a ticket, get a little slider from someone – which is all great and everything – we wanted to welcome any restaurant to submit an event and participate. So, any restaurant in the city could participate if they wanted to. And, even with the night market, we opened it up and said, "Who wants to come? Who wants to do this?" We really wanted to be inclusive of everyone, and that was the idea behind this.
"I really hope to have one person come to the Food Bowl and say - Oh my gosh, I've always wanted to try that restaurant and I've never gotten there to try it out. It's all about great food, and discovering something new that you can appreciate."
GC: Do you think the blurring lines between the entertainment industry, chefs, and social influencers have created the opportunity for an event like the Food Bowl to be successful right now?
JH: Here's the thing. I think the chef celebrity is a thing now more than ever. Jonathan is the perfect example. He had City of Gold, his documentary, that was released. He was already famous, but I think that helped him into a whole new level of fame that I don't think existed for him before. The same thing happened with the movie Chef and Roy Choi consulting on it. I feel like there's this spotlight, right now, on chefs and food. Luckily, a lot of the great ones are in LA, so I think it's kind of this trifecta of things coming together that are totally working. But, I think the celebrity chef – the fact that it's a thing now – is definitely playing into it. And, I think it's just putting a spotlight on the great food they are already making, but maybe it just wasn't on your radar before. And social media, too. This festival alone, #LAFoodBowl, is blowing up, and I love that people are saying "Who wants to meet here?" A lot of the food is free, and you don't have to pay. The supermarket area is only $10, so it's not like a $150 VIP ticket. It's supposed to be accessible, so I think accessibility, celebrity chefs, and social media are coming together for a perfect storm to make this work. I love it.
GC: Would you consider this a great success?
JH: Oh definitely! For the first year, I am thrilled with it. I love it!
Related
Popular in the Community