Zooey Deschanel holds many charitable causes close to her heart and is vocal about the importance of gender equality. Now that she has two kids, she plans on passing down her passions to them.
"I was really excited because Huggies is donating about 3 million diapers to families in need, and that's so huge," Deschanel told HuffPost. "It helps to understand how crucial diapers are. It's an absolute bottomline basic need, and you shouldn't have to choose between diapers and food or diapers and clothes. It should be something that's a given."
Deschanel is encouraging others to help, too, with the hashtag #DonateDiapers. Huggies will match every tweet this week with the hashtag with a day's worth of diapers for a family that receives help from Baby2Baby.
On the day of the event, HuffPost Parents spoke with Deschanel about her work with Baby2Baby, her new project about sustainable living, feminism and how she's instilling important values in her two kids.
How did you get involved with Baby2Baby?
I actually sought them out because they do really amazing work. Since my daughter was born a few years ago, I've been donating diapers as she grows out of them or clothes that we don't need anymore or baby gear. I just had observed how efficient they are and how many people they're able to reach.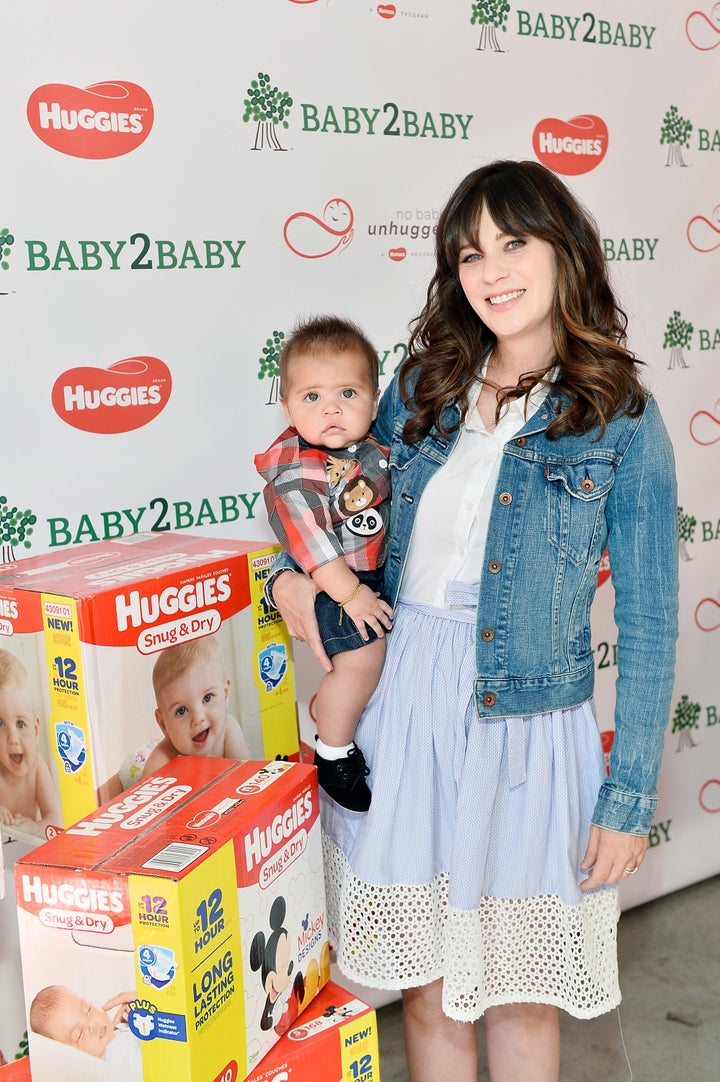 You've always had many charitable causes close to your heart, including children's charities. Now that you're a mom, how are you teaching your kids to give back?
It's really important to teach your kids at a young age to volunteer and how to help raise money and raise awareness. I think raising awareness about issues is the most important thing, because not everyone has the time to volunteer or the funds to donate money, but if you are able to spread the word then the awareness really sparks a lot of the ability of these causes to attract attention and to fix some of the problems that are out there.
You and your husband, producer Jacob Pechenik, have a new series called "Your Food's Roots," which keeps people in tune with the origins of their food and promotes sustainability. How have you incorporated these elements into your day to day as a mom?
When I was pregnant with my daughter, I really wanted to give her the best chance possible to be healthy. Their brains are developing, and you want to eat all the right things. I realized that even though I was healthy and well-informed, how little even I know about my food. I didn't see the farmers that were growing the food, and I didn't know exactly where everything that I was eating came from. And I consider myself to be a healthy, well-informed person, so I realized if I was that way then probably a lot of people didn't know where their food came from. We're trying to help everybody get back in touch with their food.
We've been growing a lot of stuff at our house in a vertical garden. We have an organic farm in Austin, Texas. We have been trying to eat more fish and cut back on meat, and when we do eat meat, we know where it comes from. Just being as aware as possible really helps.
You have also been vocal about being a feminist. HuffPost Parents has a Facebook group and newsletter called "So You Want To Raise a Feminist" that highlights how parents can teach their kids about gender equality and gender stereotypes. How are you raising your kids as feminists?
I think that the main thing is just not standing in their way. My daughter is only two, but she's so strong and confident. I think it's not letting those societal kind of pressures and those stereotypes affect them. Mainly I think it's protecting her confidence, because she was born with it.
I come from a family of pretty strong-willed women, and all the women in my husband's family are amazing. I think we have a pretty good network for strong women, so that's a start. I think it's mainly encouraging kids to express themselves and speak out and be confident.
What's the best piece of advice you ever received about parenthood?
Get the kids on a schedule. If they have regular naps and they don't get too overtired they sleep so much better at night. And when you're able to get sleep as a parent, you're a better parent and a better human
Popular in the Community