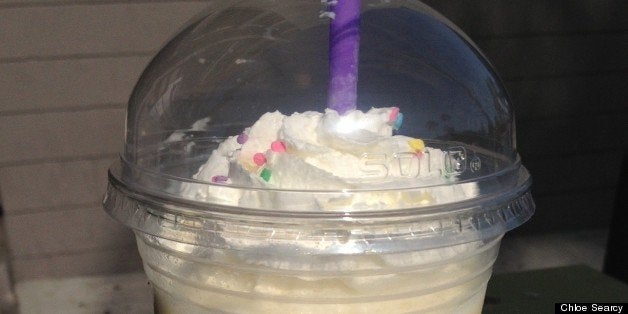 The Coffee Bean & Tea Leaf is turning 50 years old, and they're celebrating the way any quinquagenarian would -- by splurging on a gaudy new toy!
The Birthday Cake Ice Blended is Coffee Bean's mid-life crisis. It's a sexed-up, sugar-packed version of the old classic, with many more bells and whistles (sprinkles!), but once the sugar rush passes, it's no more satisfying than what Mr. Bean had before.
Being the good Angeleno and the rabid birthday cake fan I am, I ran, didn't walk, to my nearest Coffee Bean to celebrate the big 5-0 in style. I ordered up a Birthday Cake Ice Blended "with the works," which turned out to be approximately five sprinkles on top of the usual pile of whipped cream. Then I stuck a purple straw in that baby and dug in.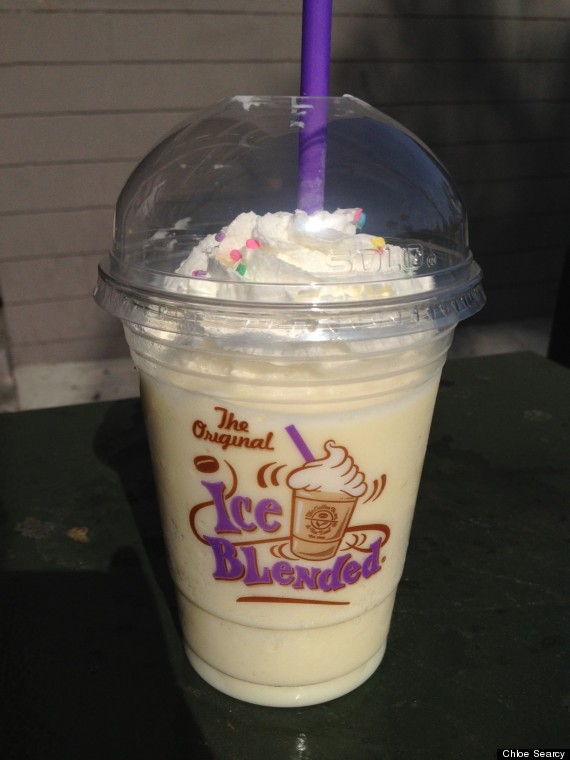 I have good news and bad news. Which do you want first?
The bad news is this: There is no detectable birthday cake flavor in the Birthday Cake Ice Blended. What I first thought were chunks of real birthday cake actually turned out to be clumps of undissolved "flavor" powder. Those were actually pretty good, but they were not in fact real birthday cake, and the flavor was suspiciously similar to the Vanilla powder available for bulk purchase. The only difference, seemingly, between the Birthday Cake and Vanilla Ice Blendeds, is that Birthday Cake doesn't have a sugar free option. Oh, and it has, like, four sprinkles on it.
The good news, though, is that this drink is delicious, and it is available year-round, every year, in its original packaging: The Pure Vanilla Ice Blended! So even you Coffee Bean-ites in NYC can celebrate Coffee Bean's 50th Birthday. You just have to provide your own sprinkles.
On another note, they are also offering a special Rocky Road Ice Blended, but I'm willing to bet it's just a Chocolate Ice Blended with a marshmallow on top.
Popular in the Community