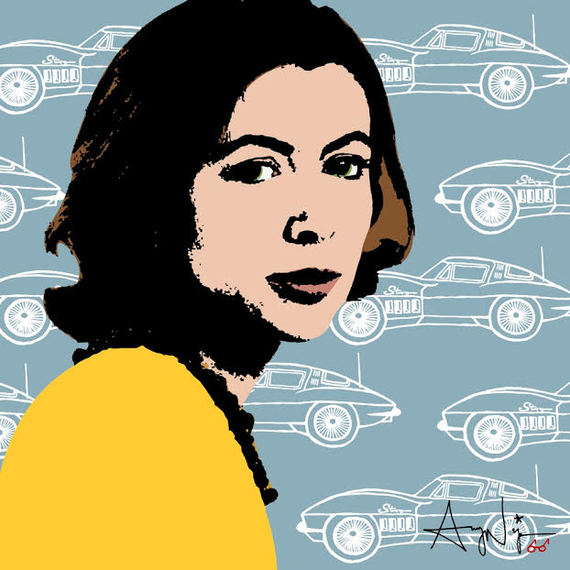 Avery Nejam Limited Edition Print. Image courtesy of Avery Nejam
"We tell ourselves stories in order to live," Joan Didion writes to open one of her many seminal essays, "The White Album." "We look for the sermon in the suicide, for the social and moral lesson in the murder of five. We interpret what we see, select the most workable of multiple choices. We live entirely, especially if we are writers, by the imposition of a narrative line upon disparate images, by the 'ideas' with which we have learned to freeze the shifting phantasmagoria which is our actual experience." A cursory Google search of those opening lines reveals that they have been used by none less than a Christian evangelist, a postmodern philosopher, a business leadership consultant, a Beatles biographer, and Into Thin Air author John Krakauer to illustrate stories' sway over our lives.
It's a compendium of characters Didion herself might appreciate, and one which her own family is now joining. Didion's niece and nephew are teaming up with a co-producer and director to make a documentary titled We Tell Ourselves Stories in Order to Live that will "show Joan's life through her words and put those words to images," as Didion's niece Annabelle Dunne put it to me. The film will be co-directed by Didion's nephew Griffin Dunne and documentarian Susanne Rostock, and co-produced by Annabelle, who also produces films with Vanity Fair's Graydon Carter, and Emmy-winning producer Mary Recine.
The genesis for the project was the short film that Griffin, an accomplished actor, producer, and director, made to accompany his aunt's 2011 memoir, Blue Nights. The resultant short is a haunting mélange of vignettes set to Didion's text. "We filmed in the middle of August in New York," Annabelle recalls. "It was incredibly hot, and hard to find a crew, but Joan was totally game. We shot for three or four days, and I think she had fun." The experience made the cousins realize how compelling a documentary spanning Didion's entire life and oeuvre could be, and pitched their subject. "Her response was very Joan," Annabelle remembers: "'Fine.'"
The team has been at work ever since, shooting footage of Didion and fundraising for the film, which is a daunting task even when the subject is a cultural icon as beloved as theirs. So the team got creative in a quintessentially contemporary manner: they decided to launch a Kickstarter campaign. The crowd-funding site offered a unique way to not only raise funds, but also to prove to potential backers that the film would have an audience. Another incentive to using Kickstarter was the prospect of reaching a new audience. "One of our motivators in the Kickstarter campaign was engaging a younger community," Annabelle said. "We'd always known there was an interest in Joan's work there, but we weren't totally aware how keen that community is to see something like this."
And keen they are. Announced on Vogue.com on October 22, the campaign surpassed its fundraising goal of $80,000 in 25 hours. Pledges of every denomination are rewarded with an array of Joan-themed objects. "People responded not to glitzy items, but those that have a connection to Joan," Annabelle said. To wit, supporters have snapped up everything from a handwritten list of Joan's twelve books to read before you die (pledges of $35 or more) to an old pair of her trademark sunglasses (pledges of $2,500 or more). And more memorabilia has subsequently come out of the woodwork. Rummaging through his studio, director Jerry Schatzberg found the original manuscript for The Panic in Needle Park, the first screenplay that Joan co-wrote with her late husband John Gregory Dunne, marked up with edit notes. It will be offered as a reward starting on November 17th.
A testament to how deeply Didion's words have inspired artists across mediums, friends of the film like stylist Christopher Niquet and artist Avery Nejam have created an array of limited-edition items for supporters (a t-shirt emblazoned with a photo of Joan that epitomizes itself the cool force of her prose, and an arresting pop art-esque print of the same image, respectively.)
The overwhelming response to the campaign and the community that has coalesced around it will impact the film's narrative arc, absolutely, Annabelle said. "This whole project is about Joan, her work, and how it has impacted people. There will be a huge amount of interviews in the film, from her peers, critics, editors, collaborators, young people who have been affected by her work. Her work is such a bond, it can glue together a whole room of strangers."
Up next for the filmmakers is an intensive round of interviews with such figures as Patti Smith, Annie Leibowitz, Michiko Kakutani, Graydon Carter, Anna Wintour, and Bret Easton Ellis. (Anyone who pledges $5,000 or more can come catch an interview on set.) The plan is to shoot through the winter and begin cuts in the spring. One gets the sense that the fundraising campaign has galvanized the many creatives Didion has inspired to further express and explore her impact. For one, this Monday Vanessa Redgrave, who portrayed Didion's character in the 2007 Broadway adaptation of The Year of Magical Thinking, will give a reading of Blue Nights at the Cathedral of St. John the Divine.
And as for the subject herself? "I think Joan is getting a kick out of all of it," Annabelle said. "She's tickled."
The Kickstarter campaign for We Tell Ourselves Stories in Order to Live closes on the 20th of November. To contribute, please go to Kickstarter.
Related
Popular in the Community