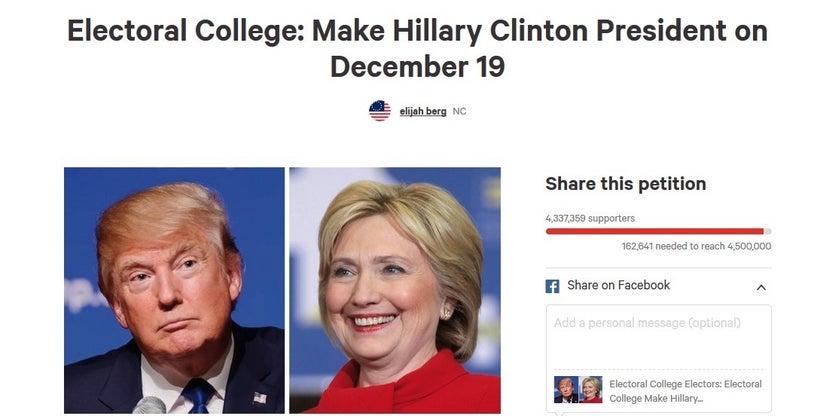 #AskTheElectors: Hillary is @ 48 to Trump's 47 percen. On December 19th, electors of the Electoral College will cast their official votes for the President of the United States of America. Please voice your concerns directly to them.
If you live in New York, Senator Kirsten Gillibrand's office is staking a 'concerned citizens' tally so she can it on the floor against Bannon. Below are the numbers to call her. Even if you get a busy signal, please don't give up, continue calling her.
Albany: (518) 431-0120
Buffalo: (716) 854-9725
Long Island: (631) 249-2825
New York City: (212) 688-6262
North Country: (315) 376-6118
Rochester: (585) 263-6250
Syracuse: (315) 448-0470
Hudson Valley: (845) 875-4585
As Trump's dysfunctional transition team flounders and his stunning ignorance about how to run a country dominates headlines, I feel like I'm living the result of a response to a poorly written Craigslist ad that I can't escape from.
Title: America Seeks a President, No Experience Necessary, Location TBD
The Post: Hi There, Thanks for taking a peek! We're really excited that you chose to learn more about the position for Presidency of the United States!
We are pleased to announce that the presidency, once billed as a gig that sought experience in public service, such as governor, senator, and/or legal background, has radically changed! Whether you're a You Tube star or novice, a Subway sandwich maker, or an aglet factory worker, this formerly coveted position can now be yours!
Please read the below requirements and apply if you think you're a fit!
Pathological self-centeredness bordering narcissism (here's the definition as a just in case).
Lack of knowledge about America's laws, Constitution, and branches of government
Believe and communicate assiduous racism, sexism and anti-Semitism * Keenness to obliterate women's reproductive rights * Terminate LGBTQ rights * Admonish restrictions on gun laws (don't worry about the "how to's") * Contempt for immigrants and Muslims paired with gusto for deportation
Upend democracy for dictatorship and authoritarianism (there's even a picture!).
Unwillingness to learn
Criminal history is a ++++++!
Demonstrable conflicts of interest (this could be a toughie for some, but give it a shot. Maybe you can send a few examples?)
Experience in international affairs is frowned upon
If you have experience in domestic affairs, you're overly qualified. Please don't waste our time by submitting
If you submit a resume, your candidacy will be immediately rescinded from consideration
Lengthy experience in, and a real knack for Internet Trolling
Must be knowledgeable about conspiracy theories with enough creativity to invent them
Obsessive liar, someone entirely incapable of grasping the truth
Believe climate change is a hoax
Rebuke science
Rebuke technology
No intellectualism (snooze)!
Please don't bore us with your tax returns
Deep ties to Russia and Putin are a HUGE perk!
Knowledge about how to rig an election in your favor
Send us a brief paragraph about yourself (no need to concern yourself with spelling and grammar) and your Twitter handle, we'll findjya!
WE need to get out of this nightmare. Although protesting the Electoral College votes in December might be a long-shot, we need to take it.
Yesterday, Mother Jones reported the following: "On Tuesday, the director of the National Security Agency, Admiral Michael Rogers, was asked about the WikiLeaks release of hacked information during the campaign, and he said, "This was a conscious effort by a nation-state to attempt to achieve a specific effect." He added, "This was not something that was done casually. This was not something that was done by chance. This was not a target that was selected purely arbitrarily.... Presumably intelligence and law enforcement agencies are robustly probing the hacking of political targets attributed to Russia. But there is another inquiry that is necessary: a full-fledged congressional investigation that holds public hearings and releases its findings to the citizenry."
This, among countless other wrongdoings, is serious and we need to get on it!
Finally, I can't stress this enough, we must stop normalizing Trump. Not only is it perilous because it's an endorsement of his dreadful actions, doing so undermines the brutality of consequences Americans and other nations face. Stop reacting to soundbites and dig as deep as you can to uncover the malevolence of Trump's actions and consequences as a result. Trump has requested that his children (of the corn) get security clearance. Please note, they are as much of a menace to democracy as Trump.
If we don't give up, together we can KEEP AMERICA GREAT.
REAL LIFE. REAL NEWS. REAL VOICES.
Help us tell more of the stories that matter from voices that too often remain unheard.
This post was published on the now-closed HuffPost Contributor platform. Contributors control their own work and posted freely to our site. If you need to flag this entry as abusive,
send us an email
.