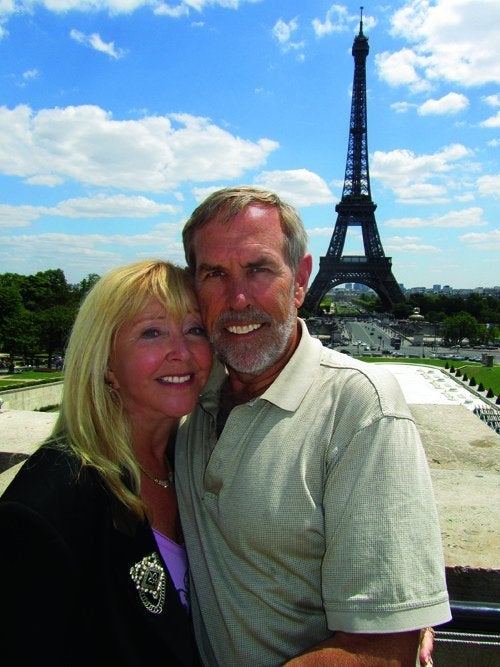 Travel tops the dream accomplishment list for boomers in a recent AARP national survey. Many boomers wish for more adventure and romance in our lives. Almost all of us have a "bucket list" of travel dreams.
My wife, Pat, and I, now 60 years old, have been fortunate enough to share a life-changing adventure together. We rented out our home in Del Mar, California in 2009 and have traveled the world for the past two years. In that time we traveled to 51 countries, making a grand total of 100 countries on six continents and 43 U.S. states visited in our lifetime.
Years ago we gave up careers in the high-tech industry to start our own business so we could devote more time to raising our son and doing some traveling. But our vacations were limited to two to three weeks because of the requirements of our business, raising a family, and volunteer work.
When we sold our successful business and became empty nesters in 2009, I suggested taking a few months off to travel before we launched into something new. We had worked continuously since graduating from college. We had always dreamed about taking time to explore some of our dream destinations, such as the Greek Isles, Italy's beautiful lake district, Croatia's Dalmatian coastline, New Zealand, and the Panama Canal.
After considering my suggestion, Pat came back a few days later and suggested we take a year off. My first thought was "Americans can't take a year off!" But being a former Economics professor, I did some research and discovered a slightly different way to travel for less than the cost of living at home. I learned that we could travel for months with what we normally spent for our vacations by eliminating expenses. We did and by doing so, we learned much more about ourselves and what makes us happy.
Travel has permanently improved our lives, giving us a renewed outlook. By taking time away from our routines, we were able to reevaluate what was working for us and what was not. Through our many adventures -- which have included riding an elephant in Thailand, river rafting in Argentina, climbing the Great Wall of China, sailing on the Nile, hiking a glacier in New Zealand, scuba diving in the Red Sea, and zip-lining through a Costa Rican rainforest -- we learned that there is so much more to life than we ever imagined.
Traveling with only a suitcase has shown us that we need less material things to be happy. We have learned that it is much more important to slow down and enjoy people, friends, new experiences, adventures, romance, and learning. We are having fun, laughing, and waking up excited every day about having the experience we choose. Life without routines is inspiring and renews your playful spirit and love of life.
You have a chance to rekindle your relationship when traveling. When you raise children and you work, sometimes you need to bring back the romance in your life. If you want to find the spice of life, travel and make it an adventure. We have so much to talk about and have such great memories. You rediscover the things that attracted you to each other in the first place when you travel as a couple; it has brought us closer together.
We also wanted to learn more about the world and the people in it. Pat and I discovered the world is a wonderful place and people all around the world are joyful and loving. The people we met have more similarities with us than differences -- they all care about their families, work, and being a good person. We have learned much more about having a happy and satisfying life by meeting and talking to so many interesting people from many cultures.
Now Pat and I have a new "career." We love to inspire others to travel, helping them to realize and afford their travel dreams, from weekend getaways to longer vacations. We look forward to sharing inspiring travel ideas, how-to tips, and bargain-finding strategies with you in future posts.
REAL LIFE. REAL NEWS. REAL VOICES.
Help us tell more of the stories that matter from voices that too often remain unheard.