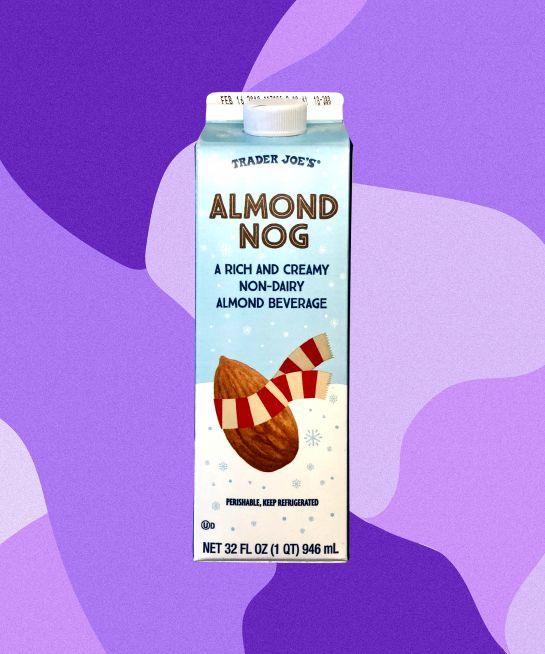 As far as holiday beverages go, eggnog is a seasonal classic. The drink is usually made by dressing up a dairy base with sugar, whipped egg whites and yolks, spices and finally a splash of booze. The taste is like crème brûlée. It's an aesthetic, texturally and taste-wise, that we associate with the month of December in sweet liquid form. However, for those of us who don't "do" dairy, for whatever reason, traditional grocery store varieties of eggnog are usually off-limits. But, not anymore! Since trendy milk alternatives have stormed the standard dairy scene, new festive and eggless-nog options have been popping up left and right.
To get a handle on all the alternative holiday nog options out there, we decided to give three popular cartons a try: Trader Joe's, So Delicious and Califia Farms. Scroll ahead for our almond and coconut-based blind-tasting results — and to figure out exactly which sweet sip you can rely on as a stand-in for the seasonal classic at holiday parties.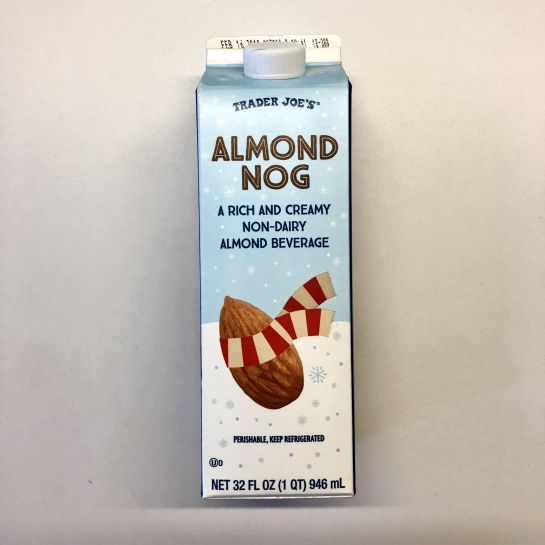 Dairy-Free Base Almond milk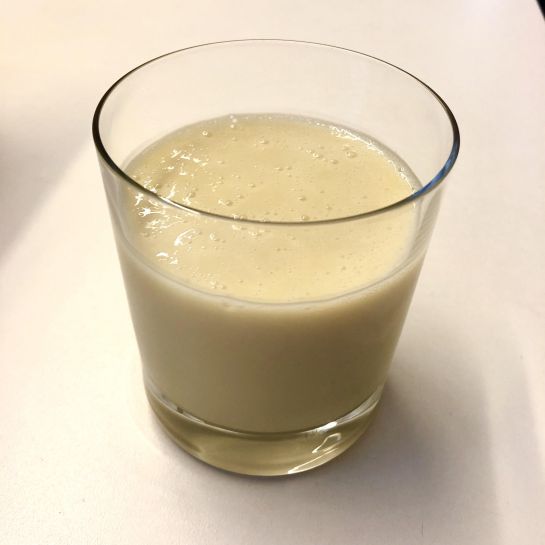 Taste Sweet and vanilla with strong almond undertones. Not overwhelmingly eggnog-flavored or seasonally spiced.
Texture/Consistency Very smooth and on the thick, custard-like side.
Ideal For Someone who likes the flavor of almond milk better than traditional eggnog, but is looking for a thick dairy-free option for holiday cocktail mixing.
Would Buy For The Holidays? Yes. If spiked with a splash of bourbon, definitely, but not for solo sipping.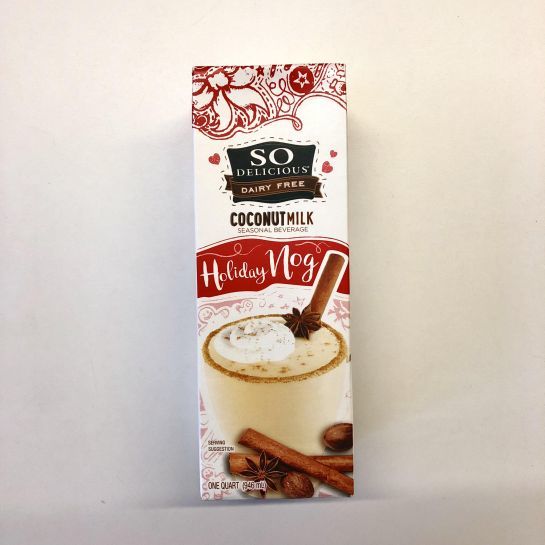 Dairy-Free Base Coconut milk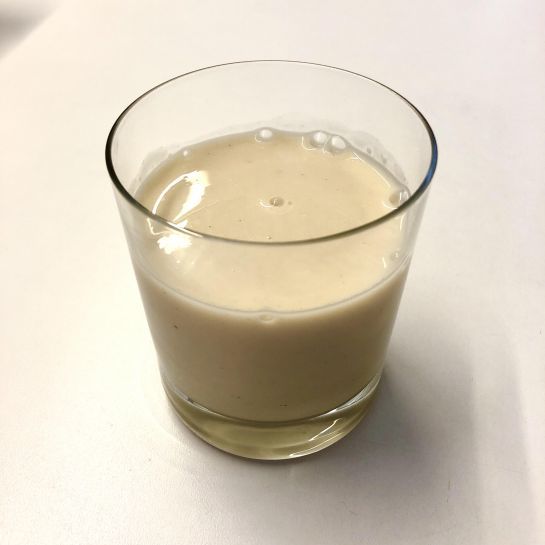 Taste Intensely sweet with much stronger spice notes than TJ's and a more subtle, coconut undertone.
Texture/Consistency Thinner than the TJ's, with a more syrupy-smooth finish.
Ideal For Dairy-free holiday beverage seekers who love eggnog flavor, and also have a major sweet tooth.
Would Buy For The Holidays? Yes. For making eggnog lattes OR sipping in shot form, this option, mixed with some gelatin and booze, would make one delicious dairy-free tray of festive Jell-O shots.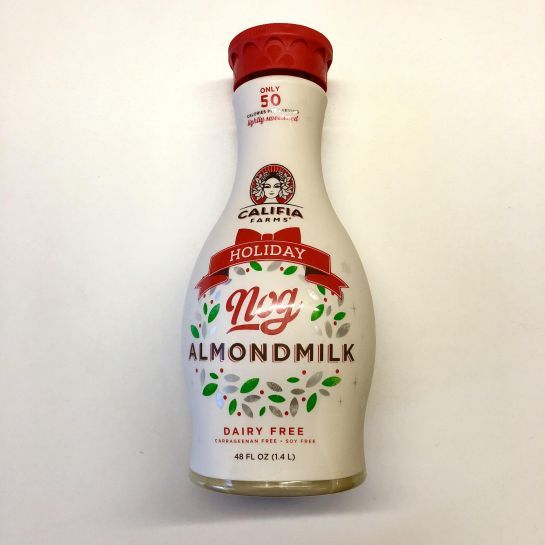 Califia Farms Holiday Nog
Dairy-Free Base Almond milk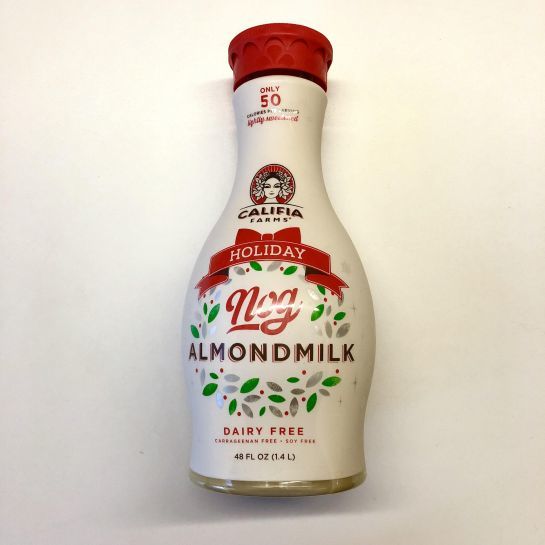 Taste Very sweet with a more subtle almond aftertaste than TJ's.
Texture/Consistency The thinnest of the three options, this drinks much more like milk than a thicker syrup or custard.
Ideal For Drinking comfortably in a cup on its own.
Would Buy For The Holidays? Yes. Califia's more palatable consistency and subtler flavor profile, would work for solo sipping or as a slightly more festive way to add milk to your morning coffee this holiday season.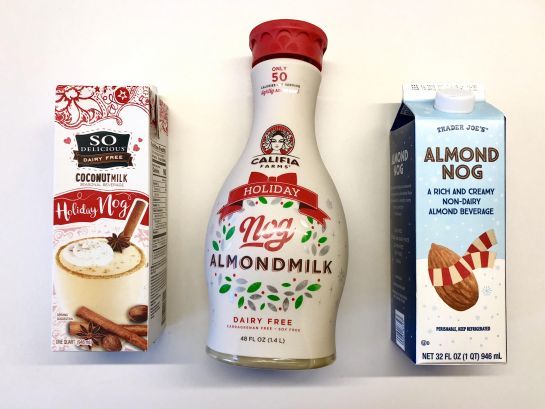 Winner: So Delicious Holiday Nog, $2.49
When considering a dairy-free nog, So Delicious stole the show with its festive flavor, thicker consistency, and affordable price tag. If you're searching for an eggnog option that won't give itself away as "alternative," So Delicious's coconut milk-based carton is your best pick. However almond milk fans should consider Califia as a coffee mix-in substitute, and Trader Joe's version (the cheapest option) just needs a splash of booze.