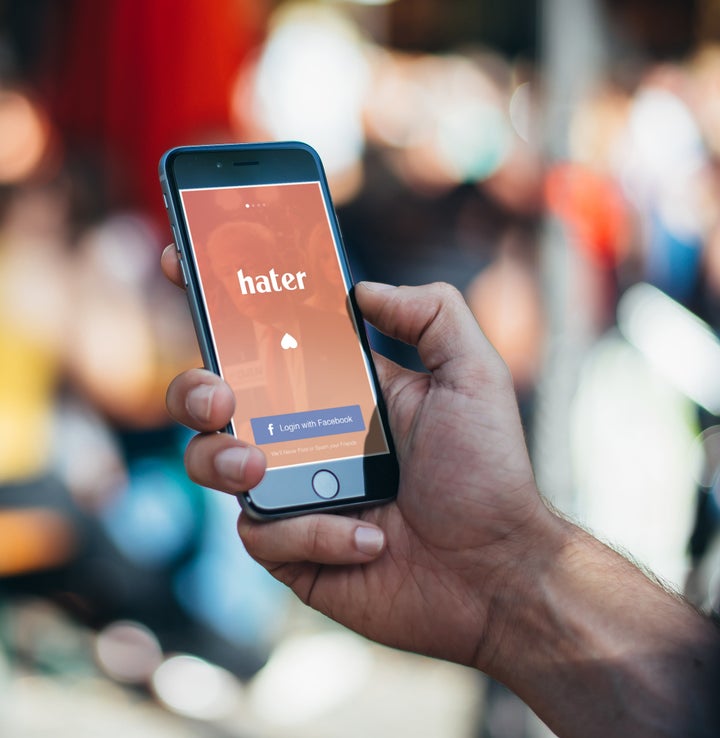 If you hate a lot of things (but don't hate online dating) then this app might be for you.
A new dating app called Hater, which publicly launches February 8th (yes, just in time for Valentine's Day), takes the concept of matching people based on things they both like, and flips it on its head. So if you don't like long walks on the beach, drinking pina coladas, and taking walks in the rain, Hater will find you someone who despises those very things too.
The app allows users to swipe in four different directions to select whether they love, hate, like, or dislike a person, activity or concept.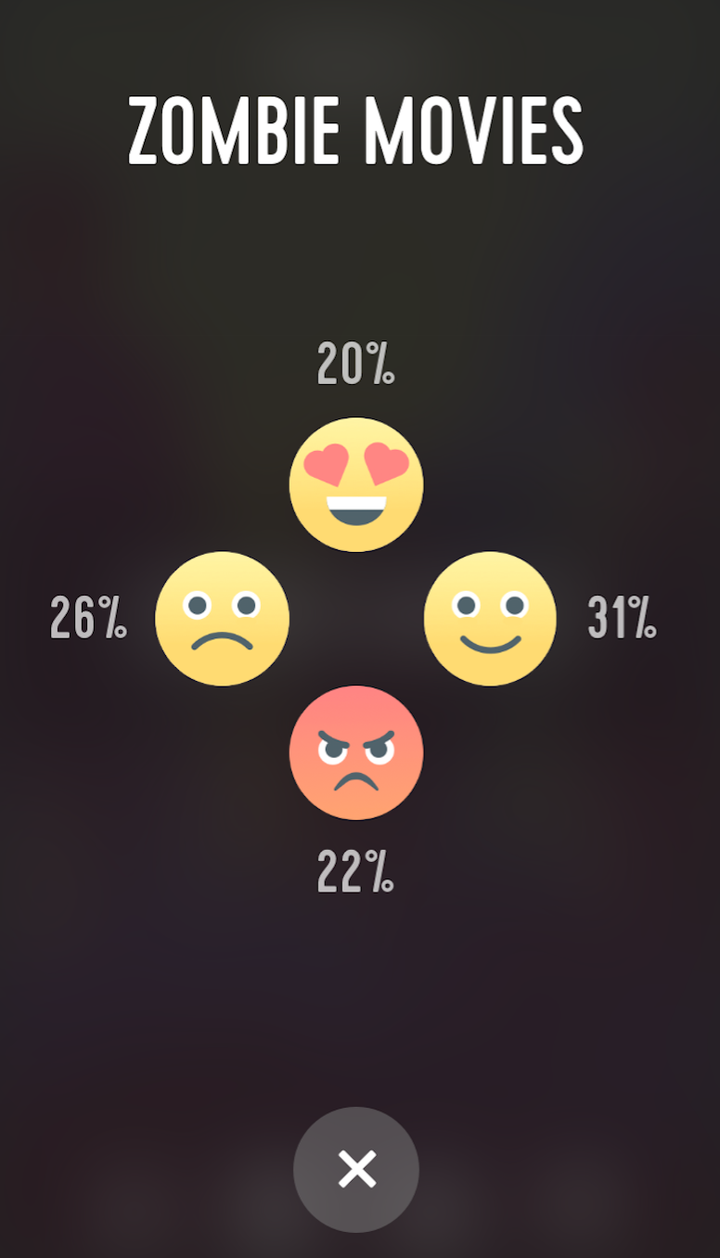 Hater launched in beta in December, and the creators told HuffPost that about 10,000 people are using the app before its official roll out. In the name of journalism, we checked it out too.
In playing around on Hater, the app's design is sleek and chic. The color-scheme is reminiscent of Tinder, and it's pretty intuitive to use. After a few swipes, you can get the general feel for how things work.
The most fun part of Hater is definitely swiping through the offerings of items you either hate or like. The seemingly endless list include things like "biting ice cream" or "Facebook stalking." There's a fair amount of political items, like "Vladimir Putin" and "Build the Wall," but they're sprinkled amidst lighthearted things like "The Bachelor," "Twitter" and "Staying Up Late." There are also a handful of sexual things featured, like "69," "The Missionary Position," and "Butt Selfies."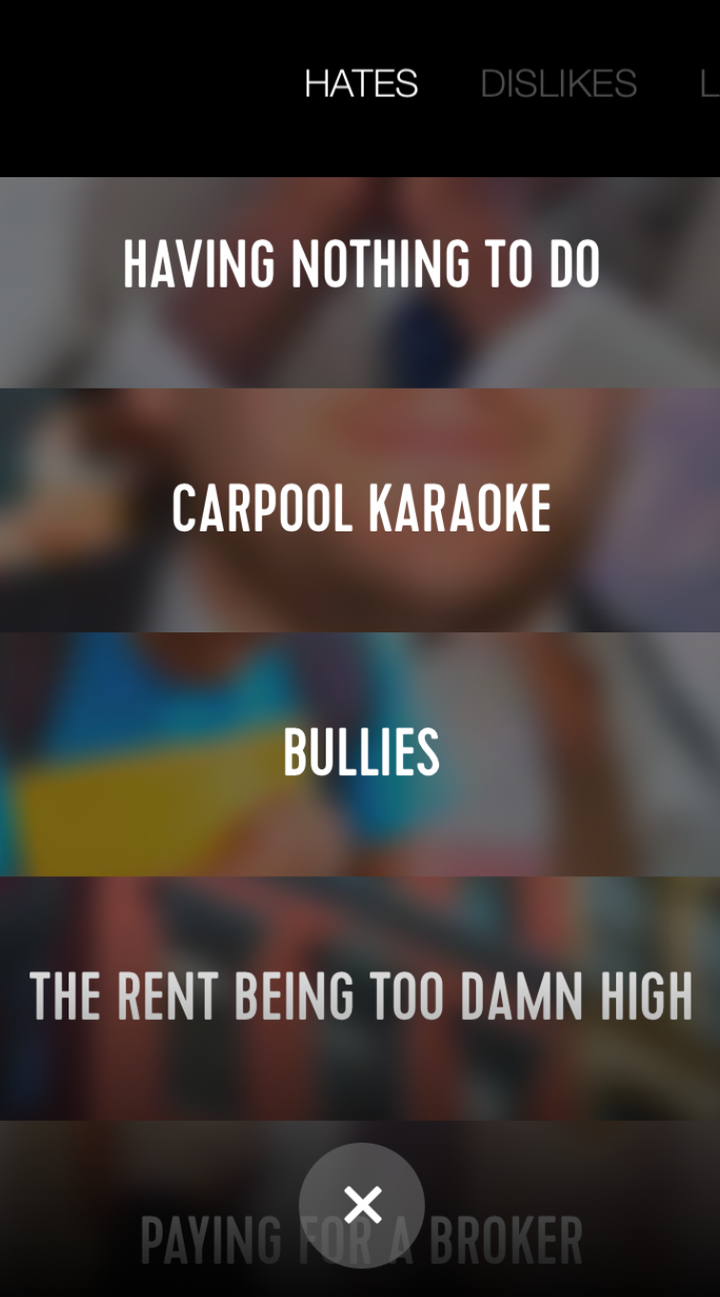 Hater told HuffPost that there are currently 2,000 topics to swipe on, and that the app has plans to keep adding more user-created ones.
When you're not curating your own profile with what you love and hate, you can swipe through other members on the app, similarly to the way you would with apps like Bumble and Tinder, to make some match magic happen.
What separates Hater's swiping experience from other apps is that outside of a user's handful of photos, age, and list of hates/loves/likes/dislikes, not much is revealed. You won't know a potential match's job or education level before swiping. Whether this is good or bad is depends on a user's dating priorities.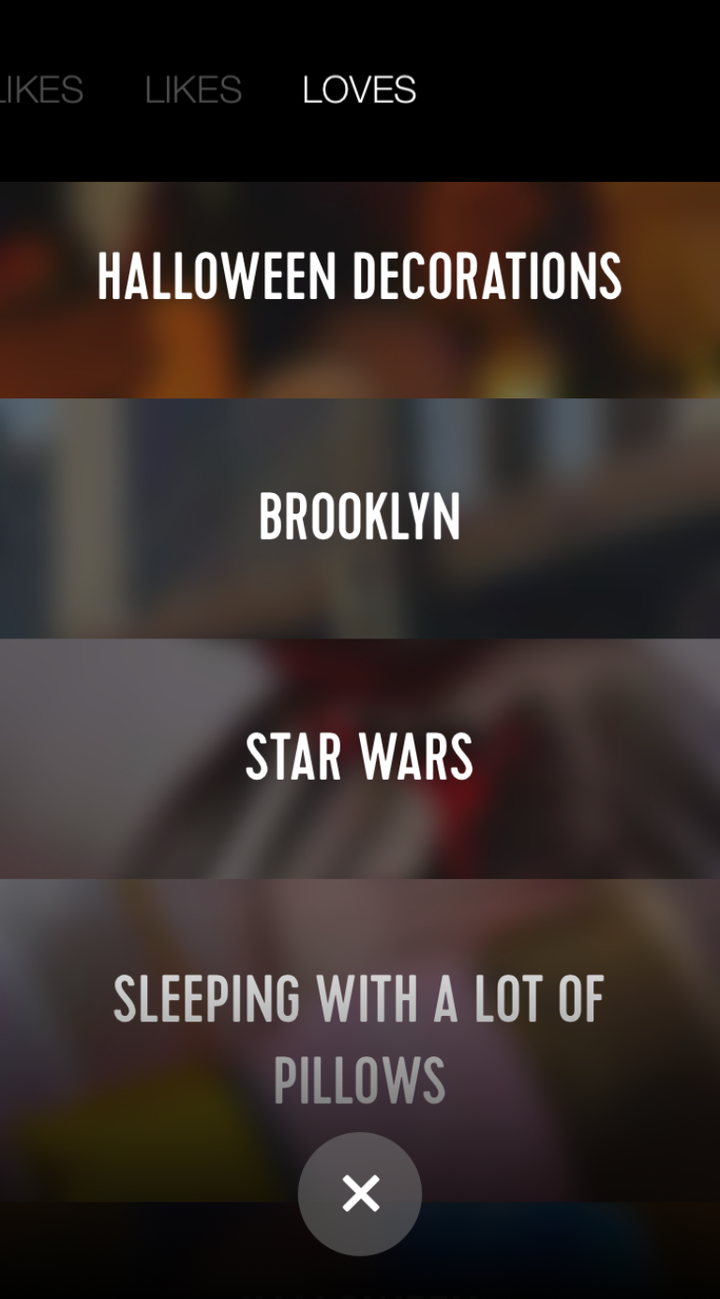 Another interesting feature of Hater is that the app attempts to do the heavy-lifting of initial messaging for you. The app offers a creative ice-breaker for you, in the form of Mad Libs-style sentences that you can fill in with your own silly responses. There's no worry of having to send a limp, "Hey" out into the void.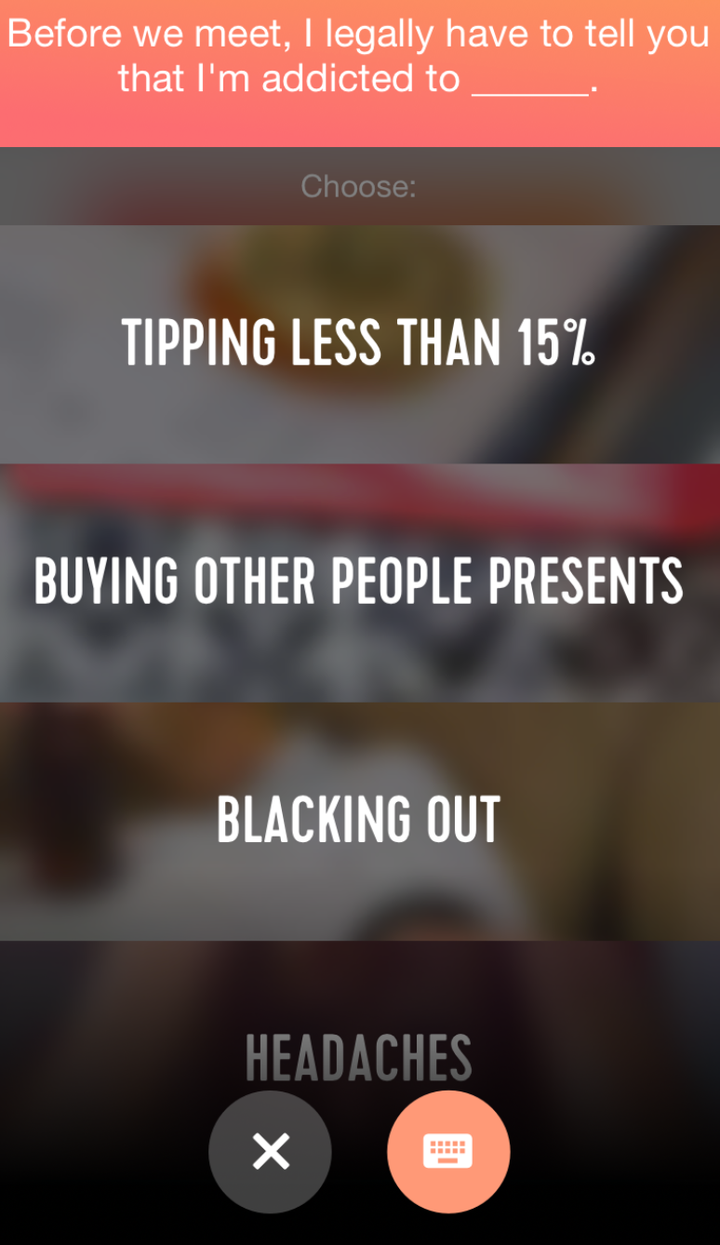 Hater came to fruition because of its 29-year-old founder and CEO, Brendan Alper. A former banker who shifted gears from finance to comedy, Alper says Hater was born as a sketch idea, but told The Huffington Post that after doing some research, he started to think maybe it could actually work as a real app.
"Online dating has become so monotonous," he said. "Everyone just goes through the motions. Swipe. Swipe. Swipe. Match. Canned line. Bad date. Repeat. We want online dating to be fun agin. Just like in real life."
So far, Alper says the response to Hater has been very positive.
"We've heard tons of stories of friends sitting around at parties, swiping through topics together, matching with other people, playing our icebreakers," he said.
The app's initial success actually makes a lot of sense when you consider that research has shown that people tend to bond over shared negative opinions, often more so than they do over the things they both like.

Alper also told HuffPost that the most commonly hated topics amongst both men and women, so far, are the 1) presidential election of 2016 (lol), 2) slow walkers (truly the worst), and 3) drain hair (ew).
So, haters, get hatin'. You just might find someone to love.
Related
Popular in the Community