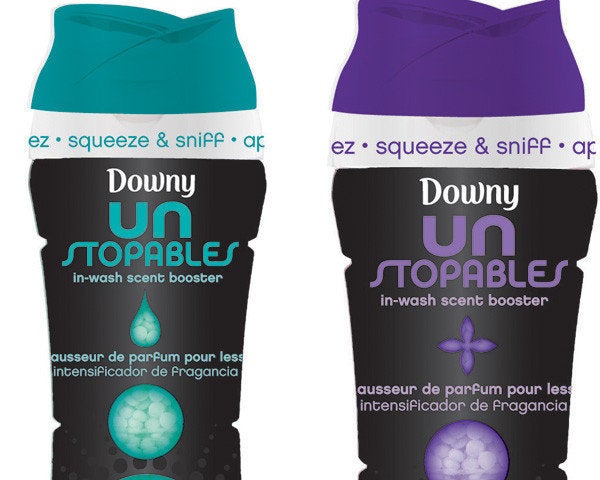 With all the "tried its" I've done, my gym clothes have also gotten one hell of a workout. Between the sweltering gym, hot yoga and a weak home washing machine, my gym clothes are not always daisy-fresh, even on the day after laundry day.
So I was excited to try Downy Unstopables, a new in-wash scent-booster designed to erase all traces of gym smells. The little beads don't replace detergent, but are rather added into the machine directly with the clothes. I tested the Lush scent, which is a deep, flowery lavender smell. I threw it into a load with all kinds of workout wear, from ratty sorority rush t-shirts to hang-dry-only high-tech Mizuno running leggings to get the full range of effectiveness.
Man, this stuff works. The scent is super-powerful, which I wasn't quite counting on. My nice, hang-dry-only clothes came out with more of the scent than everything I put in the dryer, and the scent hung on for dear life. Days later when I was wearing a newly cleaned sports bra that had been line dried, I noticed powerful bursts of the floral scent wafting up towards my nose while I was doing my mountain climbers. It's a little strange to get a smell that pleasant during what is usually not the nicest-smelling time, and it was kind of distracting. On the other hand, all traces of time spent in that heat locker of a gym I go to are finally gone, and a powerfully good smell during a workout seems like a silly thing to complain about.
Want to try out the Unstopables yourself? Enter below in the comments to win a year's supply (15 bottles). Then get into plank pose and enjoy the new fragrance!
Tell us what makes you feel unstoppable in the comments below.
The comment or tweet must be left before 12 a.m. eastern time on Friday, October 14, 2011.
Open to legal resident of the 50 United States, the District of Columbia and Canada (excluding Quebec) who are 18 and older. You may enter one time. One winner will be selected in a random drawing. Please enter only once. Click here for complete Official Rules.
The winner will be notified by email. Good luck!