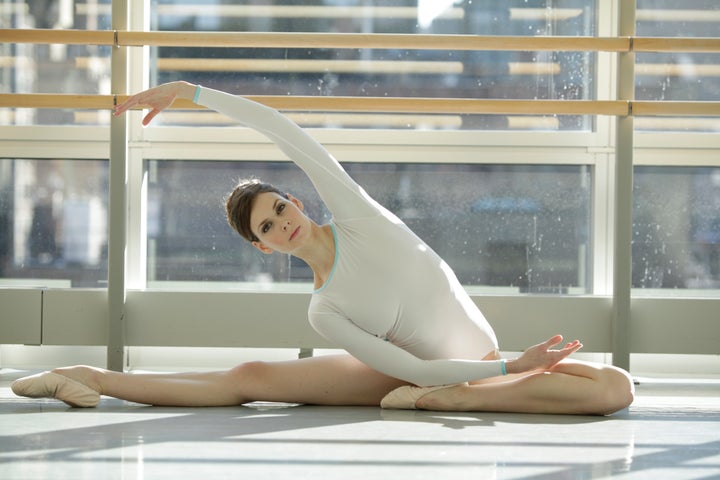 What We Tried: Ballet Beautiful, ballet-inspired fitness created by Mary Helen Bowers, former ballerina and Natalie Portman's trainer for Black Swan.
Where: In Ballet Beautiful's Soho studio in New York City. Ballet Beautiful is also available on DVD and online, and custom online memberships will be available soon.
What We Did: Since we had the studio to ourselves, Bowers gave us a little taste of everything. We started with mat exercises for abs, curling our torsos down and lifting in tiny pulses, like micro-crunches. We did what seemed like thousands of leg lifts and circles and graceful arm dips and bends. Later, we stood for knee bends and leg kicks to target the butt and to get our heart pumping.
For How Long: Classes are typically about an hour.
Amanda's Take: Good grief, this class kicked my butt, but in the most sneaky, most "didn't see it coming" way possible. All the exercises that we did -- which targeted the muscles in the backs of our arms, as well as the sides of our thighs/butts -- started out slowly and relatively easy. There were repetitive motions, like moving our arms behind us in circles, or our legs in tiny lifts, that got harder and harder as we upped the reps. I could feel my muscles burning during the class, and again the next day. However, everything was attainable -- I may not have looked as graceful and elegant as Mary Helen (I mean, she was a professional ballerina for 10 years!), but I felt like I could at least copy her moves and get the burn that I was trying to achieve. I didn't feel like I over-exerted my body at all, but I did feel like I got a good strength workout.
Sarah's Take:
I've written before about how I am just so utterly not a dancer, so it was with more than a little nervous anticipation that I entered Ballet Beautiful's gorgeous Soho studio. While it can be intimidating to have a private lesson with an experienced trainer, I felt more comfortable knowing we wouldn't have to keep up with any prima ballerinas in class. Every move Bowers led us through was tiring -- exhausting, in some cases -- and yet still felt somehow subtle. I wasn't panting or pouring sweat or wobbling all over, but I could feel my muscles working deeply.
But I must say, I'm skeptical. I'm big on functional fitness -- exercise that works your muscles in the ways you use them in real life -- and, like I said, in real life, I am no ballerina.
What Fitness Level Is Required: Everything is modifiable. Women of all ages and fitness levels log on to her online classes and do what they can, Bowers says.
What It Helps With: Flexibility, thanks to frequent stretching after strengthening moves. And, if you keep at it, you'll likely see some muscle tone and definition, especially in the arms and legs.
What It Costs: Single classes are $35 and a monthly membership is $280.
Amanda's Take: I would definitely consider taking a live online class, simply because I like the convenience of being able to work out at home but I don't usually like working out to pre-taped DVDs. I liked how sore I felt the next day -- meaning my muscles definitely got a workout -- but I don't feel beat up like I do after some other, more "intense" fitness classes.
Sarah's Take: I'd consider an online class here and there. I like the idea of being able to stream a class at whatever random time it fits into my schedule, and it would certainly encourage me to stretch more! But when it comes to strength, I'll most likely stick to my pushups.
For photos of Ballet Beautiful, check out the slideshow below: