What We Tried: Doonya, a Bollywood-inspired dance class
Where: At Doonya's brand-new New York City fitness center in the Flatiron district. DVDs and online classes are also available, as are classes in other select cities.
What We Did: We... danced! More than any of the other dance-inspired workouts I've tried, Doonya really felt like a performance. The instructor, co-founder and co-creater of Doonya, Priya Pandya, led us through a series of movements in slow-motion at the beginning of each song so we could get the hang of it before repeating them at increasing speeds throughout the tune. There was some expected shoulder shrugging and hand twirling and some not-so-expected booty shaking and, I guess I'd call it, galloping. Each song was only two to three minutes, allowing time for short breathers, before a new song -- and a new routine -- began.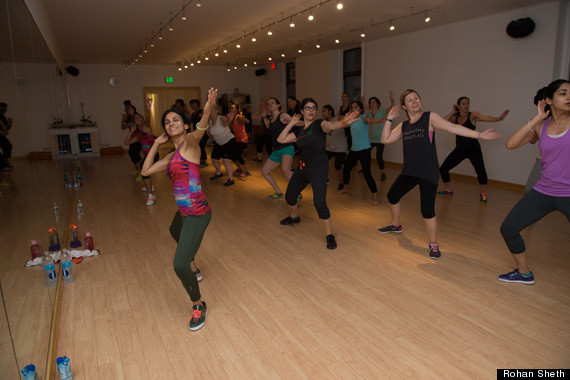 For How Long: The class lasted about 55 minutes.
How'd It Feel: I was more than a little intimidated walking into the studio, but I found the movements were easier to catch onto than I'd expected. After some initial embarrassment, I realized everyone else in the class was having a great time, so I tried my best to just smile along. My particular class had a cardio and conditioning focus, but I didn't feel all that taxed; even while learning new steps, I think I could have been challenged a little more. As with any new class, it would probably take a couple more visits to get me to the point where I'm thinking less about what step comes next and more about working my hardest.
What It Helps With: You'll definitely learn some new moves (or perfect yours, if you're already well-versed in Bollywood-style dance). Like any dance workout, to get the biggest cardio benefits, you've got to commit to challenging yourself rather than timidly going through the motions. Still, especially for people who are particularly drawn to dance fitness, Doonya can certainly be a solid moderate-intensity cardio workout.
What Fitness Level Is Required: Everyone is welcome. Doonya touts itself as a "globally accessible fitness lifestyle ... that instills confidence in body and mind," and here I think they've really succeeded.
What It Costs: A single class at the New York studio costs $22. Package deals are also available.
Would We Do It Again: Not alone. I don't see this replacing any of my cardio workouts, but it certainly was fun. I would go with friends who wanted to try something different.
For more photos of Doonya, check out the slideshow below: