What We Tried: Drill Body: FIT, a bootcamp-esque strength and endurance workout at Drill Fitness
What We Did: After a short warmup, we launched into a series of strength intervals. The entire plan for the class was laid out on a chalkboard along the back wall of the studio. Each class is structured similarly, with three drills and two Tabata sessions. But each class is different in the exercises the instructor selects for each set. Our class included moves like tuck jumps, kettlebell deadlifts, rows, thrusters, pushups and, of course, burpees.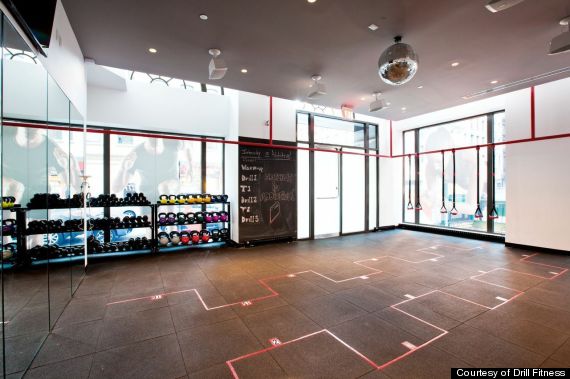 For How Long: Classes are 50 minutes.
How'd It Feel: This class found the sweet spot. Too often in high-intensity workout classes I feel the instructor is doing more to crush my spirit than motivate me. I can't stand when I am encouraged to use a weight too far outside of my comfort zone, for example, or when speed is emphasized over form. But this workout was just right: My heart was pounding and I was dripping sweat, but I could still crack a smile. The 50 minutes flew by, as we moved from one exercise to another before anyone had time to get bored or wish class was already over. I left feeling strong.
What It Helps With: Most of the exercises we did were strength and stabilization movements in nature, so certainly Drill Fitness can help you grow stronger. But the high-intensity nature of the class also provides cardiovascular benefits, even though there's nothing in sight resembling your typical cardio equipment (unless, of course, you are taking Drill Ride, an indoor cycling class also offered at the studio). That's because high-intensity interval training and Tabata workouts both rely on bursts of intense activity followed by only short periods of rest, which can get your heart pumping in less time than a more moderate cardio workout.
What Fitness Level Is Required: Any and all fitness levels are welcome. After our class, General Manager Courtney Farrar told me they work with a balance of men and women and a wide range of ages. Because participants wear heart-rate monitors throughout the class -- with your numbers projected, anonymously, on a screen overhead -- you're able to track your progress. The instructor will coach the class as to the intensity range to aim for, which allows you to go at your own pace but still get a great workout.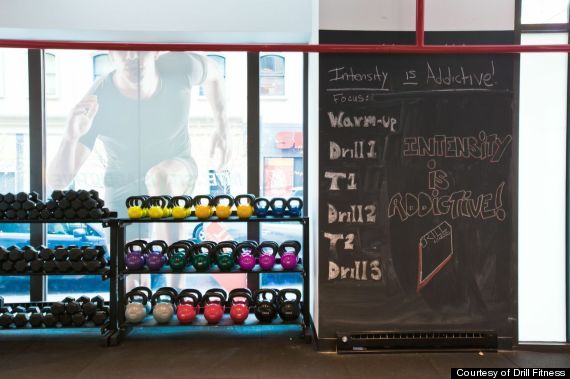 What It Costs: A single class is $32. Package rates are also available.
Would We Do It Again: Definitely. I am a big Tabata/HIIT fan, and use a couple of apps to do similar workouts on my own (a good option if this class sounds like fun to you but you don't live in NYC). Unlike other high-intensity classes I've sampled, this one doesn't try to do too much. It's a great mix of fun and function.
Related