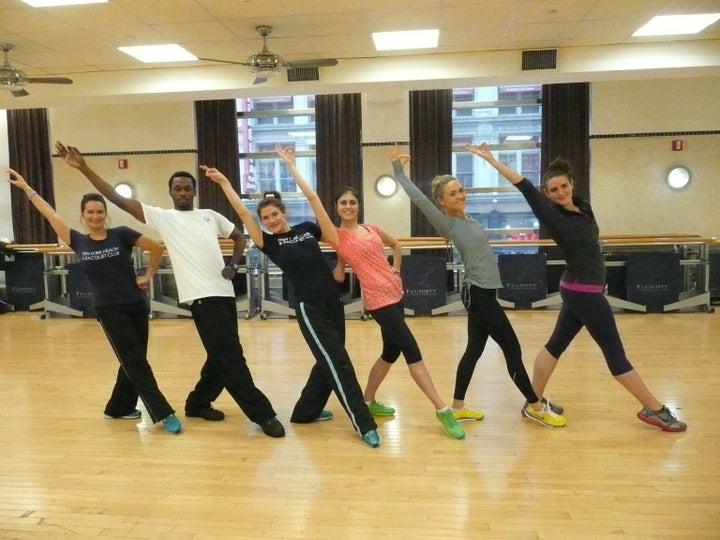 What We Tried: High Kicks, a Rockette-inspired dance class
Where: New York Health & Racquet Club's 23rd street location
What We Did: A series of kick lines, marching and other Rockettes-esque choreography with instructor Alicia Harris and a real live Rockette named Barbi
For How Long: About an hour
How'd It Feel:
Meredith's Take: Up front, Barbi looked superhuman -- moving effortlessly through the elaborate steps with expression, enthusiasm and joy. In rows two through four, the rest of us kept at it in the hopes of one day being able to achieve such flawless movement (and, perhaps, such a shapely physique). While we can't say we looked coordinated, we did get a good workout. We were sweating, working our glutes and core and learning how to get over ourselves -- and throwing up a few jazz hands for good measure. For people who are used to excelling at their athletic pursuits (read: us), there is something humbling about learning new dance moves. And it was heartening to see such a diverse age range among the participants: 20-somethings next to 60-somethings, everyone getting sufficient exercise.

Sarah's Take: I was reassured before taking the class that no dance experience was necessary -- but boy, did I feel out of place. Half of the participants had already donned dance shoes before I arrived, in a running tee. It's intimidating -- and definitely humbling -- to feel so out of place in a fitness class. That said, Alicia ensured us that there were no mistakes, so I committed to matching her moves to the best of my ability. But every time I felt I had nailed one move it was time in the routine to move to something else. I found myself stumbling over the moves in a way that in the end prevented me from really getting my heart rate up at all. I left feeling more mentally than physically taxed.
What Fitness Level Is Required: The class can be modified to any level of fitness depending how much razzle dazzle you want to put into those jazz hands. Some women were giving it their all while others were calmly going through the motions. While dance experience is definitely not required, it certainly won't hurt, as there's a good deal of dance lingo thrown about, and the steps are taught quickly.
What It Helps With: Glutes, core, a hearty dose of cardio and dare we say our memory, to boot
What It Costs: Free for NYHRC members and $25 per class for non-members
Would We Go Back:
Meredith's Take: I would certainly go back -- if only to conquer that damned "Toy Soldier March" move.
Sarah's Take: Probably not. I can certainly see how this would be a blast for someone with a love of dance or musical theater, but it just didn't click for me.
For photos of High Kicks, check out the slideshow below: