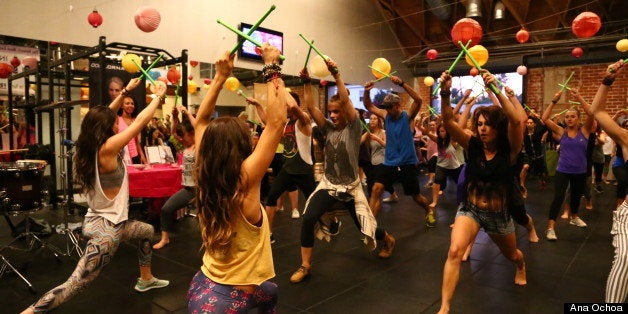 What We Tried: POUND, a combination cardio and strength class with "constant simulated drumming." Yes, as in with drum sticks.
Where: A local Crunch gym in New York City. However, POUND classes are available in 19 other states and D.C., plus three additional countries and online.
What We Did: We performed a series of isometric and plyometric movements including squats, lunges, jumps, twists, forward bends and stretches, all the while drumming along with quarter-of-a-pound Ripstix.
For How Long: The class was 30 minutes long.
Meredith's Take: From Animal to Fabrizio Moretti to Questlove, I always have a crush on the drummer. (There was also, after a family vacation to Barbados, an early '90s steel drum fascination that I'm not going to get into right now). So, when Sarah suggested we try this class, it began and ended with the words: "Drum sticks." I wasn't thinking about agility, coordination or really anything else. My expectations were also a little high. And frankly, the class met them! I loved the playlist and I loved our instructor, Catheryn's zany energy. I loved the focus on squats and lunges, and that we were able to break up the monotony with playing along to the beat on our drumsticks. I also really enjoyed watching everyone in the class really let loose and shake their inhibitions. My only criticism is that with just 30 minutes, it went by too fast and wasn't a challenging enough workout. Or so I thought... the next two days left my back muscles sorer than they've been in memory. Maybe there's something to the 30-minute madness after all?
Sarah's Take: The mere idea of constant drumming with weighted drumsticks was making my arms and shoulders preemptively ache before class, but POUND turned out to be less challenging than I was imagining. The lunges, squats and abdominal twists were all certainly trying -- and I was sweating significantly -- but I never really felt tired. Even during the specified arms song, the barely-weighted sticks didn't fatigue my arms. The choreography got progressively more complex, and I felt like I was just getting the hang of it when it was time to cool down. The 30 minutes flew by. It's easy to get into a groove and lose track of time (in a good way!), especially during those moments when the whole class was really in sync with our drumming.
What It Helps With: Agility, coordination and strength, definitely, considering there ended up being many more than a few squats and lunges. It's also a deceptive cardio workout. While you won't cover much ground, your whole body will be moving -- and likely dripping sweat.
What Fitness Level Is Required: Beginners are welcome. Our instructor offered modifications for nearly every sequence to make the class suitable for a range of fitness levels.
What It Costs: Prices vary, depending on the venue. Online classes are free for the first month when you buy a pair of Ripstix for $14.95, and then $9.99 a month.
Meredith's Take: I would! I'm historically not the most gym-oriented exerciser, but getting a quick sweat going while also grooving to some really beat-heavy music is definitely my idea of a good time!
Sarah's Take: Probably not. It was fun, but once the novelty wears off I'm not sure it would keep me motivated.
For the soundtrack from our class, check out the playlist below:
For photos of POUND, check out the slideshow below: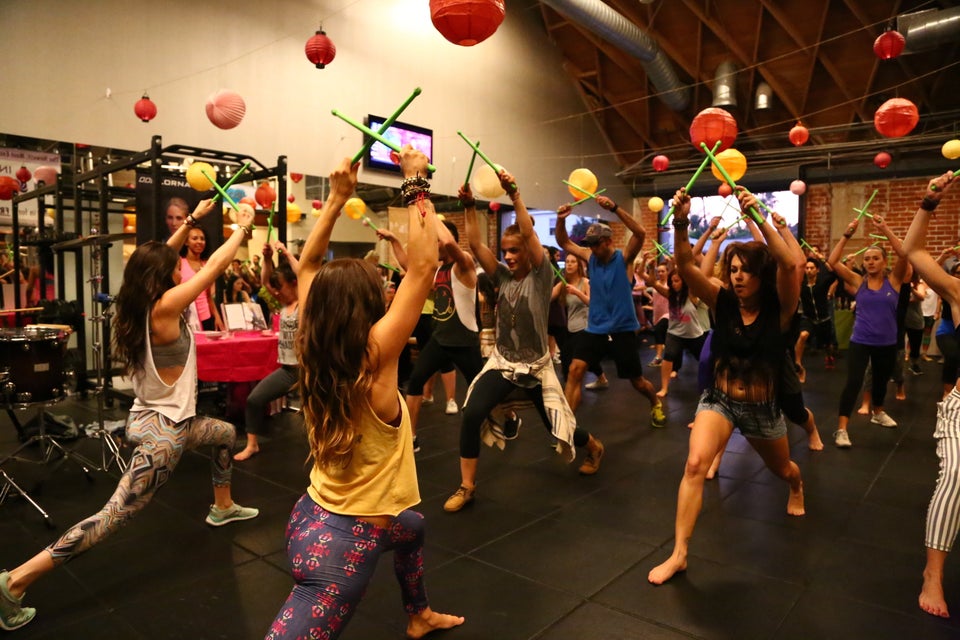 POUND