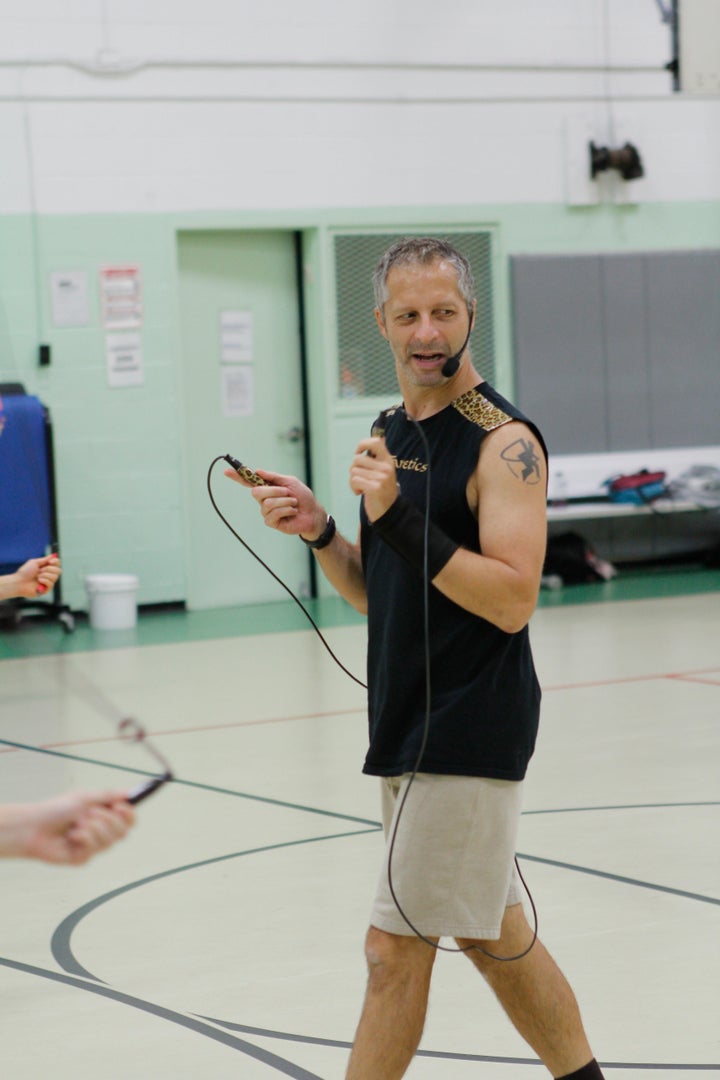 You can also purchase a Punk Rope DVD and jump in the comfort of your own home -- maybe when downstairs neighbors aren't home!
What We Did: After a quick dynamic warm-up, a series of jump roping for two to three minutes at a time, alternated with a variety of body weight exercises and team relays.
For How Long: Classes are about 55 minutes long.
How'd It Feel: Challenging, yet... wacky. I felt instantly welcomed to the class, as founder Tim Haft introduced me to a few of the Punk Rope regulars. I wasn't the only new kid in class -- but I felt like the only one who couldn't get the jumping down. As with most group fitness classes, there isn't really time for the instructor to help individuals who can't quite keep up, so I found myself watching Tim and Punk Rope director of training Shana Brady's feet, wondering, "How are they doing that?!"
Despite finding my feet frequently tangled in my rope, I was sweating and breathing hard just 10 or so minutes in, along with the regulars who were spread out across the basketball court. I felt more than a little self-conscious as I glanced to my left and right and saw people who could criss-cross the rope all around their bodies, turn in circles or skip at triple the speed I was going, but no one seemed to mind that I kept stopping and restarting. They were equally committed to the non-jump-roping segments of class, which included galloping like a horse around the gym, crawling like a bear across the floor and walking like a crab on yoga mats -- the theme was World Animal Day, after all.
As such, Shana was decked head to toe in a cat outfit -- costumes are highly encouraged at all Punk Rope classes -- and a number of Punk Ropers wore leopard-print leggings or a gym tee with an animal on it. The theme varies each week to keep things interesting, and every week the playlist changes to match the theme.
What Fitness Level Is Required: Don't be fooled: This is no recess-level jump roping, but more like an hour-long boot camp. That said, Tim made sure to announce modifications for all the jumping and strength moves to make everything easier, allowing newcomers like me to move at our own pace.
What It Helps With: Coordination, balance and strength, for sure, but the emphasis is really on cardio conditioning -- we hardly ever completely stopped moving during the entire hour. And if you're willing to really commit to getting a little silly, I think you'll find you'll leave feeling a little bit sunnier, too.
What's It Cost: At the 14th Street Y, Punk Rope is free for members and $12 for non-members, although you can try it out a few times for free if you're new to the class. Prices vary at other locations.
Would We Go Back: For me, it's worth going back to see what another theme would be like at the very least: an Oktoberfest-themed routine is about as wildly different from a World Animal Day theme as you can get, and others have included pirates, the 1950s, zombies, International Women's Day, country music and more, as documented on the Punk Rope Fitness Facebook page. I don't think it will be replacing anything in my current exercise routine, but for anyone looking for a little more fun in their fitness, Punk Rope might be the perfect fit.
Check out some Punk Rope photos in the slideshow below, then tell us in the comments if you've ever taken a class!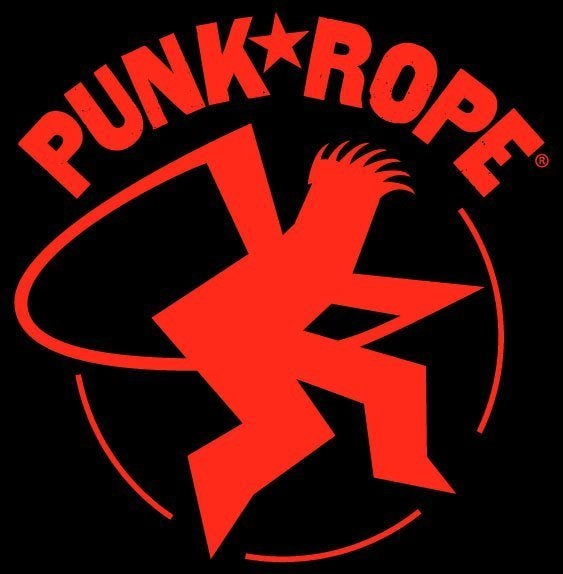 Punk Rope
Related