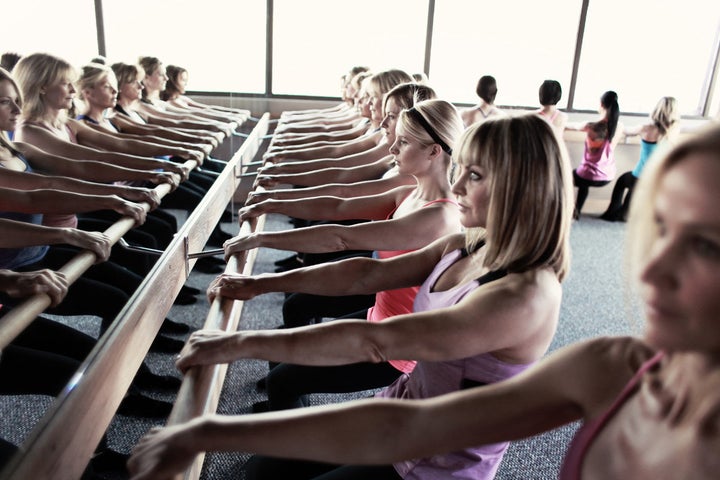 What We Tried: Pure Barre
What We Did: A series of small, isometric movements targeting the thighs and butt in particular, but also working on the abs and arms. The tiny movements tire the muscles out faster, Pure Barre founder Carrie Rezabek Dorr told Health magazine. Many of the movements are similar to traditional strength moves, like lunges and squats, with tiny pulses and tucks added in.
For How Long: Classes are about 55 minutes long.
Amanda's Take: Good grief. I don't think my body had been pushed to this sort of limit since volleyball boot camp in high school, when we had to do lunges back and forth across the gym immediately followed by running up and down all the football field bleachers. Anyway, I digress. I found myself having to stop halfway through the routines to give my body and muscles a break, even when it seemed like everyone else was chugging along without needing to pause. My abs and hamstrings wobbled so much during some of the exercises -- more than I'd ever experienced before -- and by the end of the class, I was completely exhausted and sore. I must say, it was the good kind of sore, though -- the kind that comes with working out parts of the body that probably don't get worked out enough.

Kate's Take: Ay, chihuahua. My body has never experienced this kind of intensity. I felt a bit disheartened that some measly two-pound weights were murdering my arms and that a flimsy resistance band could make me shake so uncontrollably. Within the first two minutes, I knew there was going to be some soreness in my future. The class made me feel out of shape, something I hadn't considered previously.
Sarah's Take: Brutal. Every single muscle in my body was wobbling just minutes into the class, and I found myself -- generally an exercise lover -- counting the minutes until class was over. I could tell I was pushing my body to the max, which left me swimming in feel-good endorphins (and exhausted) after it was over, but I felt like I was overdoing it in the moment.
What Fitness Level Is Required: Advanced. Or at the very least, a desire to one day be advanced. This class is not for the faint of heart -- or weak of muscle. There are few modifications offered to make any of the moves less strenuous and participants are encouraged to push themselves to the limit in every class.
What It Helps With: Don't let the name fool you. This class is not at all about dancing, but is instead super-heavy on the strength training aspect.
What It Costs: A single class at the Union Square location we tried is $33, but there are a wide range of package deals and monthly unlimited passes.
Amanda's Take: I would consider it. Immediately after the class, my first thought was "Yeah, there's no possible way I would ever do that again." But the next day, I thought about all that I had accomplished in the class, and it felt good (not to mention the nice feeling of soreness from working out every. single. muscle. in my body). It almost made me want to try another class -- and then another, and then another -- to see if I could work my body to be strong enough to endure it more easily.
Kate's Take: Yes. While "feel the burn" isn't necessarily a healthy workout mantra, I liked knowing I was giving attention to parts of my body that I otherwise neglect. I don't spend enough time strength training (in fact, I'd rather be doing anything else), so adding a structured class that encourages me to incorporate these tough moves into my workout routine (and tone up my wimpy arms) is something I could see as beneficial for me.
Sarah's Take: No. If there weren't already so many other forms of exercise that I love, maybe. If I didn't know what to do on my own in terms of strength training, maybe. But since there are and I do, I'd rather not spend an hour feeling tortured.
For photos of Pure Barre and a sample of the songs you can expect to find playing during your workout, check out the slideshow below: