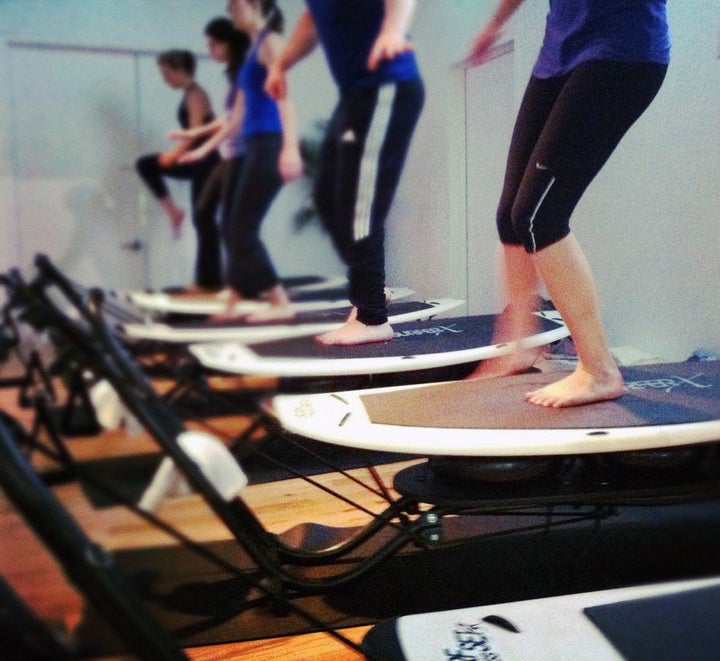 When our friends at Greatist invited us to check out a SurfSET Fitness class with them, we couldn't say yes fast enough. Though it has only been available in New York City for about three weeks (housed, for the moment, at Chelsea Piers), it has already gained a great deal of attention.
It is to surfing what spinning is to cycling: a real surf workout on a fixed-in-place surf machine, the RipSurferX. The machine consists of a surfboard, strapped to a metal frame and tethered to BOSU balance balls to simulate the water surface's yield. Resistance bands with handles help to simulate paddling. The concept and machine were created by Mike Hartwick, a former professional hockey player who used surfing to counter-train in the off season. Personal trainer Sarah Ponn, who developed the exercise programs to emphasize core strength and balance, took us through a 45-minute series of both surfing and more traditional conditioning moves.

Sarah's Take
To my surprise, I managed to stay up on the board for the entire class, although not without my fair share of wobbly knees. Ponn coached us through traditional surfing moves like paddling, pop ups and carving, as well as squats, leg raises and all sorts of crazy-hard ab moves. (A typical class is more focused either on one area of the body or on surfing-specific moves, she explained, but she wanted to give us a little taste of everything.) While none of the moves was especially difficult on its own, I could feel every muscle in my core working overtime to keep me centered and balanced on the board. But the best part of all was that not once did I ask myself "When is this going to be over?" In fact, it was easy to forget I was exercising at all; it felt like play!

That's not to say it wasn't a great workout -- Ponn estimated it would have taken us three hours of real surfing to feel the same results. Speaking of real surfing -- the SurfSET boards are about as close as possible to feeling like the real thing, according to Hartwick.

I'd definitely go back, if not for the benefit of my abs, then to see what a true class is like (there are a variety of options to choose from that focus on abs, balance, or surf-specific moves). Ponn says they attract a wide range of fitness fans, from dedicated surfers looking for a simulated, concentrated workout to landlubbers who just want a fun new way to exercise. For now, SurfSET Fitness is still looking for a permanent home, so if you're in New York City you should ride this wave while you still can.

Meredith's Take
A friend of mine once tried to take me surfing. Each time a wave started to develop, I would paddle feebly on my borrowed board and attempt to push myself up, inevitably tipping over, briny water rushing up my nose. Despite his best efforts, I was mostly waterlogged and whimpering by the time we admitted defeat and got back to shore. With SurfSET, I felt motivated to redeem myself. Surely, without the waves, it would be easier?

Nope. That particular delusion disappeared the moment I hopped on the RipSurferX. I was shaking so badly, I didn't think I'd be able to stay up. But a few minutes into Ponn's routine, and I was so focused on body alignment that I forgot to feel nervous about my precarious balance.

Not only was it a fun exercise, it was empowering for control-freak exercisers like me, who get nervous off of terra firma. In fact, Ponn says that many of her clients are looking to train before they go on an ocean vacation that gets them surfing in the real world. And the empowering feeling of getting a routine down made me feel like maybe I could give the ocean another go. But for the rest of us land-locked office workers, the class offered a bit of escapism: surf videos projected on the walls and the sounds of ocean waves crashing helped us set the mood. By the time class was finished, we were all relaxed, acclimated to the board and feeling a bit of burn. Just like real surfers -- almost.