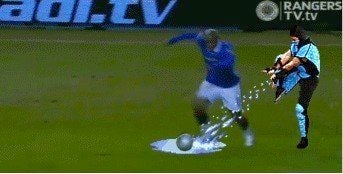 Last February, a blogger on the comedy website Something Awful posted an animated GIF of Sengalese soccer player El Hadji Diouf being tripped by some invisible opponent on the field. The doctored graphic was a challenge to the site's viewers to use their tech-savvy editing skills to imagine different scenarios for the soccer player's fall.
And the viewers rose to the challenge, sending in hundreds of remixed versions of the GIF that amounted to one of the internet's most epic photoshop threads. Ninjas, cats, clumsy news reporters -- the memes of times past were all resurrected from their virtual graves to ensure that Diouf kept tripping.
But the thread didn't end there. It now has its very own exhibit at Museum of the Moving Image in Queens, New York, called We Tripped El Hadji Diouf: The Story of a Photoshop Thread, which presents the most entertaining and clever of the submissions. The museum is displaying the short videos together as a tribute to the power of the GIF, humorous visual conversations perpetuated by digital one-upmanship. Diouf will be tumbling eternally in the blogosphere, but the chosen clips will be on display at the Museum of the Moving Image from June 15th until September 23rd.
Scroll through for a peek at the GIFs the museum picked!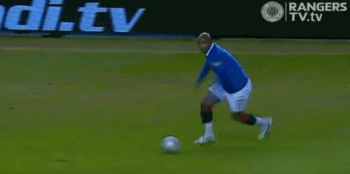 "We Tripped El Hadji Diouf" at the Museum of the Moving Image
Popular in the Community