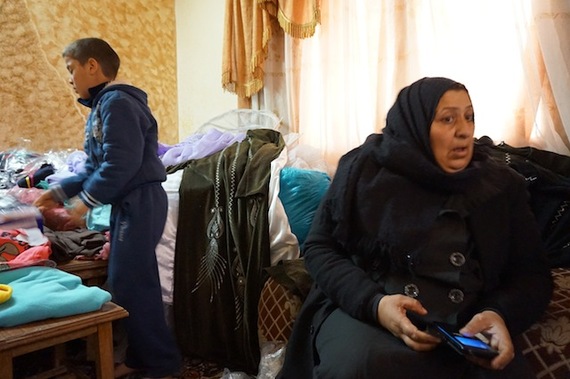 CREDIT: Joan Erakit
Wafa Fadel Saed Jawad sits in a chair amongst a pile of wedding dresses, winter jumpers and various t-shirts. At 45, she has been living as a refugee in Jordan after fleeing Iraq in 2003.
What makes Jawad different from other refugee women is the sparkle in her eye when she talks about her home-based business.
A self-proclaimed "wedding maker" who arranges marriages then rents the bride a wedding dress and even creates small decorations for the reception, Jawad is passionate about creating ways to provide for her family.
"When I first arrived in Jordan, I tried to sell Russian jewelry which I bought from a vendor in Zarqa," Jawad shares. "Six months ago, I started my match-making business. All I do is help bring two people together and I make a small commission."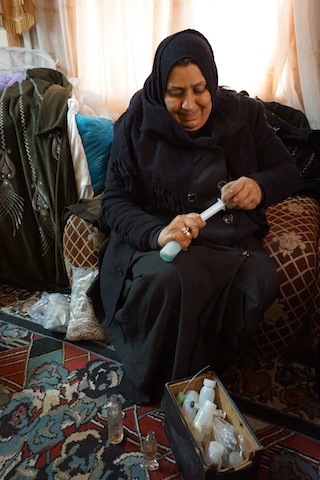 CREDIT: Joan Erakit
Jawad also makes perfume -- potent smells of watermelon, lavender and even rose fill the air as she concocts pairings by infusing different oils into tiny bottles with a syringe.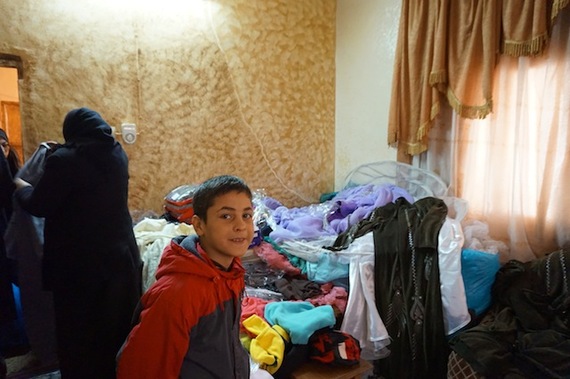 CREDIT: Joan Erakit
The small apartment she rents in Zarqa is similar to a vibrant marketplace as her four children pick up clothes, bottles of perfume and happily quip, "It's good, it's good" a telling note that they are well on their way to become sales people, just like their mother.
"When you have your own money, it's always better than asking others to help you and then having to repay a debt," Jawad adds.
According to UNHCR, there are roughly 747,045 refugees and asylum seekers residing in Jordan, a number that grows every month. Despite pleas from government officials that refugees are in dire need of humanitarian assistance -- which they are indeed -- on the first day a person becomes a refugee, they are looking for strategies to survive, because in reality, humanitarian assistance cannot last forever.
Jawad's story is very similar to the thousands of women who have been displaced by the political insecurity in Iraq and most recently, the cloud of ISIS.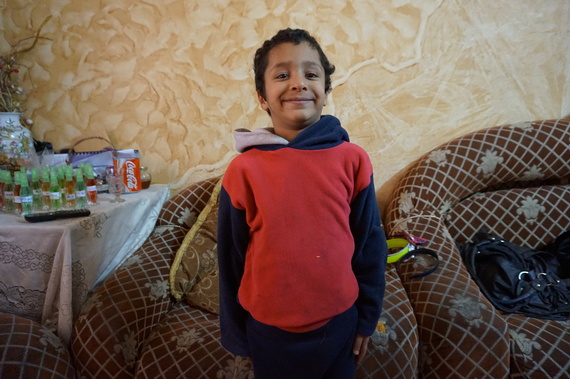 CREDIT: Joan Erakit
They arrive in Jordan with their often tired and crying children, their heartbreak over losing family members to war and their confusion over jailed or disappeared husbands back home.
Once in Jordan, they receive whatever little assistance is available through agencies like UNHCR, but after months and even years of displacement and their assets depleted, their capacity to bounce back is weakened.
CREDIT: Joan Erakit
UNHRC reports that there are over 58,000 Iraqi refugees in Jordan and that number is rising.
Enhancing Economic Resilience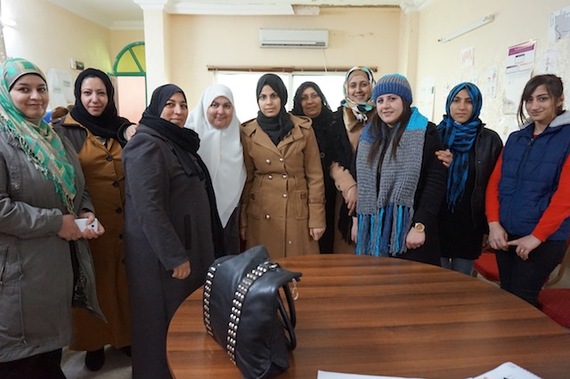 CREDIT: Joan Erakit
A group of women are gathered around a small space heater in a cold classroom in Zarqa city. They are each part of the Enhancing Economic Resilience (EER) project, the first of it's kind, the initiative focuses on helping refugee women earn a living to compliment short-term relief.
Participants of the project are divided equally between Iraqi's and Jordanians and 70 percent are women. EER gives cash support in the form of grants to participants to invest in livelihood activities.
The women meet monthly in a networking session lead by the Near East Foundation (NEF), the creators of the EER project and one of the first American non-profit organizations started in 1915 in response to the Armenian Genocide.
CREDIT: Joan Erakit
The networking sessions are unique because they are a safe place where urban refugee women can mingle amongst each other and seek advice on economic development, while building social capital.
"Our mission is really about eliminating poverty and the root causes of poverty," said Jina Krause-Vilmar, Director of Program Development at NEF.
"We do that by adapting economic development solutions, particularly around women's micro-enterprise development," she adds.
According to NEF, more than 800 women and young entrepreneurs have started home-based businesses in Jordan.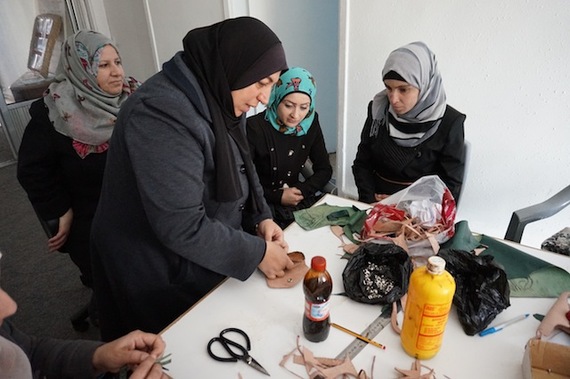 CREDIT: Joan Erakit
In partnership with local community based organizations, NEF also works to provide refugee women with vocational training in areas of marketing, bookkeeping, production and customer service.
To date, 380 Iraqi refugees have received vocational training through NEF since the EER project was launched in 2013. Additionally, 350 Iraqi refugees have received cash support and 100 percent have used the money to invest in small businesses that allow them to earn an income.
The EER project is not limited to refugees and includes Jordanian nationals who are they themselves struggling to make ends meet.
360 Jordanians have reportedly started businesses with 90 percent generating enough income to sustain basic needs.
Why is this project so successful?
EER is not about getting rich; the women who participate in the program do not go to NEF looking for handouts, they instead seek training and support to build economic capacity with a grant of roughly 400 JDs ($563) that will help them foster resilience in times of uncertainty.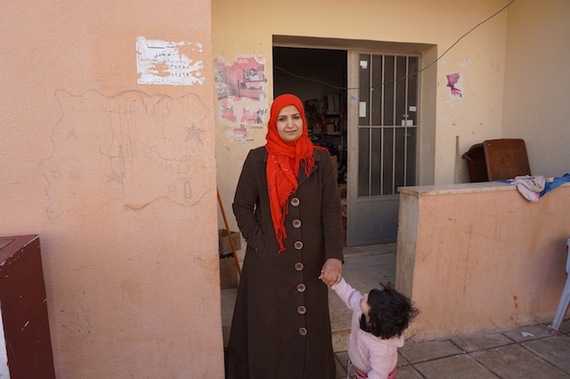 CREDIT: Joan Erakit
Huda Jawal Khathem Al Sabagh stands outside the entrance of her home in the new housing developments just outside of the main city, aptly called "New Zarqa."
Her living room has been turned into a convenience store. With the cash assistance she received from NEF, Huda bought products to sell to her neighbors.
She walks slowly into a smaller back room filled with shoes, empty candy wrappers and dirty clothes as a young child emerges -- most definitely from a nap.
"My husband has been in jail for seven months," Al Sabagh explains.
"I am alone raising five children with no support, this shop helps me put some food on the table but it doesn't cover all the expenses," she continues.
Huda refuses to state the specifics of her husband's incarceration but shares that she is illiterate with no formal education and despite her difficulties, she is pleased with the grant from NEF that allowed her to open a shop just 2 months ago.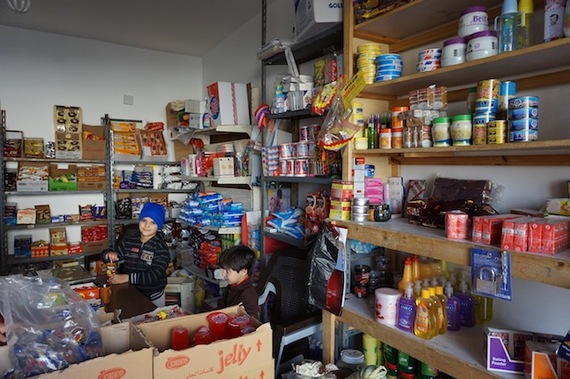 CREDIT: Joan Erakit
"I came from poverty and I wanted to find a source of income for myself and for my family. I don't have enough time to take care of my children and run a business, but I'm trying," Al Sabagh adds.
A refugee is a refugee on average for 20 years and in the context of Jordan, most refugees -- urban refugees -- are highly marginalized because they don't have a social, political or economic status.
It is illegal for an Iraqi refugee man to work in Jordan so the household burdens usually fall on the wife.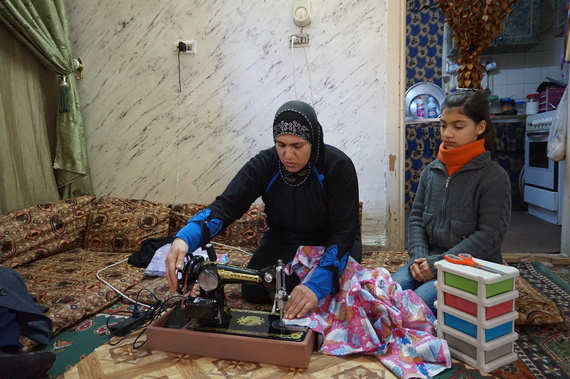 CREDIT: Joan Erakit
Refugee women in the region are oftentimes socially isolated and have restricted mobility due to cultural values and traditions. The role reversal between the refugee husbands and their wives is profound because families now have no choice but to rely on the woman's ability to leave the house and seek an income.
Through the EER project and the networking sessions that happen in Zarqa, Iraqi refugee women are capitalizing on this new cultural change. They work with vendors, they barter, they participate in local exhibitions to market their home-based businesses and most importantly, they shine with confidence.
"For us, this is about saving lives. It's not only about providing humanitarian aid but really, it's about allowing people to have the dignity and capacity to rebuild their own lives. To us, that's saving lives," notes Krause-Vilmar.
Calling all HuffPost superfans!
Sign up for membership to become a founding member and help shape HuffPost's next chapter