I love when new talent arrives on Broadway. Just like it gives me hope when I see young faces out in the audience, I always cheer particularly loud for those making their Broadway debut (only if they are good, of course). Even if a production is bad overall, I give those up on the stage a hand, because they are often doing their part. They are giving the audience the best show they can.
While Holler if Ya Hear Me, the new musical featuring the songs of Tupac Shakur, has strong performances by Broadway vets Christopher Jackson, Saycon Sengbloh, Ben Thompson and John Earl Jelks, I found the work of Broadway newbies Joshua Boone and Dyllon Burnside equally as impressive. Boone, 26, and Burnside, who prefers not to divulge his age, both play sort of gang members in training in the musical. Before the tuner opens at the new Palace Theatre (which has a reconfigured orchestra for the show) on June 19, I emailed them some questions about their first Broadway experience.
Obviously, this being a Tupac musical, I had to ask what their favorite song by the departed artist was. Burnside answered simply "Only God Can Judge Me," while Boone chose seven songs ("Brenda's Got a Baby," "Dear Mama," "Hail Mary," "Ambitionz az a Ridah," "If I die 2nite," "2 of Amerikaz Most Wanted," and "Thugz Mansion"), none of which was "Only God Can Judge Me." (Boone wrote: "We're talking about Tupac, when it comes to his life and music, he spoke and wrote about so many different aspects of life that ran the gamut of emotions, and to pick one song is almost like saying this is what I care about most in life, and I can't do that.") And now for the more general Broadway questions...
Was Broadway one of your dreams growing up?
Boone: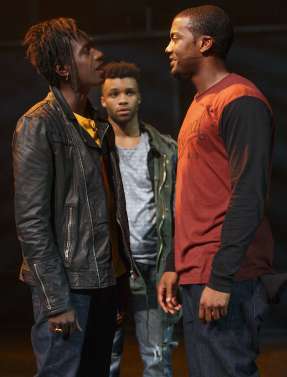 It actually wasn't. I've loved acting and performing on stage since elementary school, but all I really wanted to do was film and tv. After graduating high school I was like, "Ma, I'm going to California!" That didn't exactly work out the way I saw it in my mind though, and it wasn't until I got to college at Virginia Commonwealth University that my love, respect, and appreciation for the theatre really grew, and now theatre is all I want to do, and hopefully when film and tv calls I'll be able to slide back and forth between the mediums because there's nothing like being on stage.

Burnside: I didn't know Broadway was an option for me as a kid. I always knew I wanted to perform so I pursued singing and acting. But I was not exposed to Broadway until later in my teenaged years. I hope this show can expose Broadway to many kids like me who didn't know a place like this existed for his/her talent to shine.
Are you getting opening night gifts for cast/crew? If so, what are they?

Boone: I got everyone hand-sculpted concrete roses. Okay, that's a lie, I've never done opening night gifts before, and I told myself that this would be the first time! I haven't gotten the gifts yet though, and opening night is pretty much here, so I better figure something out soon! I'll get gifts today.

Burnside: I will be giving an opening night gift to my castmates. I am making a special treat and card for each of them.
Who is coming with you to opening night?
Boone: My mother, father, grandmother, and one of my aunts are coming to opening. I've got to have my momma there, it's my Broadway debut! My brothers and cousins came up for the birthday show [on Tupac Shakur's birthday, June 16]... It was my brother's birthday too, so we celebrated and had a great time!
Burnside: My mom and grandparents are joining me for opening night.
What is the best thing about being on Broadway?
Boone: Broadway is "the big league," the "NBA of theatre," so to speak, and being on that stage, the best thing is that I'm blessed to say that something that wasn't initially a dream, that became a definite goal, has been achieved, and that so many people have a part in it. I, by any means, did not get here on my own accord, and there are many people, who every night, I go on stage and represent to the best of my abilities, and I love them, and I love it!
Burnside: The best part about being on Broadway is seeing so many people's hard work and dreams become a reality. The cast, crew, and creative team have all worked so hard to get here and to see the people in the audience watching intently as we deliver the final number is such a huge payoff.
Photo by Joan Marcus. Pictured (l to r): Saul Williams, Burnside (background) and Boone.
REAL LIFE. REAL NEWS. REAL VOICES.
Help us tell more of the stories that matter from voices that too often remain unheard.