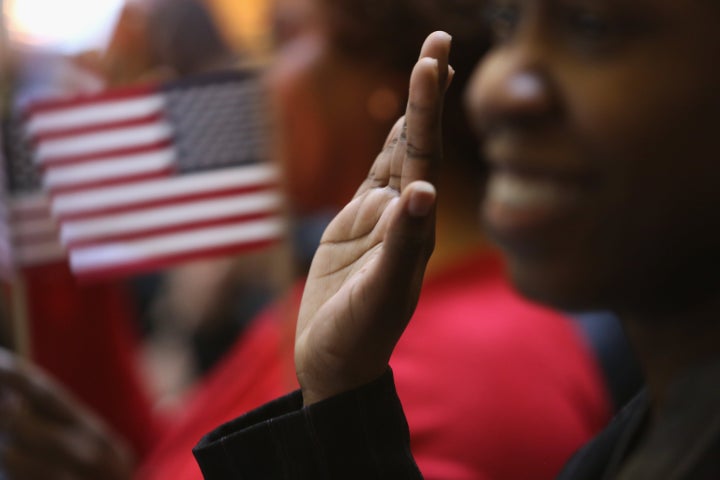 Today's immigrants come to America for the same reasons my grandfather did. The immigrants haven't changed -- we as a country have. I believe it's a matter of simple justice and fairness: We can't close the door behind us.
My grandfather, Irving, like thousands of others, came to this country at the age of 21 with nothing, speaking no English, and achieved the American dream. He left Lithuania, fleeing intolerance and discrimination, for a better life for his kids, a life he found in Detroit, Mich., where he worked as a furrier, selling coats to keep auto workers warm.
On Monday, as we tell the Exodus story around the seder table, we will repeat the passage, "And you shall not mistreat a stranger, nor shall you oppress him, for you were strangers in the land of Egypt" (Exodus 22:21). And yet, immigrants all across our country experience exploitation and discrimination every day.
We need look no further than North Carolina, where beginning on Pesach eve, young immigrants who qualify for the federal Deferred Action Childhood Arrivals (DACA) program will be singled out by having to carry driver's licenses with bold pink stripes at the top and the words "No Lawful Status." Dozens of rabbis and Jewish leaders are calling on North Carolina Governor Pat McCrory to reverse this discriminatory policy.
Additionally, in Houston, St. Paul, Chicago, Philadelphia, New York, Boston and Washington, D.C., hundreds of Jews gathered for community seders on immigrants and worker's rights.
As our elected officials in Congress are drafting language for meaningful legislative reform on these complicated issues this year, I encourage you to seize the opportunity of the Passover seder to discuss your own family's stories of immigration as well as how immigrants work to make America a stronger and better country. T'ruah: the rabbinic call for human rights, is inviting people to place a tomato on their seder plate to symbolize how much of our food comes through the work of agricultural laborers who live like modern day slaves. Brand new Passover Haggadah resources on immigration have just been released by Bend the Arc: A Jewish Partnership for Justice and the Reform Movement's Rabbis Organizing Rabbis.
No matter how we choose to raise the topic of immigration at this year's Passover seder, it is essential that we recognize the identity of the stranger as inextricably tied to our own individual identity as Jews and as Americans -- for we too have been immigrants -- in the United States and other societies.
Abby Levine is the Director of the Jewish Social Justice Roundtable a network of 26 Jewish organizations working to elevate social justice to the center of Jewish life and to advance an explicitly Jewish framework in the pursuit of social justice.
Calling all HuffPost superfans!
Sign up for membership to become a founding member and help shape HuffPost's next chapter