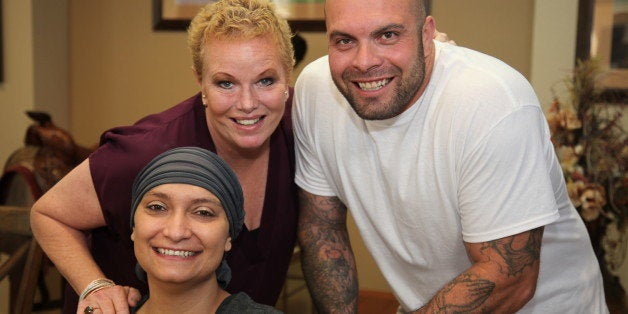 It was a hot, August afternoon in Phoenix, when Rosie and her husband Jeff were brought into the room we had set up for interviews. Jeff walked; Rosie rode in a wheelchair, her head wrapped in a beautiful grey scarf. I knew she had been undergoing stem-cell therapy treatments after being diagnosed with multiple myeloma. Immediately, I gave her a hug -- myself just having finished treatment for stage 2B breast cancer -- and she gave me the warmest smile I'd seen in a while. And then she got sick. This had been an unbelievably tough ride for her.
I had just toured the Phoenix Hope Lodge, a place for cancer patients to stay while they undergo treatment. It is a fabulously comforting and peaceful retreat, where patients and their caregivers can cook their own meals, sit outside and watch the desert animals and birds graze nearby, read from the library, sit and do puzzles or watch TV together in the common room. I'm told it's indicative of the more than 30 Hope Lodge facilities across the country.
I sat with Rosie and heard her story. She and her family live three hours away and, to live, she was facing eight of daily treatments. She had to take a leave from her job, as did her husband, and they faced a daily four-hour round trip drive, which was an overwhelming thought for someone going through cancer treatment. That's when a Patient Navigator from the American Cancer Society (ACS) stepped in, hearing about her case, and offered the Hope Lodge in Phoenix. It's not an overstatement to say it was a godsend.
ACS provided Rosie and Jeff a room at the Hope Lodge (which was right across the street from the hospital); saving her the commute and the cost of paying for a hotel room during her treatment.
As she told me the story, she wept; grateful for ACS and the Hope Lodge, but also sad because she would be leaving the people who had helped take care of her for eight weeks. And even though she had frequent bouts with nausea, she was overjoyed with the thought of completing treatment and being able to see her children. She was leaving that day. She was done with treatment and had a future.
It struck me hard. I realized I was watching donation dollars directly at work. So many people are skeptical of different foundations and charities, and rightly so. How many stories have we seen where someone was scammed in the name of (you name it) disease or cause? But this -- I knew immediately after my tour, meeting other patients, and then Rosie -- was different.
I also learned about another program called Road to Recovery. This pairs volunteer drivers with patients who need rides to or from their treatments. Not everyone is as fortunate as I was to have college girlfriends fly in to take them back and forth to chemo. I met Kathy, a volunteer driver, and heard about how it pleases her to be able to help those in need. I also heard about patient who would drive to treatment and then call AAA to tow his car home afterwards. He would ride with the tow-truck driver, all because he was too sick to drive himself after treatment. An ingenious solution, but one that should never be necessary.
The problem is that so few people know these transportation and lodging programs exist. We need a major effort to get the word out that ACS is a viable option when you have nowhere to turn or need a helping hand . Also we need more Hope Lodges across the country. ACS is working to open new facilities in Houston, Jacksonville and other cities.
Our donation dollars to the American Cancer Society go directly to the people who need it most. I saw it firsthand. And I'm on a mission now, to let people know -- people really can help people. Learn more at cancer.org.
Calling all HuffPost superfans!
Sign up for membership to become a founding member and help shape HuffPost's next chapter