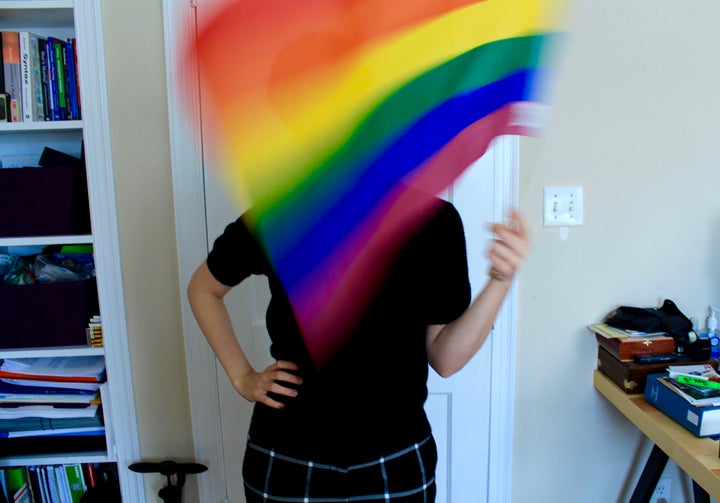 I heard steps and sat up quickly, letting go of her hand.
It was 2AM, and my face went red as the young man approached. "Hi," I said quietly. "You're good," he replied, and kept walking.
When I laid back down, I didn't reach for her hand. We laid on a grass hill, silent, in the middle of Azusa Pacific University's on-campus apartments.
The fear—of both social and spiritual estrangement—in LGBTQ students attending Christian Universities, is not born from fantasy. Just last year, such campuses in California won a battle over SB 1146, a bill that would've taken away the exemption of religious universities to anti-discrimination laws. But administrations fought back, and the bill was amended.
Policies, however, extend far beyond differing theologies, and into the lives of those directly effected: the students.
When I met with the President of Haven (the underground LGBTQ group at Azusa Pacific University) in the spring, we chose a coffee shop near campus. In hushed tones, we discussed strategies for growth, and support needs. When particularly sensitive information was shared, the graduating Senior would lean in and check the tables around us; after all, this was a coffee shop started by APU alumni and frequented by most of the student body.
Amidst sharing a pastry, I took copious notes.
Though the public, parents, and funders didn't know, there were professors and administrators who were aligned with the group, but only secretly. Fear of losing jobs kept them quiet, and kept students isolated amidst harmful policies and campus norms.
Presently, the struggle for LGBTQ student recognition varies from campus to campus. The unifying factor, however, remains the same: LGBTQ students, allies, and advocates will not be silent.
As of this past week, at Azusa Pacific University—whose motto is "God First Since 1899"—Haven was voted to be recognized by the Student Government Association (SGA). Though SGA does not have the authority to make Haven an official campus group, it remains a groundbreaking statement, with a formal application to follow.
In contrast, less than thirty miles away at Biola University—whose values are "Truth, Transformation, and Testimony"—a seminar was held this month, co-led by apologist Alan Shlemon, on Homosexuality and The Bible. During the 17-hour seminar, Shlemon not only endorsed reparative therapy as a reputable practice, he also upheld views echoed by the now well-known Nashville Statement (also signed by a handful of Biola professors).
On Tuesday, Biola University's school newspaper allowed one of the professors who signed the recent Nashville Statement to explain why. The professor's views were amplified and given a school-wide platform, while other views have not been allowed the same opportunities.
While actions like these remain some of the most harmful to LGBTQ students, hope is not lost on any campus.
In fact, Biolans' Equal Ground (Biola's underground LGBTQ group, formerly known as BQU) is at the forefront of advocating for change on campus. With attempts at dialogue with Biola President Barry Corey, the group continues to ask for space at the table, and protection through campus policies.
Encouraging actions from Westmont College, just two hours north of Biola and APU, took place this week after students rallied to bring attention to a degrading and dehumanizing chapel service against LGBTQ people, led by Alistair Begg.
"Following Chapel on Wednesday, October 18th, some students felt marginalized or shame as a result of the message. We believe God loves all people, and that we at Westmont are committed to loving all our students. My hope is that this situation will help us grow as a community and foster constructive, Christ-honoring conversations on campus that are filled with grace, mercy, love, truth and respect. The chapel message will be available online later today."
Though Christian universities may remain hushed as to what campus protections and equality will look like—or if they can exist at all—one thing is certain:
LGBTQ students, allies, and advocates will not be silent.
Calling all HuffPost superfans!
Sign up for membership to become a founding member and help shape HuffPost's next chapter