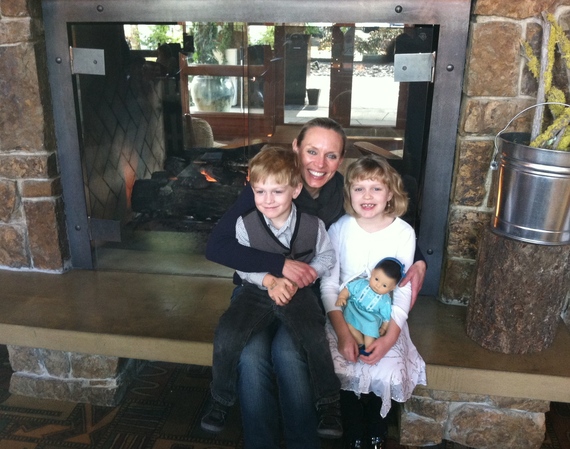 This year I am going to be selfish.
This year I am going to have fun.
This year I am going to look at Christmas through a different lens.
We are going to watch Christmas movies. Every single one of them. The Red Rider BB Gun is going to be the talk of our house. "You'll shoot your eye out kid."
We are going to tell stories about each ornament as we hang them on the tree.
We are going to make dozens of cookies and eat half of them before we give them away.
We are going to read every Christmas book we have -- twice.
We are going to build a fort by the Christmas tree and sleep there all night.
We are going to stay in our PJ's all day at least once before Christmas.
I am going to encourage my kids to spread glitter and glue all over the table as we make Santa's and snowmen. By the way, I hate glitter!
I am going to walk slower.
I am going to listen more.
I might even skip cleaning my house before Christmas Eve dinner.
Because frankly, I am tired of missing the moments.
I am not going to worry about getting the perfect picture while the kids open up their presents. Later, when I look at those pictures, I realize what I missed. I missed seeing their expression. I missed feeling the energy and excitement. I missed it all because I was too busy getting the perfect shot. To be honest, my phone still has the last two years of Christmas pictures on it. They have never been developed.
Every year I declare that this is going to be the year to simplify, but I never do it. I get caught up in the frenzy of what I think I should be doing, instead of actually enjoying what I am doing.
Most years, I am relieved it's over. That the season has passed. I take down the tree on Christmas night. Pack up all of the decorations in boxes and haul them to the basement. December 26th is business as usual.
Looking at it now, I am not sure we actually have Christmas. Instead, we have my version of making lists and checking boxes. I am teaching my kids that Christmas is about being stressed and anxious. It is a race to get to the finish line. I am showing them that Christmas day is about getting the right picture. It is about looking like we had a perfect Christmas. Then it all gets packed away.
I have not taught them about the spirit of the day.
The moments leading up to it.
The true joy of the season.
This year will be different.
This year I will simplify.
This year we will have Christmas.