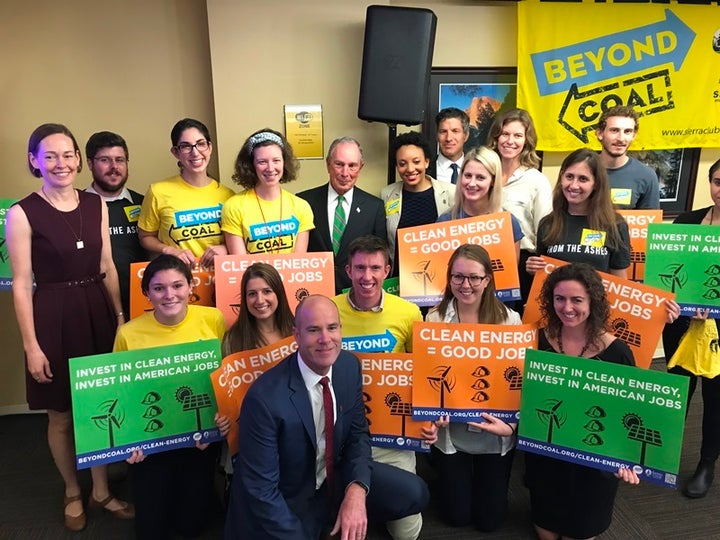 Take heart, friends – all hope is not lost for our climate, and our clean air and water. Today I was honored to join an event in DC where the Sierra Club and Michael Bloomberg, United Nations Special Envoy for Cities and Climate Change and former Mayor of New York, announced we are doubling down once more to continue retiring America's coal plants and transitioning the US economy to clean energy. On the heels of the Trump administration's decision to repeal the Clean Power Plan, President Obama's signature carbon pollution standards, our message is clear - together with dozens of partner organizations, we will continue to advance our nation's overwhelming commitment to expand clean energy and fight climate disruption, even when the Trump administration chooses denial and inaction.
As storms and wildfires worsened by climate change ravage our nation, and as Trump and his Environmental Protection Agency head Scott Pruitt again put polluters over public health, the grassroots power of the Sierra Club's Beyond Coal campaign and our allies won't back down. Coal is not coming back, and the renewable energy revolution is here to stay.
The pace of coal retirements and renewable energy growth haven't slowed since the election, and this renewed support from Bloomberg Philanthropies will allow us to ensure that progress continues. Seventeen coal plants have announced their retirement since Election Day 2016 - one plant every 20 days - including some of the nation's biggest and most polluting coal plants. That's 9,822 megawatts of dirty power that pollutes our air and water, makes our families sick, and worsens climate change. Tens of thousands of parents, students, public health officials, business owners, Tribal leaders, clergy, community leaders and more have banded together nationwide to get those results by organizing, rallying, contacting their elected officials, and more - and those results are just from the past year.
Since the Beyond Coal campaign started focusing on existing coal plants in 2010, our grassroots activists and partners have helped retire 119,417 megawatts of proposed dirty coal power, or 259 coal plants, which means that almost half the coal plants in the US are now slated for retirement. By continuing this progress, we'll provide the primary engine for meeting the US Paris climate commitment, regardless of Trump
In this next chapter of our work, we're going to keep slashing carbon, build an ever stronger and more powerful movement to move the electric sector to clean energy, and help decarbonize the remaining sectors, giving us a fighting chance to avoid the worst impacts of climate change. It's also essential that we diversify the economy in communities that have historically relied on coal, like my home state of West Virginia. Our nation must provide the financial resources, political leadership, and other needed support to ensure no one is left behind as we make this shift to clean energy.
The Sierra Club's Ready For 100 campaign will continue demonstrating the amazing support for expanding clean energy. More than 150 mayors and 33 cities have now committed to powering their communities with 100 percent clean energy, and we'll keep adding to that list in the months ahead. Cities and towns are stepping up where the national leadership is lacking on clean energy and climate action.
As I said in my column earlier this week, the fight against the dangerous Clean Power Plan repeal is only just beginning. We have every intention of mobilizing to make our voices are heard when the EPA conducts its legally required comment period and of fighting any new rule that does not comply with the Clean Air Act in court. That work extends to making sure the clean energy transition continues as well, by continuing to retire coal plants and replace them with renewable power, as solar and wind energy continue their exponential growth nationwide.
The Sierra Club and our allies are committed to making sure the U.S. remains as a leader on climate action, despite Trump. In the leadership vacuum created by the Trump administration, the grassroots are rising. Join us.
REAL LIFE. REAL NEWS. REAL VOICES.
Help us tell more of the stories that matter from voices that too often remain unheard.