Never in the 30 years since the the Federal Reserve first starting collecting wealth data has the divide between the rich and everyone else been so large, according to a new analysis by the Pew Research Center.
The wealth gap in the U.S. last year was the biggest since at least 1983, according to the report. The median wealth of upper-income families was 6.6 times that of middle-income families in 2013, up from 6.2 in 2010.
Those same upper-income families are now nearly 70 times wealthier than low-income families -- also a record gap.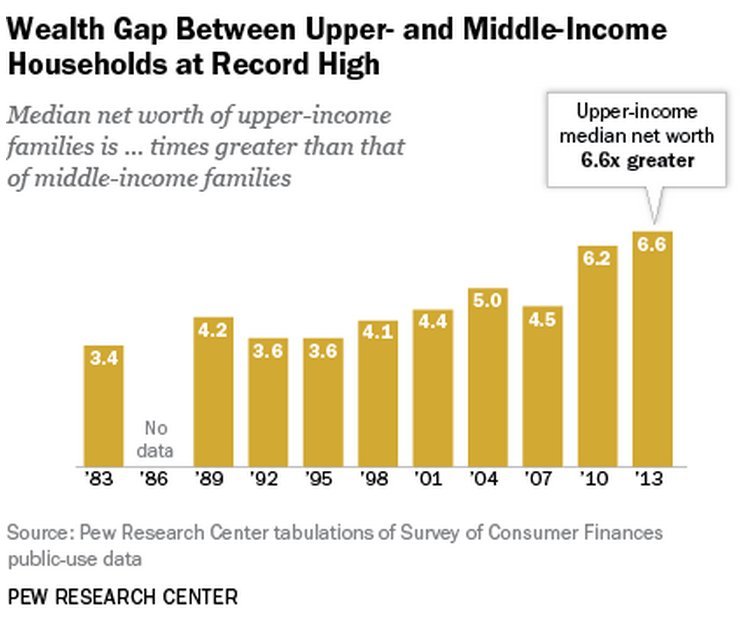 Thirty years ago, the richest households' wealth was only 3.4 times that of middle-income households. (Source: Pew Research)
There are two main reasons for the growing gulf between the rich and everyone else: stagnant middle-class wages and the rising wealth of America's richest families. While median middle-income wealth was flat between 2010 and 2013 -- stuck at $96,500 -- the wealth of upper-income families jumped to $639,400 from $595,300. Lower-income wealth dropped slightly to $9,300 from $10,500.
"The latest data reinforce the larger story of America's middle class household wealth stagnation over the past three decades," Pew's Richard Fry and Rakesh Kochhar wrote in a release. "Without any palpable increase in their wealth since 2010, middle- and lower-income families' wealth levels in 2013 are comparable to where they were in the early 1990s."
Pew divided the country's families into three groups -- high, middle and low income -- by adjusting a family's income according to its size and then comparing it to the nation's median family income. If a family only made two-thirds of U.S. median income, it was considered low income. If it made between two-thirds and two times the median income, it was considered middle income. If it made more than that, it was considered high income.
The report focused on wealth, which may give a broader picture of a family's financial situation than income. Wealth consists of the assets people own, like houses and stocks, minus the debts they owe.
Wealth and income inequality have risen together in recent decades, to some extent feeding each other. The rich have enjoyed most of the fruits of the recovery, thanks at least in part to a ripping stock-market rally that padded their wealth while also boosting their incomes.
French economist Thomas Piketty has warned that unfettered capitalism will lead to even more grotesque wealth inequality because returns on investments like stocks and real estate -- stuff the wealthy own -- generally outpace economic growth and wages.
That warning is looking more and more like a reality in the U.S., which has seen much more of its income growth going to its top 1 percent of earners in recent decades than any other developed country: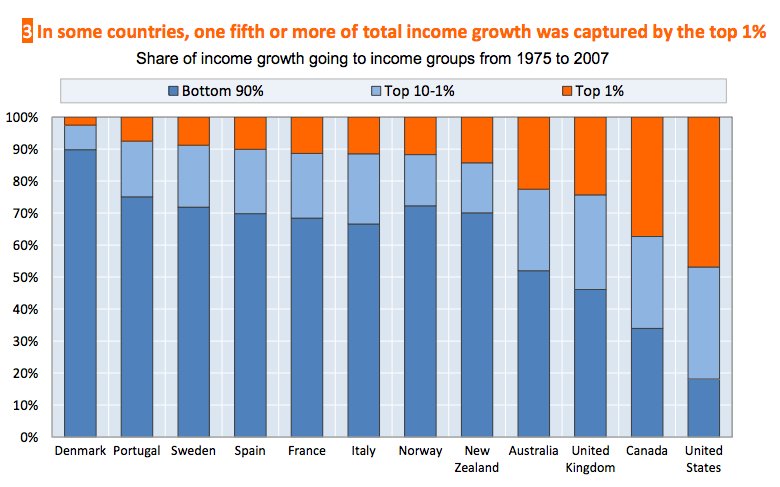 Related
Popular in the Community