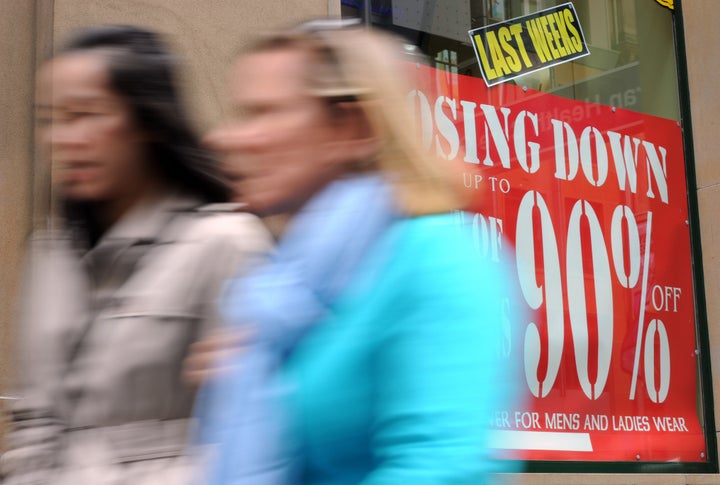 Wealthy Americans are less confident in the U.S. economy than other Americans for the first time since the financial crisis, heightening the risk of a double-dip recession, a Gallup report showed Tuesday.
Eighty percent of upper-Income Americans said in August that the economy is "getting worse," up from 66 percent in July, according to Gallup's Economic Confidence Measure. At the same time, 77 percent of middle- and lower- are concerned the economy is getting worse, up from 71 percent in July, the report showed.
Wealthier Americans grew increasingly concerned in August after they witnessed pundits threaten financial armageddon without a suitable debt deal and an agreement that ultimately fell short of expectations, said Tim Quinlan an economist for Wells Fargo. The debate and the stock market volatility that came along with it as well as a Eurozone that's inching closer to crisis may be weighing on wealthier consumers, adding to concern that they won't spend, Gallup chief economist Dennis Jacobe said in the report.
"This is reminiscent of what happened during the financial crisis: upper-income Americans sharply pulled back on their spending, making the recession worse," Jacobe said in the report. "Upper-income Americans tend to have the disposable income to spend even when other Americans do not. If they reduce their spending going forward, it increases the chances of a double-dip recession."
Wealthy consumers spent an average of $119 dollars a day in August, down from the $128 per day they spent in July, according to a Gallup survey. Still, upper-income Americans are spending more than they did in August of last year.
Upper-income earners tend to have more of their wealth invested in the stock market, meaning the stock market swings in August were likely of particular concern to the wealthy. While high earners watched their wealth erode, their poorer counterparts were probably more worried about their dimming jobs prospects. Job creation stalled last month, according to the Labor Department, while the unemployment rate stayed at 9.1 percent.
Gallup's findings mirror other sentiment gauges. Consumer confidence dropped in August to its lowest level in two years, The Conference Board reported last month. The index, included responses from participants surveyed during the a period of historic stock market volatility, The Associated Press reported. During the same period in early August, falling confidence among those making more than $100,000 dragged down Bloomberg's Consumer Comfort Index.
Though a drop in confidence among upper-income Americans is more troubling than declines in general consumer sentiment, Quinlan said the boost in pessimism doesn't "jive" with "hard data," including a 0.5 percent jump in retail spending in July.
"The fundamentals haven't deteriorated nearly as much as these various levels of sentiment," Quinlan said.
The Federal Reserve Bank of Philadelphia's manufacturing index -- a gauge of sentiment of purchasing managers in the mid-Atlantic region -- plummeted in August to its lowest level since March 2009. Still, actual manufacturing activity grew during the same month, the Institute for Supply Management reported. Quinlan said this is one of multiple discrepancies that indicates a drop in sentiment among wealthier Americans may not be reason for panic.
The reality that the U.S. economy may continue along at its pace of anemic growth could be hitting small business owners and corporate managers, who tend to be wealthier, contributing to the decline, the Gallup report said. Bill Dunkelberg, chief economist for the National Federation of Independent Businesses -- a small business advocacy group -- echoed the sentiment, saying the the U.S. economic outlook appears bleak deterring businesses from investing.
''Private sector decision makers think longer term and they don't like what they see,'' Dunkelberg said in a statement released Tuesday with the NFIB's monthly small business survey. ''There is little clarity or certainty. When people are uncertain about the future or fear it, they don't spend or invest, and they chase after protection—and protection is unlikely to come from the government."
REAL LIFE. REAL NEWS. REAL VOICES.
Help us tell more of the stories that matter from voices that too often remain unheard.