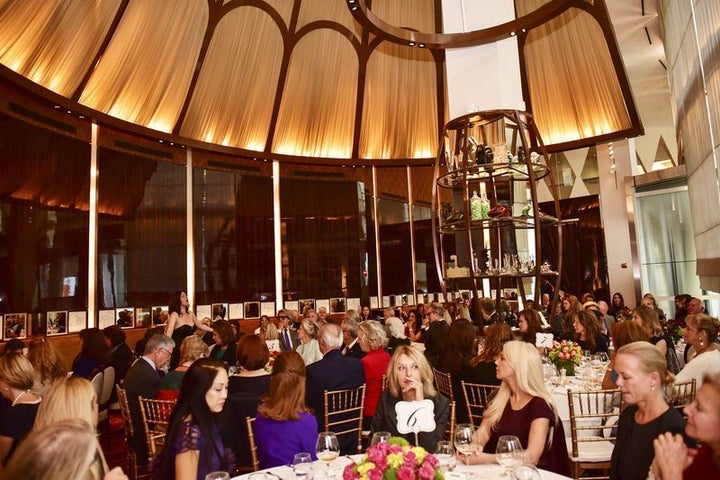 In September Donald Trump threw himself a big party at New York City's Le Cirque Restaurant with 150 of his richest friends. They paid an estimated $5 million to party with the President. Ordinary tickets cost $35,000. For a $250,000 "contribution," a couple had a private tête-à-tête with "The Donald." The fundraising extravaganza now seems even more grotesque as Trump and the Republicans work to pass a tax scam that benefits the mega-wealthy who attended the dinner at the expense of everyone else.
The Republican National Committee refused to release a list of the people who partied with the President, but some attendees were identified. Billionaires who dined with Trump included New York real-estate tycoons Richard LeFrak, Howard Lorber, Steve Witkoff, Stanley Chera, and Steven Roth; casino operator Steve Wynn; grocer and oil-refinery owner John Catsimatidis, Gary Cohn, former president of Goldman Sachs Group, Bob Wright, former NBC Universal chairman, Elliott Broidy, a California venture capitalist, Roy Bailey, Trump Texas fundraiser and Partner in Giuliani Partners, and Brian Ballard, lobbyist and Florida fundraiser. They were joined by Donald's sons Eric and Donald Jr., Trump's lawyer, Marc Kasowitz, and Republican National Chair Ronna McDaniel. It is as if Trump "drained the swamp" in Washington DC by bringing it to New York.
According to New York Times business analyst James B. Stewart, the Republican tax cuts are "almost tailor-made to enrich the president and people like him." Even conservative commentators are forced to agree. Douglas Holtz-Eakin, president of the conservative advocacy group American Action Forum, noted that "Commercial real estate came out essentially unscathed" and real estate developers got even more breaks in the Senate tax version of the bill. Other pending tax breaks for Trump and his friends include a lower high-tax bracket, big tax cuts for corporations which heavily favor wealthy shareholders, lower pass-through rates that allow highly paid professionals like lawyers to pay less taxes if they call themselves corporations, repeal of the alternative minimum tax, and favorable treatment for rental income, royalty payments and licensing fee.
Here is more information on the wealthy Trump donors who will profit from "tax reform." They are listed alphabetically.
Calling all HuffPost superfans!
Sign up for membership to become a founding member and help shape HuffPost's next chapter