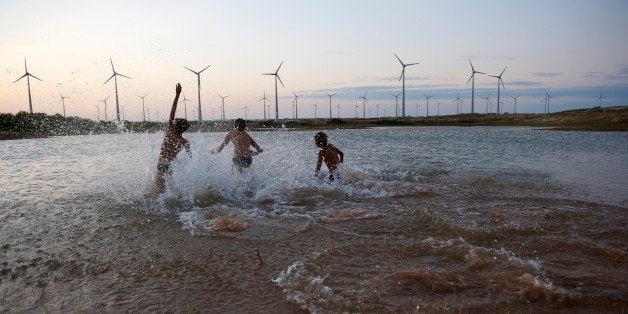 On September 25, the United Nations' Sustainable Development Summit will kick off in New York City. More than 140 government representatives from across the world will convene to develop partnerships and systems to help stem the tide of catastrophic climate change.
Climate change is undoubtedly a global problem, and as such, it requires a global solution. The seventh of the UN's Sustainable Development Goals aims to ramp up renewable-energy deployment worldwide, making it more accessible and viable for governments and citizens alike. That's an admirable -- and necessary -- step in the fight against climate change.
Thankfully, this goal is increasingly feasible. Renewable-energy costs continue to plummet, and many renewable sources are approaching cost parity with fossil fuels. Here in America, wind power is already the cheapest source of electricity at our disposal. Markets will naturally rely on renewables more and more as costs continue to fall. This is even more the case for remote nations with minimal fossil-fuel resources: Distributed renewables can offer energy independence at a better price.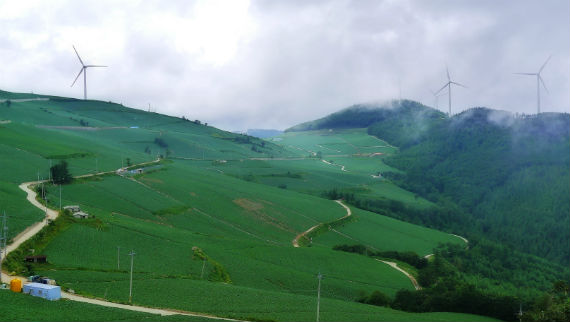 Wind power generation farm in Taebaek. Photo Credit: Flickr
But that's not enough. We're going to need clear, targeted policies in order to truly bring renewable power to people across the globe and wean ourselves off of fossil fuels. The energy revolution underway in India illustrates the importance of this sort of sustained support for renewables.
India is the fifth most energy-intensive country in the world, and it frequently suffers rolling blackouts, to say nothing of Indians who don't even have access to electricity. But that's set to change, thanks to a renewed focus on renewables, particularly solar.
India's government intends to attract at least $100 billion in investment to its solar industry over the next seven years with tax incentives, loan guarantees, dollar-linked solar contracts, and deals with foreign export-import banks. The move is already paying off: SunEdison and Adani Enterprises are teaming up to bring a $4 billion solar-panel manufacturing plant to India, which will both cut costs and create sorely-needed jobs.
China is another example of a country turning its focus to renewables. China, which consumes the most electricity in the world (though not on a per capita basis), is desperately trying to offset the environmental destruction wrought by fossil fuels, and its issues with smog are well known. It now invests as much money in renewables as the U.S. and the European Union combined. That's helped to bring electricity to remote parts of China while combatting the environmental issues plaguing the country.
And what about fully developed nations trying to allow low-income residents to participate in the clean-energy revolution? For that, you need look no further than right here in America. The Obama administration recently announced more than $500 million in private-sector funding for solar installations on low-income housing, and the "solar garden" model -- in which communities invest in solar projects together -- is allowing homeowners to tap into renewables at a larger scale, cutting costs in the process. Plus, the EPA's Clean Power Plan incentivizes energy-efficiency financing programs for low-income homeowners, which will help cut their electricity bills while reducing climate change.
The United Nation's seventh Sustainable Development Goal will not be achieved easily. But as countries around the world are demonstrating, it is a goal we are more than capable of meeting. Ramping up our reliance on renewables is necessary if we're to have a chance of stopping catastrophic climate change, and it will create jobs and deliver electricity more equitably in the process. That's a goal worth pursuing.
This post is part of a series produced by The Huffington Post, "What's Working: Sustainable Development Goals," in conjunction with the United Nations' Sustainable Development Goals (SDGs). The proposed set of milestones will be the subject of discussion at the UN General Assembly meeting on Sept. 25-27, 2015 in New York. The goals, which will replace the UN's Millennium Development Goals (2000-2015), cover 17 key areas of development -- including poverty, hunger, health, education, and gender equality, among many others. As part of The Huffington Post's commitment to solutions-oriented journalism, this What's Working SDG blog series will focus on one goal every weekday in September. This post addresses Goal 7.
Calling all HuffPost superfans!
Sign up for membership to become a founding member and help shape HuffPost's next chapter