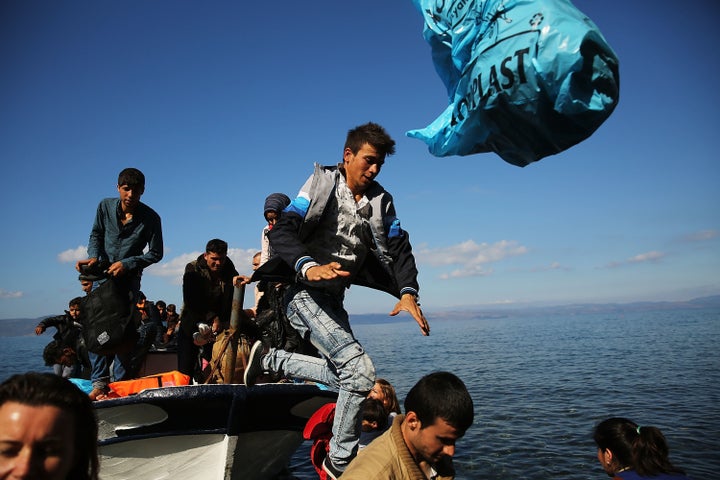 Thousands of people continue to flee misery and death in Syria, risking their lives at sea and making arduous land journeys to reach safety and make a fresh start.
The world can no longer ignore the Syrian conflict, which will be one of the central topics on the international agenda this month, as Spain takes over the rotating presidency of the U.N. Security Council. It assumes the task at a time of increased tension, following Russia's recent intervention in Syria.
Europe is beginning to confront the effects of the war in Syria after the photograph of the lifeless body of Alan Kurdi galvanized the public and brought home the magnitude of the conflict. Many voiced their grief and outrage, including the president of the Community of Madrid, Cristina Cifuentes. The Spanish politician posted the Syrian toddler's photo on Twitter accompanied by a single word: "Shame."
The satirical cartoon below, which portrays Cifuentes carrying a box of weapons labeled "For Syria," was one of the most widely shared responses to her tweet.
Is the response to Cifuentes justified? Spain hasn't sold arms directly to Syria since 2009, according to the 2014 Delàs Center of Studies for Peace report "Spanish Weapons Exports 2004-2013," which uses data from the Spanish Defense Ministry. And the country sold only small quantities of weapons between 2006 and 2009, which were exported for civilian as well as military use.
But Spain's weapons sales are increasing. In the most recent legislative term, arms sales have skyrocketed, according to the 2014 report "Playing with Fire" by FundiPau, Amnesty International, Greenpeace and Oxfam, which uses Defense Ministry data.
One of the principal buyers of Spanish weapons is Saudi Arabia, a country that bought more than 406 million euros ($460 million) worth of defense materials from the Spanish government in 2013. The four NGOs responsible for the report noted that they received "unconfirmed reports that arms shipments have been sent from Saudi Arabia to non-state actors in Syria and Yemen, which were used in turn to commit serious abuses."
Alberto Estévez, a weapons trade specialist and author of the 2015 Amnesty International, FundiPau, Greenpeace and Oxfam report "Weapons 'Made in Spain,''" told HuffPost Spain that there is an "obvious relationship between weapons exports and the creation of refugees." However, he downplays Spain's "responsibility" in the Syrian conflict in comparison with countries such as France, Germany and the United Kingdom.
"To our knowledge, Spain did not sell weapons to Syria in pre-war years, it only exported dual-use materials in small quantities," said Estévez. But he remains critical of Spanish government officials who say to take action in countries where the conflicts originate.
"It's too little, too late. If you want to invest in conflict resolution, words have to be accompanied with resources, so that you don't end up complaining. If you sell arms to a coalition headed by Saudi Arabia that bombs Yemen, then you can't complain when there are Yemenis fleeing their country," he said.
Estévez's report also notes that there's little control over the final destinations of Spanish weapons. For example, he mentions an ammunition sale authorized in 2014 that was intended for Cameroon, but ended up going to the Central African Republic in the midst of an armed conflict.
In Saudi Arabia's case, NGOs say the key question to ask is this: Where does all this defense material end up, and is it used for Saudi attacks in Yemen, for example? "The Spanish government is obligated to adopt measures so that weapons exported to these countries aren't used to commit war crimes or other violations of international rights," the 2015 report says.
The report also notes that the Spanish government is not transparent. Although Estévez recognizes Spain's recent improvements, he believes that country should look to places like the United Kingdom and Finland for inspiration. "Here [in Spain], there is a system of a posteriori information, in which it is very difficult to react to exportations made a year and a half ago. It would be very easy to imitate the United Kingdom, where authorized licenses are published online three times a year, or like Finland, which does it every month," he explained.
Interestingly, the most transparent country in this regard is the United States, the biggest weapons exporter in the world, where lawmakers can obtain information on the type of weapons sold and the destination countries. "This refutes the argument that if we are more transparent, we won't sell weapons," said Estévez.
If transparency were to increase, it would be easier to understand the consequences of a process in which the Spanish government acts as an "arbitrator" that only focuses on granting authorizations to businesses that want to sell weapons, according to Estévez.
"[The government] often issues authorizations without taking into account the countries involved," he said. It's impossible to know for sure, however, because former Prime Minister Felipe González's government decided in 1987 to classify the decisions of the Inter-Ministerial Regulatory Board on Foreign Trade in Defense and Dual-Use Material, the body that grants these authorizations.
"The only way to know what they're doing would be through the Commission of Official Classified Information, to which only a few lawmakers have access. And this option has never been exercised in Spain," explained Estévez, who says such proceedings should no longer be secret. The public would then be able to find out if the government is implementing the recommendations in the U.N. Arms Trade Treaty, which Spain signed in 2013 and ratified last year.
"Another problem is that some of the provisions of that treaty aren't binding, which sometimes generates complaints from the weapons industry," Estévez said. Companies are finding that some countries uphold the restrictions, while others lift them.
Data shows that Spain's weapons sales have multiplied exponentially in the last decade, soaring from 400 million euros ($457 million) in 2004 to almost 4 billion euros ($4.6 billion) in 2013.
"We have already warned them that they're playing with fire, because the said they weren't going to increase controls even though they would increase exports" said Estévez, who believes this "has something to do" with the fact that current Spanish Defense Minister Pedro Morenés was an executive of a weapons company until 2011.
Amnesty International, GreenPeace, Oxfam and FundiPau continue to advocate for alternative ways to resolve conflicts causing mass displacement. Estévez mentions, for example, that Europe proposed a program to transition the weapons industry to civilian industry, but no Spanish company was receptive.
"This is very revealing. If you want to reduce the size of an industry like this, you have to offer resources," he said.
Estévez also mentioned that one of the report's recommendations is to give "constitutional status" to the obligation to refrain from exporting weapons that will be used to commit atrocities.
This story originally appeared on HuffPost Spain. It has been translated into English and edited for clarity.
Related
Popular in the Community