'You wear it well': a phrase often used in fashion magazines and song lyrics to denote an expression, demeanor, piece of clothing or accessory that suits the wearer. You wear a smile to project happiness, a watch to know the time, or jewelry to enhance your appearance. And now, with the advent of wearable technology, you are able to wear technology to know how many steps you have taken, calories you have burned, or the quality of your sleep cycle.
What if 'wearing it well' meant that you could create true social impact? What if wearable technology could mean the difference between life and death in emergency situations where there was no doctor, or could help track vital signs, nutrition and healthcare monitoring for those children who do not have access to regular care? Does wearable technology have the potential to save lives in resource-constrained or last mile settings?
Wearable technology for social impact was the focus of a recent discussion led by UNICEF's Innovation Unit and frog at Wearable World in San Francisco, the first in a series of conversations around the intersection of high growth technology industries and social good. Moderated by Dr. Daniel Kraft, a physician and neuroscientist from Singualrity University, the panel featured representatives from UNICEF, frog, Remedy/The Thiel Foundation, Emotiv, Embrace and ARM Holdings. The discussion focused on opportunities to address needs in resource poor settings through the application of wearable technologies.
A primary takeaway was the need to focus the design of wearable technologies on empowering others with tools - from practitioners to patients - by understanding specific user needs and the context within which they would be used. "Empathy and context require being mindful of the implicit values that technology expresses once given a form", said Denise Gershbein, Executive Creative Director for frog.
Specific use cases that were identified included:
• The ability for a doctor to diagnose a patient from afar (of key importance within communities that are cut off from skilled medical care due to distance, bad infrastructure of impassable roads);
• Providing a hands-free ability to consume information even while performing a complicated procedure such as surgery;
• The ability for patients and doctors to monitor and better deal with longer term illnesses, and ensure that patients get the care they need over time.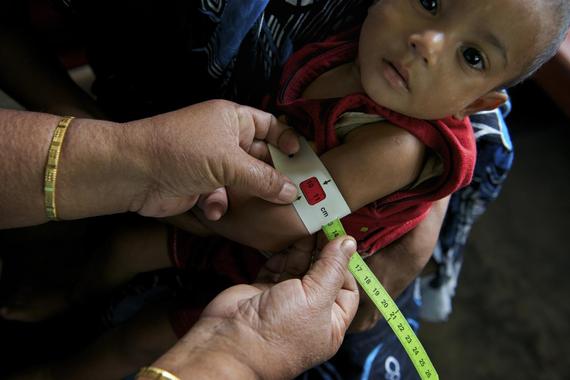 The discussion continued around what would be needed for wearable technologies to be widely adopted and have impact at scale in resource poor areas and last mile settings. "Beyond decreased prices for wearable devices, until we have something with a great battery life, this is something that won't work in emerging markets", said Erica Kochi, Co-Lead of Innovation at UNICEF. The wearable technology industry must think about how they can build off of existing wearable platforms to deliver social good, while leveraging cloud based solutions and optimizing on price and battery life. Ian Ferguson, Vice President of Segment Marketing at ARM Holdings summed it up nicely by saying: "At the nerdy chip level, we need to keep it simple on the wrist, moving the intelligence and processing to places where there are more resources such as the tablet, smart phone, and cloud." He added, "We're all rushing to make the next thing to help. How do we make that tech communicate together?"
The rapid uptake of mobile phones in emerging markets shows that rapid technology adoption and leap-frogging is possible. The time is ripe for the wearable technology industry to expand the user profiles and use cases for these technologies beyond fitness. We encourage companies and thought leaders in the space to examine the social impact of their products and think about last mile solutions when developing new tools. Wear it well? We think you can 'wear it better'.
Live stream of the event can be found here.
REAL LIFE. REAL NEWS. REAL VOICES.
Help us tell more of the stories that matter from voices that too often remain unheard.