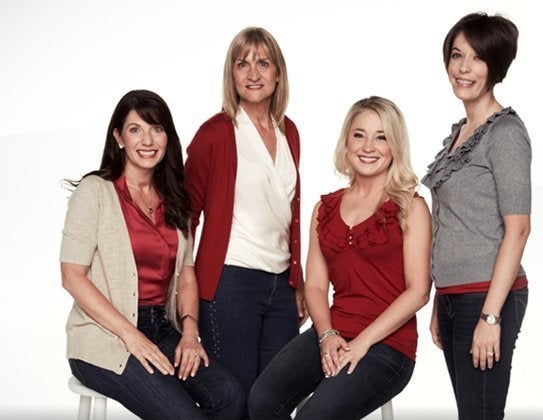 The American Heart Association's Go Red For Women movement is about taking action. Since we launched Go Red 10 years ago, we have shared a very clear and unwavering message with women: Be proactive. Take control of your heart health. If you don't, no one else will do it for you.
The response has been overwhelmingly positive. Women who join Go Red are far more likely to make healthy choices. In fact, 90 percent have made at least one healthy behavior change.
The changes may seem simple at first glance. Perhaps it's the decision to begin taking a 10-minute walk during your lunch break. Or to drink water with meals instead of a sweetened beverage.
Lifestyle modifications like these don't yield instant results, but if they become a part of your everyday routine, their cumulative effect can be life-changing. Over time, you can cover the greatest of distances, even if you're taking the smallest of steps. This is the mindset we're trying to instill with Go Red. Each of us has the opportunity to take steps on our own behalf. Why waste the opportunity to take action?
There's a major misconception out there that "living healthy" requires you to follow a very strict and demanding regimen. I think this prevents many women from even trying. They're busy enough already. They have a million to-do's on their list and every time they cross one off, it seems like another takes its place. They can't imagine how they'd be able to live up to the standards of an elite athlete or a noted nutrition guru.
This is where Go Red For Women has been able to make a difference. We're that voice that keeps reminding women that you don't need to be a magician to transform yourself into a healthier person. Study after study has shown that moderate, sustained lifestyle changes can greatly improve your odds of preventing heart disease. So find those 10 minutes to take a walk. Next time you're cooking, use a salt substitute.
There are lots of opportunities to make healthy changes. A great example of this was shared with us recently by Kimberly Montgomery, who is a 2013 "Real Woman" spokesperson for Go Red For Women. Kimberly realized that the workplace is a setting where people often eat unhealthy snacks without even thinking of it. Those calories can really add up, so she made the decision to skip the snacks or eat healthy substitutes. Her co-workers took notice and even started following her example. A recent office birthday party included a Greek yogurt bar with fruit toppings rather than a cake.
This isn't the only change Kimberly has made. She gets physical activity on a regular basis, and pays careful attention to her blood pressure, cholesterol, and other cardiovascular disease risk factors. Every day she takes action on behalf of her own health.
We want all women to be like Kimberly. That's why I and millions of people across the country will wear red on Friday, February 1, the 10th Annual National Wear Red Day. The color red symbolizes our determination to build awareness and inspire action against heart disease, the number one killer of women. I hope you will join us.
This post is part of a series produced by The Huffington Post and the American Heart Association in recognition of Wear Red Day, the aim of which is to raise awareness that heart disease is the No. 1 killer of women. To read all the stories in the series, click here.